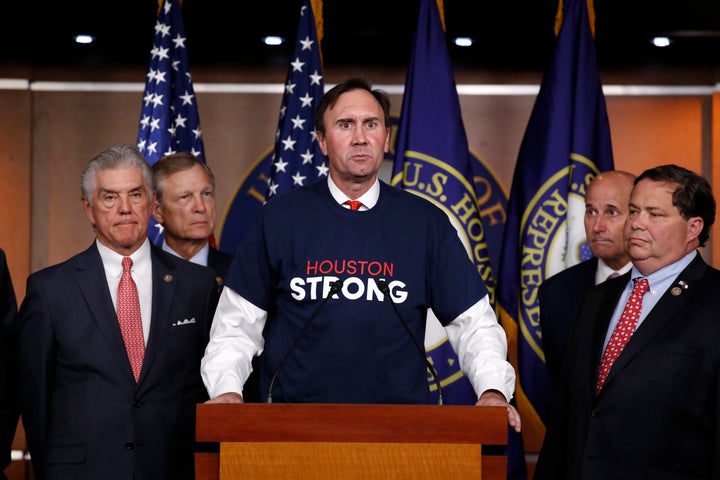 Rep. Pete Olson, a Texas Republican in a tough re-election battle, would not explain to a constituent why he recently called his Democratic opponent an "Indo-American carpetbagger."
In a video of an Oct. 23 campaign meet-and-greet obtained by HuffPost, Olson reminisced about a political rally President Donald Trump held in Texas, taking particular relish in the derision directed at the news media during the event.
"Out of nowhere Texans stood up and said, 'CNN sucks, CNN sucks,'" Olson recalled, prompting laughs from his supporters. "Eighteen thousand voices chanting 'CNN sucks.' It was awesome."
After the laughter died down, a woman asked Olson, first elected to the House in 2008, why the chant was "awesome."
"Because CNN sucks," Olson responded, eliciting more guffaws from his supporters. "They're liberal."
Pressed by the voter on whether those shouts were appropriate, Olson shrugged. "Sometimes we have to have fun," someone in attendance called out.
The unnamed constituent persisted with questions, asking Olson why he had called his Democratic challenger in the 22nd Congressional District, Sri Preston Kulkarni, an "Indo-American carpetbagger."
In a video of a previous campaign stop obtained by CNN, Olson described Kulkarni, who is of Indian heritage, as a "liberal, liberal, liberal Indo-American who's a carpetbagger" and questioned whether donations raised for him through the online fundraising site ActBlue were "coming from overseas."
"Why would you mention his race?" the woman demanded.
"I didn't mention his race. Carpetbagger's not a race," Olson responded. During an extended back and forth, Olson never directly addressed why he mentioned Kulkarni's ethnicity.
A spokesperson for Olson's campaign did not respond to a HuffPost request for comment.
Here's video of the interaction, which begins a little after the seven-minute mark:
Last month, Olson claimed that "terrorists from Pakistan" perpetrated the Sept. 11 attacks on America. None of the 19 men who hijacked four planes were from Pakistan, and Olson later said he misspoke. But critics believe he was trying to exploit anti-Pakistani sentiment within his district's Indo-American community.
David Manners-Weber, Kulkarni's campaign manager, blasted Olson for his recent remarks.
"Actions like these represent the worst of today's politics ― attacks on the free press, and attempt after attempt to divide us against each other. Texans deserve better, and they are going to get it," he said.
Kulkarni's father is an immigrant from India while his mother's family traces their ancestry back to Sam Houston, one of the founders of Texas.
Kulkarni is a former U.S. diplomat who served in Iraq, Israel, Russia, Taiwan and Jamaica.
Although Olson dubs Kulkarni a carpetbagger ― an out-of-town politician who moves to an area to run for office ― he grew up in Houston at a time when his home was part of Texas' 22nd congressional district, according to his campaign. He left the foreign service in 2017, moving to Pearland, a Houston suburb in the district.
Olson himself once faced accusations that he had moved to the district in order to run for office. After spending nine years working on Capitol Hill ― first for Texas GOP Sen. Phil Gramm, then for Gramm's Republican successor, John Cornyn ― Olson moved to the Houston suburb of Sugar Land in the summer of 2007, where he promptly began planning his run for Congress.
Kulkarni, who speaks six languages fluently, has aggressively courted the increasingly diverse district's immigrant communities, particularly its sizable Asian-American population. His campaign has operated phone banks and produced fliers in 13 languages, including Bengali, Kannada and Hindi.
Kulkarni's creative tactics and strong fundraising ― he has raised $1.1 million, compared with Olson's $1.4 million haul ― prompted the Democratic Congressional Campaign Committee to add him to the party committee's vaunted "Red to Blue" list of high-priority districts.
On its face, Kulkarni would seem a pronounced underdog in the 22nd district ― Trump won it by 8 percentage points in 2016, while Olson won re-election that year by a 21-point margin.
But the majority-minority, affluent suburban district is exactly the kind of haven of antipathy toward Trump where Democrats expect to make their biggest inroads on Nov. 6. The nonpartisan Cook Political Report moved the district from "Likely Republican" to "Lean Republican" last week, indicating that Democrats' chances have improved there in the final stretch.
CORRECTION: A previous version of this article indicated Olson said "Sometimes we have to have fun" when asked about using the phrase "CNN sucks." It appears that someone else at the meet-and-greet event, not Olson himself, actually said that.
Before You Go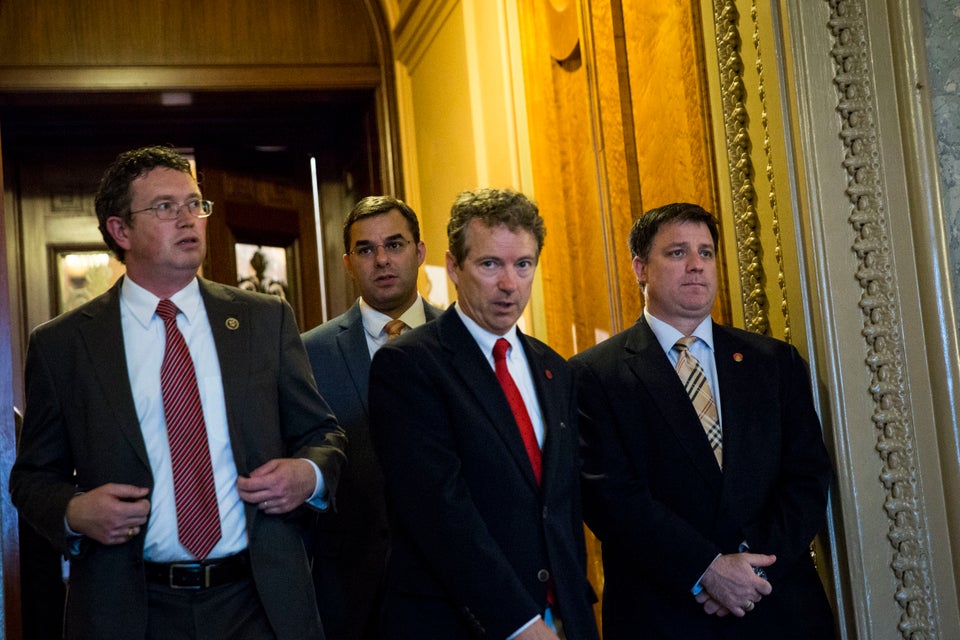 Scenes From Capitol Hill
Popular in the Community