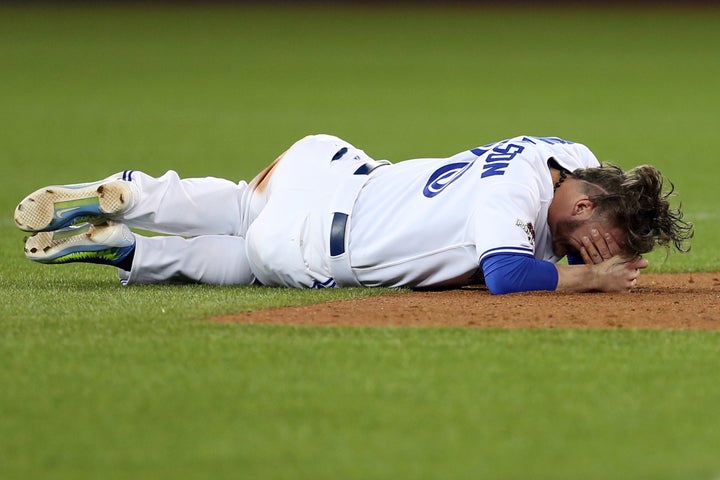 So, Pete Rose thinks playoff games are more important than head injuries.
That was basically what Rose said on Thursday when he criticized Blue Jays' third baseman Josh Donaldson for leaving Game 1 of the ALDS to deal with a head injury.
Donaldson took a knee to the head while trying to break up a double play in the bottom of the fourth inning. The Jays' third baseman played the field in the top of the fifth but ended leaving in the bottom half for precautionary reasons. 
This did not make Pete "back in my day" Rose too happy.
Rose is an all-time great, perhaps the greatest hitter in the history of baseball. But make no mistake about it: Rose's thinking here is irresponsible and dangerous. 
Hits to the head are serious business, whether they lead to concussions or not, and should always be treated as such. Helmets do not protect against concussions and subconcussive hits, and a tweaked appendage is not the same as a hit to the head. Donaldson apparently passed his concussion tests, but we're smart enough now to know not to test the brain's limits. 
Rose's willingness to dismiss light-headedness is the exact reason leagues have had to impose mandatory rules and tests: to protect players from themselves and from a culture that prides itself on playing through pain. Thankfully, the MLB has been among them. The league adapted a concussion policy back in 2011 according to MLB.com.
"A committee of experts created the policy, which will oversee the manner in which concussions are diagnosed initially and will be used to determine when players and umpires can return to the field following a concussion," MLB.com reported.
The tough guy culture that has permeated so much of professional sports for so long is less omnipresent these days. So much so that Rose boasting about how many times he has gotten light-headed after on-field collisions looks downright silly. 
Reporters and players certainly thought so. 
Perhaps the best retort Rose faced Thursday came from LA Dodgers pitcher Brandon McCarthy, whether on purpose or not. In 2012, McCarthy dealt with a serious head injury after he took a line drive to the head. He passed a concussion test too, but suffered a skull fracture, an epidural hemorrhage and a brain contusion. McCarthy ended up leaving that game.
Donaldson's team went on to lose 5-3 loss to the Texas Rangers, but they'll have a chance once again in Game 2. Donaldson is playing in Friday's game.
REAL LIFE. REAL NEWS. REAL VOICES.
Help us tell more of the stories that matter from voices that too often remain unheard.