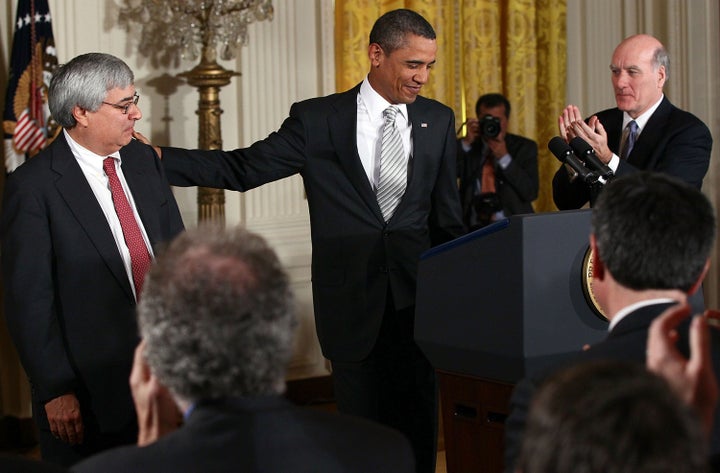 WASHINGTON -- The elevation of senior adviser Pete Rouse into a chief-of-staff like role inside the Obama administration was driven, in large part, by what sources described as the worsening of White House-congressional relations over the past year.
On Monday evening, it was reported that after ten months on the job, White House Chief of Staff Bill Daley was handing over day-to-day management of the West Wing to Rouse, who held the job in an interim capacity before Daley's appointment. Senior administration officials took issue with the piece, insisting that Daley wasn't being demoted or relinquishing his Chief of Staff title. Rather, Rouse was being asked to take on a more organizational and operational role.
There was, in short, room for both. But on matters of legislative outreach, it's become increasingly clear that one is more capable than the other.
"There was a lot of truth to Daley being bad about outreach to the Hill and Pete being a creature of it," said a top Democratic official who has worked closely with the White House. "People genuinely love Pete and are very loyal to hm."
Added a former administration official: "This is recognition that here they have this guy [Rouse] who is the ultimate when it comes to dealing with members and that they should be using him more."
The poor state of relations between the White House and Congress is hardly a secret. But the extent to which Democrats on the Hill have grown skeptical of Daley's legislative touch is less well-known. During the spring debate over a possible government shutdown, Daley blindsided party members when he offered up additional spending cuts to Republican leadership without consulting them. Similar events took place during the debt ceiling debate this past summer. And when Daley told Politico recently that Democrats were responsible for holding up the president's agenda along with Republicans, leadership was livid.
But it wasn't just the pre-emptive negotiation and tendency to spread blame that had Hill staffers befuddled. It was the operational tact as well. Daley preferred phone calls to Hill visits. He often relegated congressional outreach to subordinates or the vice president's office. And he declined to play to individual lawmakers' personalities –- a seemingly quaint touch that still goes a long way in the ego-filled halls of Congress.
"You can't underestimate the need to have someone who knows the Hill down at the White House," said Jim Manley, the former top spokesman to Senate Majority Leader Harry Reid (D-Nev.). "There's all sorts of little things that go into making sure it's a smooth relationship, whether it's understanding the differences in the rules between the House and the Senate, understanding the demands that are being placed on their respective leaders in the caucuses, or the need to protect their members who are up for election every two years. It takes a finesse and a touch that I'm not sure many members saw from Mr. Daley."
Staff shortages inside the administration only worsened the situation. The current head of legislative affairs for the White House, Rob Nabors, is universally applauded by administration officials and Hill Democrats alike for deftly tackling a decidedly thankless job. But he's understaffed. Over the past year, there have been multiple high-level departures from the legislative affairs team. Three top aides -- Jay Heimbach, Sean Kennedy and Dan Turton -- left for K Street. Louisa Terrell, special assistant to the President for legislative affairs, headed to Facebook. Dana Singiser, special assistant to the President for Legislative Affairs, left for Planned Parenthood.
The White House legislative affairs department is notorious for its burnout rate. But with attempts at policy-making increasingly resembling trench warfare -- and with high-stakes budget and deficit reduction negotiations likely to dominate the weeks and months ahead -- moving Rouse into that void made logical sense.
"There is no better time to have someone known as the 51st senator to get more involved in dealing with members," said a former administration official.
Rouse's tenure as chief of staff is usually discussed in either reverential or quixotic terms. His disdain for dealing with the press is well known. Yet one close associate said it was common to see lower level staffers or interns waiting outside his office for a meeting. Rouse has a soft spot for people seeking mentorship. He responds to out-of-the-blue email requests, helps plot career paths, and follows up with individuals as the year goes by. It may seem like a waste of time for someone in such a high-level post. But it's earned him what one close staffer referred to as a "mafia of loyalists."
When running the White House, Rouse adopted a similarly egalitarian approach. Whereas Daley was bemoaned for keeping his door closed, Rouse is known as the "king of the memo" -– sending out communiqués to keep staffers continuously in the loop. Meetings are more inclusive and less intimidating. After he took over for Rahm Emanuel, the famously temperamental former chief of staff who left the White House to run for mayor in Chicago, several officials admitted to feeling a sense of relief.
"I don't want to overstate Rahm's bad influence," said one former administration official. "But people were afraid of him and he could kill ideas just by blowing up."
Rouse doesn't have flare-ups. He's "more rational and orderly," said the official.
And he's more quirky. His love of cats, for example, is described as "fanatical." When he first took over from Emanuel, The Huffington Post asked then-Deputy Press Secretary Bill Burton about Rouse's feline fascination.
"Google it," Burton replied.
Sure enough, the first entry that came up was a Gawker.com story from October 1, 2010 titled "Rahm Emanuel's Replacement Is Obsessed with Cats." One anecdote passed along by several sources had Rouse whipping out a photo of his cats while staffers around him showed each other iPhone pictures of their children.
Yet despite his quirks, Rouse runs a reliable ship. During the health care debate, he had the delicate task of shepherding Sen. Ben Nelson (D-Neb.) to a "yes" vote. When Nelson grew skittish over the abortion language in the bill, he talked him back to the negotiating table, going over the legislation until the senator's concerns were assuaged.
"He literally spent hours in Reid's office trying to fashion the final language," recalled Manley. As for why Rouse, in particular, was asked to take that role, Manley added, "Pete knew him."
In an interview earlier this year, Denis McDonough, the president's deputy national security advisor, offered another example of Rouse's management style. Going back to the day Rouse first became chief of staff, McDonough recalled how a terrorist threat emerging in Europe overshadowed the festivities.
"The president had invited Rahm and several of the White House senior staff up to the Truman balcony to wish good luck and safe travels to Rahm," McDonough said. "And just inside of that, Pete was huddled with [chief counterterrorism advisor John] Brennan and [National Security Advisor Tom] Donilon and the president and me. He was talking, he had pulled everyone together to update the president on this newest info and the steps we had taken to update the travel guidance for Americans traveling. That was Friday night, literally as Rahm was transitioning out."
Throughout the day on Saturday, Rouse kept at it, convening staff to finalize plans on the travel guidelines. Around 4:00 p.m, he convened a meeting to brief cabinet members on the information.
"He basically took the whole thing soup to nuts and took control of a dynamic situation in true Rouse fashion," said McDonough. "Not a lot of drama, just pretty straightforward."

REAL LIFE. REAL NEWS. REAL VOICES.
Help us tell more of the stories that matter from voices that too often remain unheard.