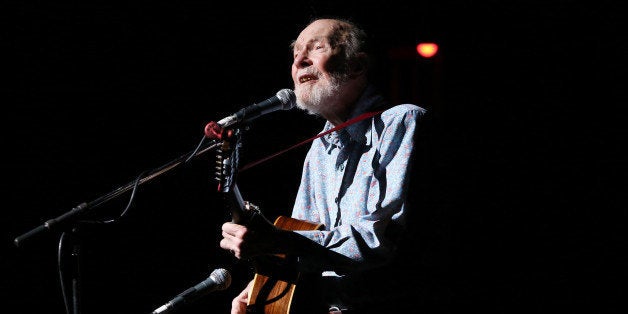 One of the reasons I believe a better world is possible is because I can hear the voice of Pete Seeger in my head, singing We Shall Overcome. "We are not afraid," sang Seeger, and credited the young leaders of the Civil Rights movement for teaching that. "Perfect love casts out fear," scripture teaches (1 John 4:18).
One of the greatest obstacles to people coming together, despite their differences, to make a better world, is fear.
Pete Seeger, 94, folk singer and peace and justice advocate has died, but the spirit of what his life and his music meant lives on. Americans have been less afraid of each other, and of speaking the truth to power, because he lived and sang and marched.
One of the possible translations of the Greek word for Holy Spirit is "advocate." When we advocate for God's reign of justice and peace, and join together in that effort, it is my personal experience that the presence of the Spirit can be felt.
Pete Seeger helped teach that to my generation, and generations that followed, because he taught us to sing while we resisted war and advocated for racial and gender justice. He taught us in our schools and on our campuses because he had been blacklisted for refusing to yield to the fear-mongering House Un-American Activities committee. His promising television career was curtailed by the blacklisting.
The story of how Seeger finally got to sing on television again is itself a story of struggle against censorship, as his return to television via the Smothers Brothers program involved advocacy by the two young "comedians." "Waist Deep in the Big Muddy" a song clearly about the Vietnam war and President Lyndon Johnson (though it does not name either one) finally was heard by millions of Americans. But that didn't end the war by itself. Seeger observes, "Did the song do any good? No one can prove a damned thing. It took tens of millions of people speaking out, before the Vietnam War was over. A defeat for the Pentagon, but a victory for the American people."
The documentary on Seeger's career, The Power of Song, provides a fully rounded portrait of the singer, including the so-called "lost years" when, because of the blacklisting, Seeger sang to school children and to those of us on college campuses lucky enough to hear him. The songs which Seeger wrote (like "Turn, Turn, Turn...to Everything there is a Season" and "Where are All the Flowers Gone") or made famous (like "We Shall Overcome") are the voice of resistance to war and advocacy for peace.
Is that not the mystery of how goodness is made, little by little, and person by person? In 2011 Seeger walked with an Occupy Wall Street protest, and later told the Associate Press, "Be wary of great leaders... Hope that there are many, many small leaders."
Instead, what we need is many, many Americans coming together and not being afraid of each other. That is the way forward, and Pete Seeger not only taught that, he modeled it in his life and commitments to the very end.
Rest in peace, good and faithful servant. I am grateful beyond words for your life and work.
Related
Popular in the Community