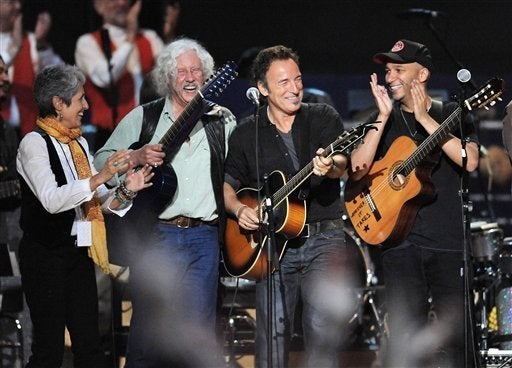 On a fine spring day with trees in soft green bloom, I left Manhattan for
Pete Seeger's place, near Beacon NY, courtesy of his longtime friend and noted
videographer Jim Brown. During the drive Jim and I talked non-stop: about my
singer-songwriter beginnings, about the early folk music scene, Jim's work
with Pete and other folk greats, the Occupy movement, the state of the world.
From a local Japanese restaurant we picked up sushi enough for us and
Pete, wife Toshi, and daughter Tinya.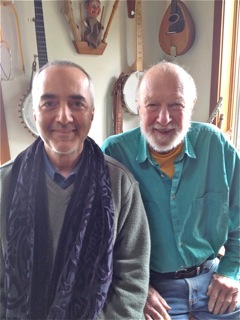 A friendly border collie was all over me as I entered the house, the place
Pete is said to have
built himself decades ago (likely with wife Toshi's help) with homebuilding plans
from the library. And there he was, with his back to us, the 92-year-old
icon of folk music and all things good. When he did come over and we shook
hands, he launched into a story about everyone being cousins, as he tells
school kids, and the story turned into a song, and soon I was harmonizing
with him on the chorus. A
surprise duet: unrehearsed, unrecorded and
damn good.
Then Pete was holding court, telling one tale after another it seemed. He first
went on and on about his father who was a musicologist. The details came a plenty, and plenty
quick; it was hard to keep up with him. Daughter Tinya hadn't yet made an
appearance. I'd heard that Toshi, now 85, hadn't been well for some time and
when I saw her in a wheelchair, not quite all there, I
understood. Her presence is lovely even as her lucidity comes and goes. Tinya did come join us,
the sushi got put on the dining table, and we got around to eating.
Good sushi, it hit the spot.
I showed the gifts I'd brought: my autobiography, a DVD of my recent work,
a brochure of my nonprofit organization, and signed copies of my Covenant
For Honouring Children. These seemed to put Pete's stories on pause, giving way
to the necessary descriptions and related information. The autobiography's photos
of my father's portraiture were of interest.
I told Pete I'd come to say thank you for all that he had given me over the
years. For the way his songs had stirred me and got me singing them. For
the example of courage in his life that inspired me and filled me with awe. For all
that his music and his life has given to so many.
At one point I borrowed Jim's guitar and, with Pete's okay, sang him a
few songs: "The More We Get Together," "All I Really Need," "Like Me And You," and
"Baby Beluga," on which Pete softly joined the chorus. His voice has lost
its luster, but not its spirit.
In his day, Pete Seeger was the king of
sing-alongs, a master at
prompting audience participation. He didn't just expect it, he asked for it. Demanded it. I too came to know the pleasure and power of people singing together. That became a
hallmark of my family concerts.
I told Pete I was writing a tribute song for him, so my audiences might come
to know his songs. (Now I'm thinking about a Raffi Sings Seeger CD.) He's about 30 years older
than me, which means that many who know my music may not know his. And what a treasure
trove his repertoire is. Spanning decades, civil rights marches, anti-war rallies,
the feminist movement and more, Pete's musical passion gave people a voice and
songs to sing.
Through the "folk process" by which people change folk songs, Pete
changed "We Will Overcome" to "shall" overcome. That says a lot about the man, his courage
and determination. Over the decades he
took on just about every social
justice issue you
can name. And by the end he took on the Hudson River
pollution with the sloop Clearwater and got the river cleaned up.
Pete is still very much his own man, a principled guy who has sung about and supported a
bundle of causes. That he may have felt conflicted about commercial success
(including his own) is understandable. His ilk never dreamed they'd make any
money, let alone have hits and cover versions of their songs. He speaks not of
fame or celebrities but of millions of people each doing their little bit for a
better world.
Pete Seeger's music should be known to students everywhere. His
book, Where Have All The Flowers Gone, is
an invaluable resource. Adding
to recent Seeger tributes by Bruce Springsteen and others may come a
song (or two) by a
children's troubadour who owes a lot to the guy who
greatly inspired him. Turning this world around is the work of millions. We've got a
hammer, a bell, and songs to sing all over this land.
Raffi Cavoukian, C.M., O.B.C., is best known as Raffi, renowned singer, author,
children's
champion and ecology advocate. Raffi's numerous awards include the Order of
Canada, the Global 500 Roll, and three honorary degrees. Fifteen million sales
of his children's albums, books, and DVDs have sprouted a generation of fans now
enjoying Raffi songs with their own kids. An outspoken advocate of commercial-
-‐free
childhood, Raffi
is founder and chair of Centre For Child Honouring.
www.childhonouring.org
Support HuffPost
The Stakes Have Never Been Higher
Popular in the Community