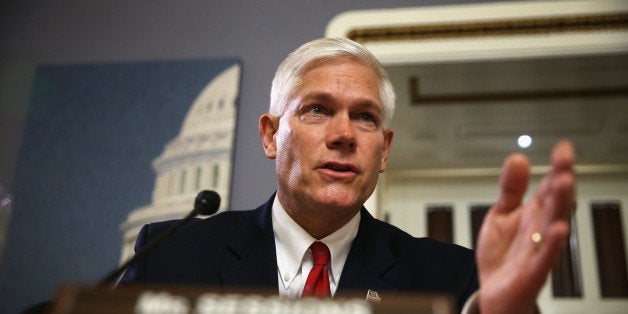 WASHINGTON -- Rep. Pete Sessions (R-Texas) accused President Barack Obama and Democrats Thursday evening of continually releasing undocumented immigrants who are murdering Americans.
"Every day, all along border states, maybe other places, there are murders by people who have been arrested coming into this country, who have been released by the Obama administration, I believe in violation of the law, who are murdering Americans all over our cities," the Rules Committee chairman said at a meeting while discussing Obama's deportation relief policies. "We hold the Democrat Party and the president personally accountable for this action."
The comment came during a discussion of a funding bill for the Department of Homeland Security, which many Republicans believe needs to include measures to block Obama's executive actions on immigration. Congress must pass funding for DHS by the end of Friday to avoid a shutdown, and House Republicans are planning to vote on a three-week bill.
The main points of contention are programs that allow undocumented immigrants who have been in the U.S. for years and are either parents of a U.S. citizen or legal permanent resident, or who came to the U.S. as children, to temporarily stay in the country and work legally. Undocumented immigrants must pass a criminal background check to be eligible for both programs. The status could be revoked under some circumstances, such as a criminal conviction, and it is not a full guarantee against deportation.
The Obama administration has other policies to prioritize deporting some undocumented immigrants over others. DHS leaders have instructed Immigration and Customs Enforcement agents to focus on recent border-crossers, national security risks and convicted criminals, particularly those with serious criminal records. Republicans have criticized these policies as well.
That's not to say undocumented immigrants don't commit crimes, or that all of those who do are deported. House Republicans highlighted stories at a hearing this week of people killed by undocumented immigrants. An unnamed Republican congressman told National Review ahead of the hearing that ICE released 36,000 convicted criminals since 2013 and 1,000 of them had been convicted of new crimes.
But it would be difficult to prove definitively that the Obama administration is responsible for murders "every day" from people who have been stopped by border patrol and then released, as Sessions claimed. Numerous studies have found that there are lower rates of crime among immigrants, and that many of the undocumented immigrants in federal prison are there for entering the country illegally rather than another crime.
Rep. Alcee Hastings (D-Fla.) told Sessions at the committee hearing that his comments were "not fair" and said he should listen to himself.
"You just in one foray accused the president and Democrats, and I'm in that group, of being responsible for murder. I don't feel that I'm responsible for murder," he said. "I understand all of the lawlessness that's going on, but it's very troubling when you make that kind of statement."
Watch the exchange, starting at 23:28 in the video below:
Calling all HuffPost superfans!
Sign up for membership to become a founding member and help shape HuffPost's next chapter
BEFORE YOU GO
PHOTO GALLERY
Why Latin Americans Really Come To The U.S.