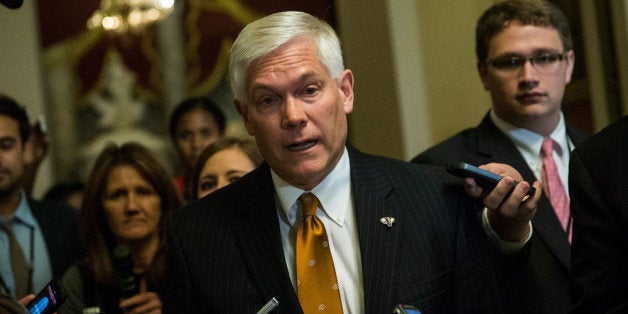 1. Obama Meets With House Republicans To Discuss A Debt Deal
Obama meets with 20 House Republicans for a 90-minute meeting on Oct. 10, in which no specific determination is made on how to end the government shutdown or avert a debt default. Though no deal is made, House Majority Leader Eric Cantor (R-Va.) says it was "a very useful meeting." Immediate reports about the meeting indicate that the two camps had "clashed." (AP Photo/J. Scott Applewhite)
2. After The Meeting, Sessions Tells CNN He Clashed With The President
In an interview following the meeting, CNN's Dana Bash asks Sessions, "Did you clash with the president? Is that fair to say?"
"How did you, what did you clash over?" Bash asks. "Was it about how to reopen the government and when to do it?"
"If you focus on things that might be clashing, those will probably be in a book someday," Sessions says.
3. Nabors Tells Democratic Senate Leaders What Happened In The Meeting
White House Deputy Chief of Staff Rob Nabors meets with Senate Democratic leaders and tells them about the supposed Sessions incident, two Senate Democratic aides told HuffPost. The meeting with Nabors includes Senate Majority Whip Dick Durbin (D-Ill.) and Senate Majority Leader Harry Reid (D-Nev.).
Nabors did not respond to an email requesting comment.
4. Reid Tells Senate Democrats What Happened
On Tuesday, Oct. 15, Reid relays the story to his Democratic caucus and names Sessions, according to two Democratic senators who spoke to HuffPost. Reid says he's "sorry" to have to tell the group about the incident, according to one of the Democratic senators, but credits the president for his "dignified" response to Sessions, which reportedly involved Obama saying he respected their differences.
6. White House Spokesman Jay Carney Throws Durbin Under The Bus
On Tuesday evening, all hell breaks loose when The Hill notices Durbin's Facebook note. During his daily briefing the following morning, White House Spokesman Jay Carney denies that any Sessions-Obama exchange ever took place. "I looked into this and spoke with somebody who was in that meeting and it did not happen," Carney says.
7. Democratic Senators Tell HuffPost That Reid Told Senators About The Alleged Sessions Incident, Undermining Carney's Denial
Two Democratic Senators confirm to HuffPost that Reid told his caucus about the insult during their Oct. 15 caucus meeting. Senate aides, who independently learned of the Democratic caucus discussion from other senators, also say Reid spoke about the incident.
8. The White House Says It Was All A Big Misunderstanding
A White House official tells HuffPost the administration did, in fact, tell Reid and other Senate Democratic leaders the story about Sessions, but says there was a miscommunication. "While the quote attributed to a Republican lawmaker in the House GOP meeting with the president is not accurate, there was a miscommunication when the White House read out that meeting to Senate Democrats, and we regret the misunderstanding," the official says in a statement.
9. Sessions Offers An Awfully Strange Denial
Sessions denies the alleged insult when speaking with reporters on Thursday, saying anyone who may have been within earshot is lying, and anyone who taped the conversation broke protocol. He assures reporters that he "made no public statement in that way," and that he has "no reason to believe" he made a private statement, either. One reporter presses Sessions, saying his comments don't sound like an absolute denial.
"No, no that's -- it's an absolute denial," Sessions replies.
11. We Wait For Bob Woodward's Book To Tell Us What Happened
So did Nabors just make the whole thing up? Was it a wild game of telephone? If the White House will still cooperate with Bob Woodward after their falling out, maybe we'll find out one day.
Ryan Grim and Jennifer Bendery contributed reporting.
UPDATE: This piece has been updated to reflect that Sen. Dick Durbin deleted his Facebook post.
Before You Go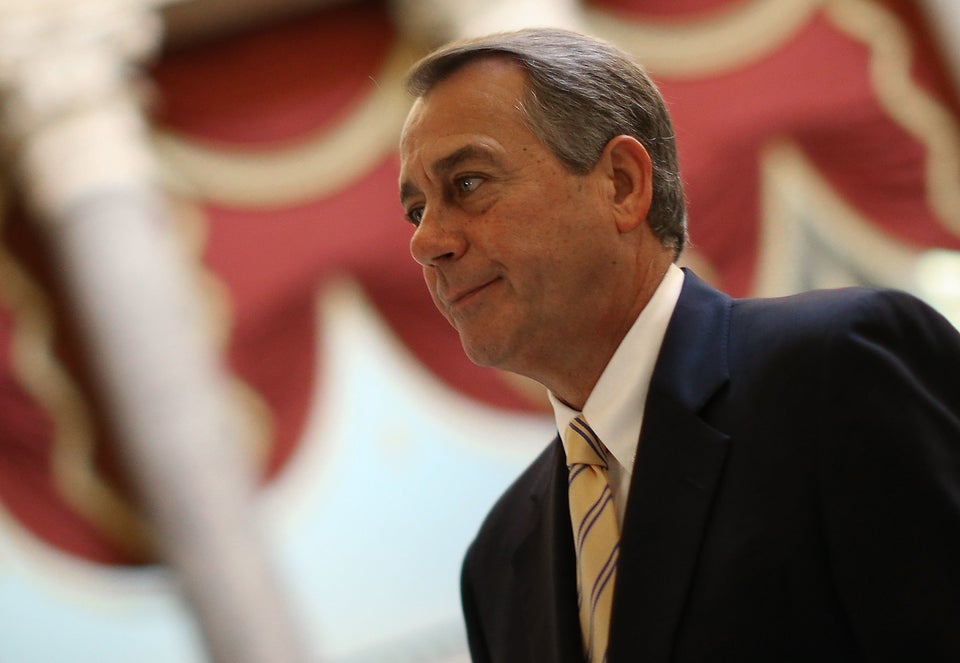 John Boehner's Shutdown Showdown Stares
Popular in the Community