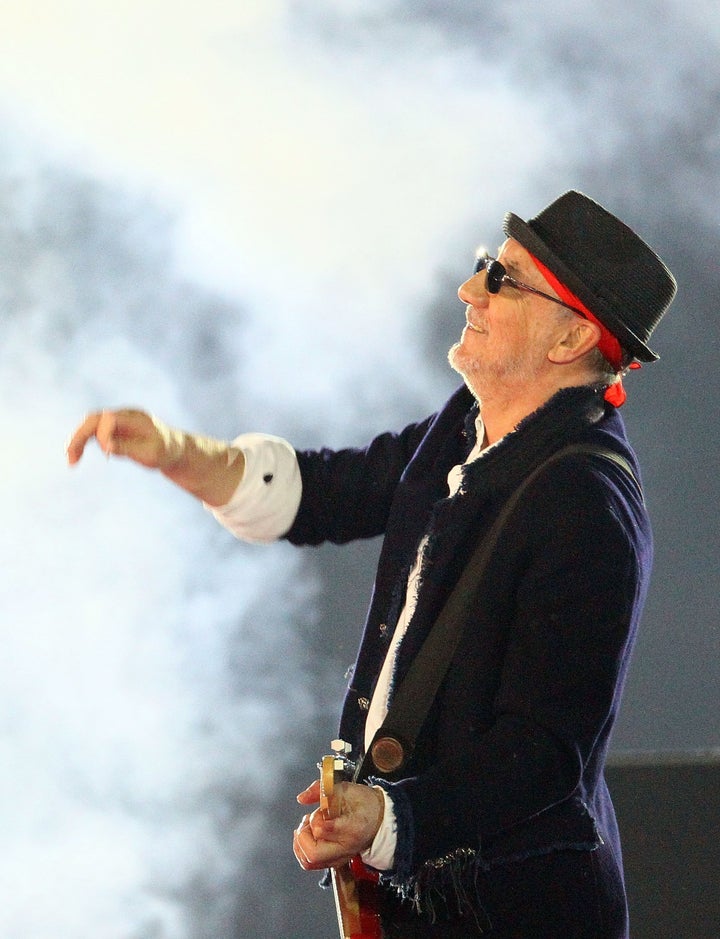 On Saturday, November 25th, 1967, in badly-timed support of "The Who Sell Out" album, which inexplicably had still not been released even with "I Can See For Miles" in the Top Ten nationally, The Who played The Village Theater on Second Ave and 6th St... the venue destined to become The Fillmore East less than 6 months later.
As The Village Theater, it was a dilapidated mess... run down, worn out, and poorly run.
When Bill Graham took it over, one of the many improvements he made was the addition of four more rows of seats down front, AA, BB, CC, DD... AA113 being "my" seat for every subsequent show The Who ever did there... front row, on the aisle, directly in front of Townshend's mic stand.
These seats did not exist on November 25th, 1967... and just the way I described in my story about catching Charlie Watts' drumstick with my face @ Madison Square Garden during the Thanksgiving matinee of the "YaYas" tour two years later, the down-front vacuum of no seats was immediately filled with naughty kids who charged down the aisles as soon as the lights went down as The Who walked onstage. As one of the first to get there, I wound up crushed up against the stage directly in front of Pete's amplifiers. Perfect!
If you know the famous Baron Wolman photo of Pete @ The Cow Palace dressed in a highly spangled jacket, frilly shirt, white pants and boots doing the Birdman pose with both arms straight out looking directly into the camera with a bored and exhausted expression... that was exactly what he was wearing, even using the exact same late-1950s Gibson 335 he's playing in that shot (a guitar now worth over $35,000... if it still existed!).
Moon had that incredible "Pictures Of Lily" drum-set covered with old sepia-tone pin-ups and drippy multi-pastel glow-in-the-dark psychedelic lettering. Daltrey's hair was in full bouffant-mode. The Ox was using a bass that looked like a boomerang!
They were deafeningly loud and a dozen levels past mere charisma.
Anyway, at one point, much to my intense chagrin, a burly photographer came out from behind the amps and squatted directly in front of me on the edge of the stage and casually started snapping close-ups of Townshend, completely blocking my view for almost an entire song. I was frustrated and fuming! And then, suddenly, this photographer stood up and walked back behind the amps to get to another vantage point on Entwistle's side of the stage.
I had made note of the fact that, while hunkered down in front of Pete, no one had shooed him away... and so, deciding to test the waters, I put both hands flat on the stage and slowly raised myself up onto it about 8 feet from Pete's mic stand. No one shooed ME away, and no one else from the audience attempted to join me, at least not for most of the show.
Within about 20 seconds, Pete gave me a frowning look of "Hmph... well, okay, all right... you can stay there." and so I spent the rest of the show at my idol's feet enjoying lots of eye contact with my hero and the brutal volume of his guitar.
As the show progressed, with no security staff whatsoever, the wings of the stage started getting jammed with hangers-on from backstage and other kids from the audience who'd finally had the nerve to climb up out of the crowd. But, I was still the only one ONSTAGE.
Towards the end of the show, a big chunky goofy kid, reached up and grabbed my coat and started climbing onstage using me as his support. Townshend saw this happening and casually sauntered over, and just as the kid had gotten both knees on the edge of the stage, Pete put his right foot up, carefully planted the bottom of his boot on the guy's forehead and sent him back into the audience with a kick/shove that landed him about 10 feet back. Astounded at the casual violence, I turned and saw the big kid pop back up from his somewhat harsh landing, his forehead smudged with a big dirt mark, beaming a huge grin, happily and triumphantly shouting, "Pete kicked me! Pete kicked me!"
Very Punk a good 10 years early.
And then, inevitably, Townshend announced "My Generation" and everyone onstage scurried into the depths of the wings knowing full well what was about to happen. Except... I scurried FORWARD to the very base of Pete's mic-stand, wide-eyed, determined to not miss a nano-second of the impending chaos and destruction.
Although I didn't touch him, I could've reached out and grabbed a leg. I was literally no more than three feet from his mic. Pete stared straight down at me with a bemused and then amused look that said,
"Really?! Well, you certainly are hardcore! Just watch out, okay!"
And yes, for at least 30 seconds at the end of the song I was risking genuine injury... and yet the most vivid memory of the moment was that, at the height of the destruction, smoke-bombs ignited, guitar in mid-air, amps and drums being knocked over, someone in the audience let a small mechanical toy mouse loose over on Entwistle's side. Townshend saw it too and, as it headed his way, Pete ran across the stage and jumped on it full force. The little metal mouse had to die just like everything else onstage.
The next day, The Who did a Sunday afternoon matinee (!) at the same venue.
Once again, I ran down front. But, the management had learned its lesson from the night before. There were now 4 or 5 enormous bouncers down there waiting for us. They didn't chase us away, but kept us all at least 10 feet from the edge of the stage.

Twice, Keith Moon threw a drumstick up in the air that landed near the edge of the stage. Twice, I made a mad dash forward, grabbed the stick, and was tossed back into the crowd by one of the bouncers.
Pete was using the same Gibson 335 from the night before. It was on it's last legs with a large chunk of the lower body already gone from the night before's mayhem while I was onstage. In fact, he played the whole matinee with only one volume knob left.
Leslie West, then the guitarist in the opening act, The Vagrants, had graciously lent Pete his spanking new and very expensive Gibson SG Custom which lay on the top of Townshend's speaker cabinets in case the disintegrating 335 didn't make it to the end of the show. For years, I wondered if Leslie had given Pete permission to smash it, if necessary.
Once again, the patented Who-Lunacy erupted at the end of the show. Within seconds, I saw the old disheveled Gibson 335 guitar explode into pieces.
As I was walking out of the theater a few minutes later, I reconnected with my pals, Benjy and Jake. Both of whom had run down front too. I couldn't wait to show them my incredible coup... not one, but an actual pair of Keith Moon drumsticks.
But, Jake was walking funny, sort of crouched over with something large under his pea-jacket. He looked really nervous, eyes darting back and forth. We got outside and I demanded to know what he was hiding. He took me into a doorway, opened his coat, and there was 2/3 of the body of Pete's Gibson 335.
A mere pair of Keith Moon's drumsticks suddenly seemed pretty anemic piss.
Fast forward... It's now May, 1969.
I had tickets for all four sold-out Friday & Saturday, the 16th and 17th, Debut-of-"Tommy" shows by The Who at The Fillmore East... For each show I was in the aforementioned seat, AA113... "My" seat in the front row on the right aisle directly below Townshend's mic stand.
During the last few songs of the Friday early show (doncha love it... The Who @ 8 and again @ 11:30!) on May 16th, while we were all enjoying the deafening roar of The Who, I remember becoming aware of smelling (non-reefer) smoke and looking around and then up at the beams of the spotlights. They looked solid enough to walk on... I kinda realized that something was definitely out-of-the-ordinary here.
With "Tommy" behind them, The Who had launched into "Summertime Blues" (this being a year before "Live At Leeds" was released, this was a song you could only hear live and I'd waited all night for them to do it). About halfway through the tune, something made me turn around again and I saw a red-in-the-face Marine-looking middle-aged guy wearing a crew-cut, jeans, and a dirty white t-shirt charging down the aisle on Entwistle's side of the stage. Without hesitation, he leapt on stage, grabbed Daltrey and tried to wrestle the mic outta Roger's hands. Roger Daltrey, a genuinely no-poser-tough-guy, hauled off and punched the guy square on the jaw, and as the guy staggered, Pete just flew across the stage, jumped like a jack knife, and somehow kicked the guy square in the crotch with BOTH feet! Down and definitely out this Marine-looking dude went. Two stagehands ran out of the wings and dragged his prone body offstage.
At the end of "Summertime Blues," with the smoke now really obviously getting worse by the minute, Bill Graham came out of the wings, walked up to Pete's mic and calmly announced that there was a fire across the street and that, unfortunately, the fire marshals were insisting that the Fillmore East be evacuated for precautionary safety's sake. He made it sound boring and stupid, but whattyagoona do?

It was a brilliantly wise strategy.
Out we all went in a grumpily disappointed but orderly fashion...
Once outside, with 8 or 9 firetrucks scattered all over 2nd Ave, we all saw that the fire was actually right next door to the Fillmore's lobby and that this could've been really really bad.
The Friday late show was, of course, cancelled.
But, yes, I was sitting in AA113 for both shows the next night.
At one point, Pete told the Saturday late show crowd about the night before.
He said that he and the rest of The Who had no idea what was actually going on.
He then pointed down at me in the front row and said "And I know that this person right here had no idea what was going on either." The spotlight widened, I sheepishly waved, and the house applauded.
Well, it turned out that Mr. Marine from the night before was a plainclothes NYPD cop who was gonna try to literally yell FIRE! in a crowded theater. So, in truth and fact, Roger and Pete should've been given a medal for the dozens of un-trampled lives they saved.

But, as it was, they were arrested for assaulting an officer, a genuine crime, and 8 weeks later, I attended their trial. Amazingly enough, I was the only fan who showed up. Both Pete and Roger were cordial when they saw me out in front of 100 Centre Street (think "Law & Order"), but, both were obviously really worried about the possible ramifications of being found guilty. They had a real hustler of a lawyer who a few years later I heard was eventually dis-barred.
At one point, they realized that Pete's passport was in the limo outside and this cocky very New Yawk lawyer enlisted me to run down and get it.
I charged downstairs and out to the limo where The Who's manager, Kit Lambert was waiting. I told Mr. lambert that they needed Pete's passport right away.
He dug it out of a briefcase, and without any hesitation, gave it to me, this kid he'd never seen before. For a moment, I realized I was holding what you might call a Serious Souvenir. But, being a nice worshipful Who boy, I ran it back to the courtroom and when I handed it to the lawyer, he said,
"Look at you, you're a regular fucking Perry Mason, helpin' me out."
Pete, very nervous, turned and nodded thanks.
Within about 15 minutes, they wound up cutting a deal and paying a fine.
Anyway, back to the weekend of May 16th and 17th, Bill Graham and The Who rescheduled the Friday late show for a Sunday matinee on May 18th... with the offer of a full refund if a ticket-holder couldn't make the Sunday show instead.
On that Sunday morning, after four years of total obsession, I convinced my parents that tickets would definitely be available and that they should come with me to experience my religion, The Who, in action. So, the three of us got on the subway in Brooklyn and made the trip to the East Village.
After we'd bought them their pair of tickets, we walked into the lobby and my mother (who is an... extrovert) immediately started enthusiastically pointing out details of the "marvelous Art Deco lobby" to my Dad. I suddenly realized that this whole idea was a terrible mistake. What self-respecting 16 year old would bring his parents to the Most Hallowed Hall of Hip, The Fillmore East, ferchrissakes!? My God, what was I thinking!! I was now horrified with embarrassment.
So, I slowly walked away from Mom and Dad while they looked at the ceiling moldings and gold leaf. I stood at the back of the theater proper, just outside the last row, and pretended to care about the opening act, It's A Beautiful Day, who I just HATED, having had to sit through them 3 times already. But, at least I was about 25 feet from my parents... Whew!
And then... And then... I suddenly heard my mother's boisterous voice sort of shriek-yell, "You're... Pete... Townshend!"
Not believing my ears, I wheeled around and...
Oh... My... God... Could this actually be happening?!
Right out of a dream, Pete was, indeed, standing in the Fillmore East's lobby, talking to my parents.
I wandered over in a disbelieving daze just in time to hear my Dad say, "... and your drummer, very tympanic..." while Pete bemusedly nodded.
As I approached, Pete turned and saw me and asked my folks, "Is this your son?"
Mom said "Oh yes, that's Binky. He never stops talking about you and your band, Pete. The Who just means everything to him...".
Mr. Townshend put his right arm around my shoulder and said, "Why, we're old friends!"
So, yes... I have known Heaven on Earth... besides being in my wife's arms, of course.
Both my parents actually liked the show. Mother thought they were "really charismatic, especially Pete." While Father enjoyed them too, he was sorta incensed that "such talented musicians" would "jump around like maniacs" and then destroy really EXPENSIVE equipment.

"But, Dad... that's the best part!! Jeeeez!"

Popular in the Community