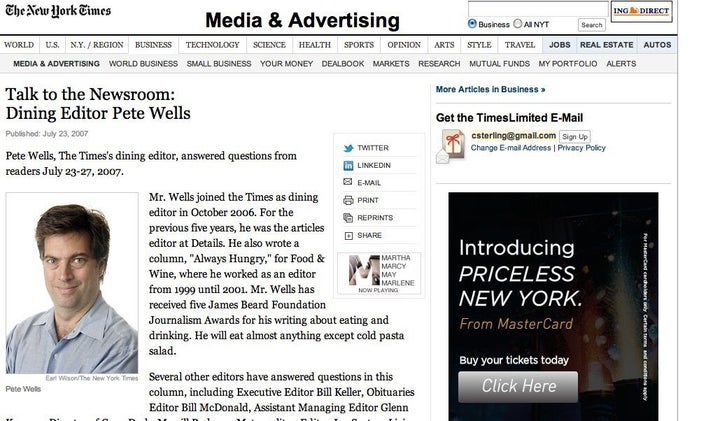 UPDATE #2, 11/15 4:40PM: The New York Times has officially announced that Pete Wells will be the paper's new restaurant critic, effective January 2012. The memo says, in part:
Pete Wells will be our new restaurant critic. No one could be better prepared or respected for his superb writing, intimate knowledge of food and restaurants and deep commitment to our dining franchise. Pete has been Dining Editor since 2006. He has stepped in as acting critic himself -- writing a half-dozen well-received columns in the interim between the Bruni and Sifton eras....

We knew we were on the right track when more than one of the dozens of applicants around the country opened their queries by saying, 'Pete should be the critic, but I'm available if you don't pick him.'
Pete Wells himself has made it official as well, tweeting, "[tap, tap] Is this thing on? Various sources reporting I have a new job. This one looks official." He then points to the announcement above. He has also changed his Twitter photo from a picture of him to a shot of oysters.
Related
Popular in the Community