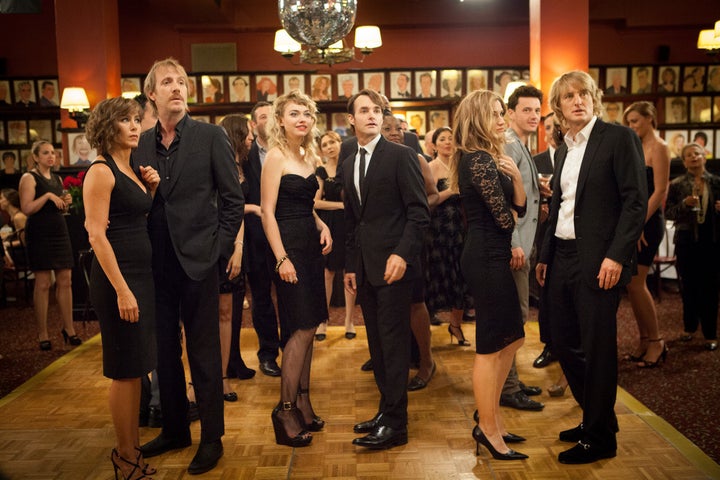 Peter Bogdanovich's name often appears alongside the likes of Woody Allen, Robert Altman, Francis Ford Coppola, Mike Nichols and Martin Scorsese -- 1970s directors who introduced fresh narrative structures and themes that illuminated the discomfort of the human experience. Think of movies like "Bonnie and Clyde," "The Graduate" and "Taxi Driver" -- or, in the case of Bogdanovich, "The Last Picture Show," "What's Up, Doc?" and "Paper Moon," a trifecta that cemented his status as a legend, despite what would ultimately become a topsy-turvy career suffused with as many misfires as there were triumphs.
For proof that Bogdanovich's influence on American cinema is still felt today, look no further than his new comedy, "She's Funny That Way," which opens in limited release on Friday. The 76-year-old director recruited of-the-moment auteurs Wes Anderson and Noah Baumbach as executive producers, largely because Hollywood economics have made it difficult to get such a project made with a top-tier, franchise-infatuated studio. In a way, this pop-culture mentor has become the mentee. Lucky for him, as Eileen Brennan says in "The Last Picture Show," "A person can't sneeze in this town without somebody offerin' him a handkerchief."
Co-written with then wife Louise Stratten and originally titled "Squirrels to the Nuts," "She's Funny That Way" is a screwball farce about the intersecting lives of a philandering but big-hearted Broadway director (Owen Wilson) whose actress wife (Kathryn Hahn) discovers his assignation with a call girl (Imogen Poots) who gets cast in a new production by a playwright (Will Forte) who is dating the call girl's therapist (Jennifer Aniston). Also featuring Rhys Ifans, Cybill Shepherd, Debi Mazar and a few high-profile cameos, the film premiered at last August's Venice Film Festival, where Clarius Entertainment acquired it for $4.5 million before distribution shifted to Lionsgate. It's not easy out there, even for an Oscar-nominated director who is part of the National Film Registry. The Huffington Post hopped on the phone with Bogdanovich for a lively conversation about the drastic changes that have befallen the industry since he and his cohorts changed Hollywood in the '70s.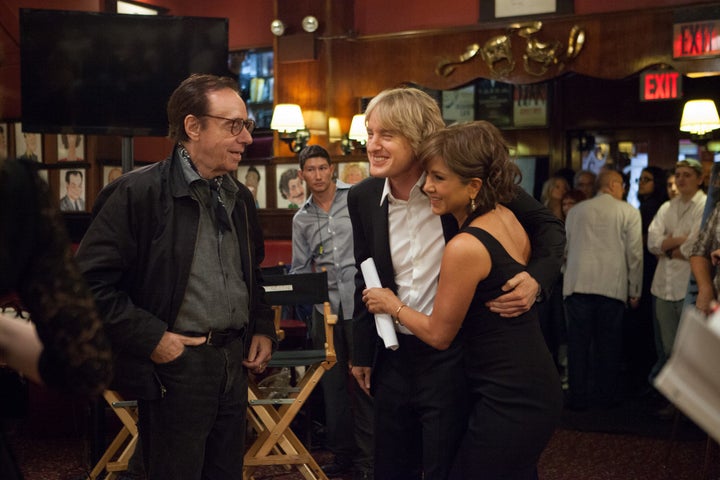 You've been working on this movie for quite some time. Are you pleased just to get it off your plate at this point?

Well, I'm glad it's out there. We started working on it way back in about 2000. It was originally written for John Ritter, as you probably know by now, and Cybill Shepherd to play the husband and wife. Louise, who co-wrote it with me, was going to play the escort. Then John died suddenly, which was a real shock, and we sort of put the script on the back burner because we couldn't think of anyone to play that character. We also were sad about John and we just didn't want to do it.


What made you decide to get it going again?
A few years later, I got to know Owen Wilson. I spent a lot of time with him and decided that he could play it very well since he had the one really necessary thing that I felt was important for the character, which was that he was attractive and charming but not threatening sexually. I thought that was important. Also he's a brilliant comic actor and a brilliant dramatic actor, plus he's a got a star personality, I believe, and I like that kind of actor. They're few and far between right now. That used to be the definition of a movie star -- a personality that comes across no matter what the part is.
Did you meet Owen through Wes Anderson?
I met Owen through Wes. I got to know Wes way back in the mid-'90s when he was making "Bottle Rocket." What happened was my ex-wife, Polly Platt, was the producer of "Bottle Rocket." She brought Wes to James L. Brooks, and Jim Brooks agreed to make the picture. While they were making the picture in Texas, I spoke to Polly and she said, "I'm working with this director who's the first director since I worked with you who knows exactly what he wants and won't take any substitutes. And he's a big fan of yours and he'd like to meet you." So I met Wes while he was shooting "Bottle Rocket" and we got to be friendly when he moved to New York. We spent quite a bit of time together, and then I met Owen through Wes. I had been in New York, but when I moved out in California again, Owen and I hung out a lot at his place in Malibu. We binge-watched "Breaking Bad" and "Game of Thrones." I decided I thought he could play this thing and I asked him to read it and he liked it, but felt that some of the physical humor should be eliminated and put in place some dialogue that he felt more comfortable with. We did that, and then we got Jennifer Aniston. I asked Wes and Noah Baumbach if they would come on as executive producers. They did and they turned us over to UTA, which was their agency, and UTA started to help get the money and put the producers into the mix. That's how it went.
Was their involvement more about your appreciation of their filmmaking, or was it about the mechanics of needing to get the film financed?
They had read it before and they liked the script. I asked them quite candidly, "Could you come on as executive producers to help to get the money?" As I said to them, "Your attachment to this would help get it done." And they said, "Great, sure, we'll do that." And it did help get it done. I was glad that they liked the script, but it wasn't so much about artistic input. It was about getting the picture made.
But surely Peter Bogdanovich can get a movie financed, right?
Well, it is very helpful to have a couple of guys who are currently making movies in the mainstream. I've been out of it a little bit, so it was very helpful and very nice of them to help me out like that. I think we could have gotten the movie if we had Owen and Jennifer, but it just made things a lot easier.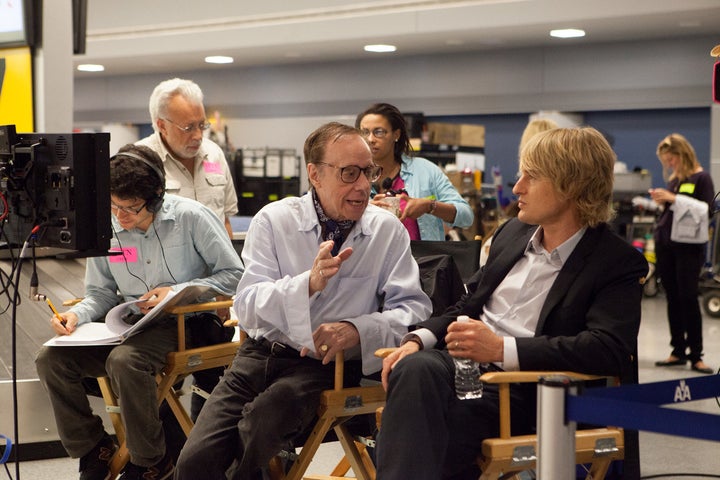 How drastically has the landscape changed since you started making movies in the late '60s?
Oh, it's changed, because the studios aren't making those kinds of films. I said to the boys, "Do you think 'What's Up, Doc?' would be a studio film today?" and they said no. And that's pretty scary because it was a very commercial picture. In fact, "What's Up, Doc?" was the third biggest grosser of the year. After "The Godfather" and "The Poseidon Adventure," we were No. 3 -- after two blockbusters. And our picture wasn't that expensive; it just made a lot of money, and you'd think a studio would want to make that, but I'm told they wouldn't.
What was the turning point when studios lost interest in those types of movies?
It started toward the second half of the '70s, with "Jaws" and "Star Wars" being such blockbusters. "Jaws" was the first A-list picture that was released like an exploitation picture. They made a lot of money with that picture because they could save a lot of money on advertising. Instead of having a full-page ad in The New York Times for one theater, they had it for 100 theaters. So that was a huge shift, and I think slowly the tides changed, so to speak, and the studios phased out the smaller pictures. For a while, all the studios had their art-house divisions, but that went by the by pretty quickly. Now they're really focusing on these huge blockbusters, spending a fortune on cartoon pictures and comic-strip movies and superhero movies, and they aren't making pictures like "How Green Was My Valley," which was an Oscar winner in its day.
What do you think of this trend of directors making idiosyncratic, dirt-cheap indies and then being poached for these behemoth CGI flicks? I'm thinking of Colin Trevorrow following up "Safety Not Guaranteed" with "Jurassic World," for example.
You know, they used to look for directors doing commercials or doing music videos. That was another way in. Now the way in is to make a picture that's personal and that makes some money, and if it's competently made and successful, they get hired for one of those blockbusters. And then it's up to the artistic conscience of the specific director to make that decision. Does he want to do that, or does he want to continue to make those smaller films? It's a difficult situation.
And, of course, you can't blame someone for wanting the fat paycheck that's impossible when you're making a little Sundance film. Were you ever faced with that dilemma?
Not that big. I was offered "Popeye," which Robert Altman made. They offered me $2 million to direct that, which was good money. I wasn't interested in it. I don't like that kind of movie. But in its day, "What's Up, Doc?" was considered a surprising choice for me after "The Last Picture Show" because they expected another "Last Picture Show" or something. I was offered to do a picture with Barbra Streisand and I turned it down, and then Warner Brothers said, "Look, if you had to do a picture with Streisand, what would you do?" And I said, "I'd do a screwball comedy, something like 'Bringing Up Baby.'" And they said, "Fine, do it." It was a blockbuster. That picture didn't cost anything and it grossed a lot of money. In today's dollars, it's something like $350 million. And then I was offered $1 million to do a sequel to "What's Up, Doc?" immediately. Barbra, Ryan O'Neal and I were each offered $1 million to do the sequel and I said, "We just did that picture. Why would I do it again?" During that period, I was looking to do things that I hadn't done. I kept challenging myself by doing the kinds of pictures that I hadn't done, and that worked sometimes, and sometimes it didn't.
You haven't made a theatrical film since "The Cat's Meow" in 2001. Is that an extension of how difficult it is to make the movies you want to nowadays?
I started acting in "The Sopranos" around 1999 and 2000. I did that for six years. That was quite a job and I loved it. And then I directed one of the "Sopranos" episodes, and I also directed a Natalie Wood movie for ABC and one about Pete Rose. Then I had published a fat, 600-page book about actors in 2004. I also did a four-hour documentary on Tom Petty, which took two years and won a Grammy. I redid a documentary on John Ford that I had done. I was pretty busy. I wasn't looking to direct anything. In order words, I didn't go around trying to get something done and just couldn't do it. I was busy doing all those things I just mentioned. And the first picture I decided to do was this one because I had an actor that I liked that I thought would help get me the money. But it wasn't like I was searching to make a picture and couldn't get one done. I liked doing what I was doing -- it was a change of pace. I loved doing Tom Petty's thing because I love Tom. We had a great time.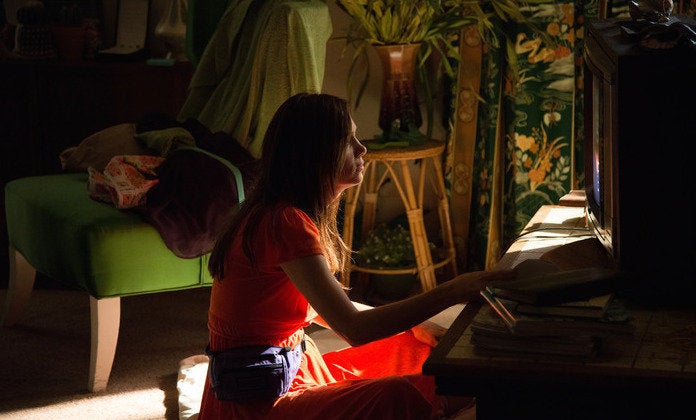 Indie Summer Movie Preview 2015
For a constant stream of entertainment news and discussion, follow HuffPost Entertainment on Viber.
Popular in the Community