* Water critical for future food production
* Focus on water since Brabeck stepped down as CEO in 2008
* Little political action as water too "emotionally loaded"
* Bottled water business under attack
* Brabeck sees bottled water as aid in obesity fight
VEVEY, Switzerland, July 12 (Reuters) - Nestle Chairman Peter Brabeck has a new mountain to climb. The 67-year-old is trying to goad world leaders into action to avert a looming water crisis.
The Austrian leads the world's biggest food and beverage company but has developed a passion for the water issue as he believes it is critical to the long-term future of the producer of brands like Nespresso and KitKat.
Nestle is also the top seller of bottled water, putting Brabeck on a collision course with some environmental and human rights activists who oppose any role for the private sector in providing of the ultimate elixir of life.
"Running water is the most important resource on the mountain," Brabeck wrote of an expedition he made in 2008 to climb Chile's Aconcagua peak - the highest in the Americas - as colleagues melted ice to drink at a high altitude camp.
"Actually not only on the mountain. In my opinion, water is the most important resource for mankind in general. And despite this, it is not recognised as such nor valued enough."
Brabeck warns a third of the world's population face water shortages within 15-20 years, also slashing food production.
"The world is out of water already," Brabeck told Reuters in an interview in his fifth-floor office at Nestle headquarters in the Swiss town of Vevey, looking out over sparkling Lake Geneva.
"The world will not be able to grow as fast as it did in the past if we do not get a grip on the water side."
As well as climbing, Brabeck also loves skiing, flying, Formula One and motorcycling, riding Harley-Davidsons with his wife Bernadette. Those passions have taught him to manage risk.
Just 300 metres from Aconcagua's summit on an expedition the hyperactive executive squeezed in over Christmas, Brabeck, then 64, decided to turn back as frostbite threatened. A few days later, six other climbers died on the same peak.
"On the mountain, as in life, the line between success and tragedy is often a very fine one," he recalled in his biography.
Brabeck learnt that lesson early. A year before joining Nestle as an ice cream salesman in 1968, two companions died on a 7,700-metre Himalayan peak after Brabeck was forced to descend as there was not enough food for all three climbers.
Brabeck has shown the same determination and single-mindedness in his professional life as in mountaineering, stepping back from the Nestle chief executive job in 2008 to dedicate more time to his water crusade.

Since then, he has headed a group linked to the World Bank that seeks to get the public and private sectors to work together on water scarcity. But he says sensitivity around the issue is hampering concrete action to address the crisis.
"As the discussions are highly emotionally loaded, they become politically very sensitive and therefore decisions are not being made," he said, adding the drying up of the Aral Sea in central Asia and Lake Chad in Africa as well as rivers in Arizona were calls to urgent action.
The fact politicians have promoted biofuels as a way to reduce the CO2 emissions blamed for global warming shows how little they value water: 9,100 litres is needed to grow the crops that produce each litre of biodiesel, Brabeck said.
"Since oil has a price, has a value, you find investments into alternatives. But because there is no economic incentive in the biggest area of water consumption - which is agriculture - you don't make those investments," he said.
Brabeck has the ear of many leaders after 44 years at the Swiss food and drinks giant. Born into a musical family, Brabeck abandoned an early dream of becoming a conductor to study economics in Vienna. He joined Nestle with the hope of seeing the world and was sent to Chile in 1970, where he met his wife.
He spent 17 years in various roles in Latin America before returning to Vevey, rising to CEO in 1997.
A picture of health with the permanent tan of a man often outdoors, Brabeck is a walking advert for Nestle, breakfasting on Nespresso and dark chocolate, taking lunch in the company canteen and cooking at home with Maggi or Buitoni products.
Brabeck has sought to redefine Nestle as the world's leading "nutrition, health and wellness company", selling high-margin, value-added products rather just commoditised food staples.
He has been a key force behind Nestle's push into the water business in the last 25 years that included the purchase of Perrier and San Pellegrino and the launch of emerging market brand Pure Life, now the world's top selling water brand.
Bottled water accounted for almost 8 percent of Nestle's total 2011 sales of 83.6 billion Swiss francs ($85.31 billion).

Environmental campaigners, who once doused Brabeck with water in protest, have questioned Brabeck's motives for speaking out on the water issue, accusing Nestle of seeking to seize control of local springs and aquifers.
But he sees no contradiction: "I have never understood that if I put sugar into the water, I am a good man. If I sell pure water, I am the bad man," Brabeck said.
"I am proud and happy for every bottle of any other beverage which moves over into a bottle of water, especially for children. It is one way to overcome the issue of obesity."
Brabeck, who once reportedly took a blind test of six different mineral waters and recognised them all correctly, seems to relish controversy. A father of three and now a grandfather, he shows no sign of slowing down.
Brabeck plans to seek another four years as chairman when his current term expires next year, taking him up to 72.
Admitting he has little free time for serious mountaineering nowadays, he has recently taken on the chairmanship of Formula One just as it weighs a stock market floatation. Still as driven as ever, he brings back lessons for Nestle too.
"A company like this cannot stay on top if you are not every single day thinking that the race is going on and the one who sleeps is out," he said. ($1 = 0.9799 Swiss francs) (Reporting by Emma Thomasson; Editing by Giles Elgood)

Support HuffPost
The Stakes Have Never Been Higher
Related
Before You Go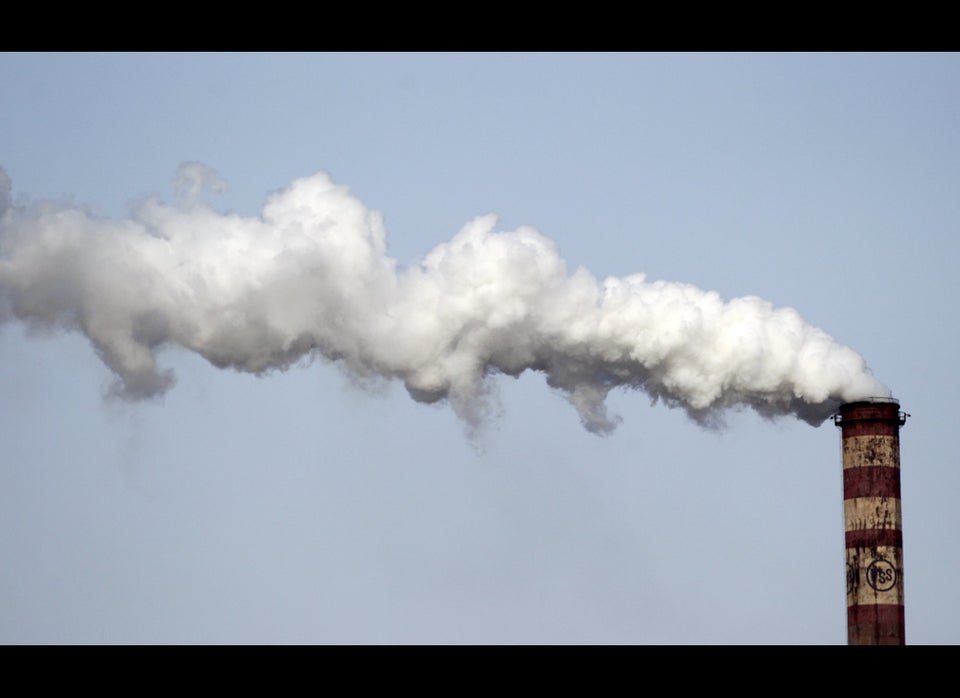 Top 10 Most Polluting Countries (2010)
Popular in the Community