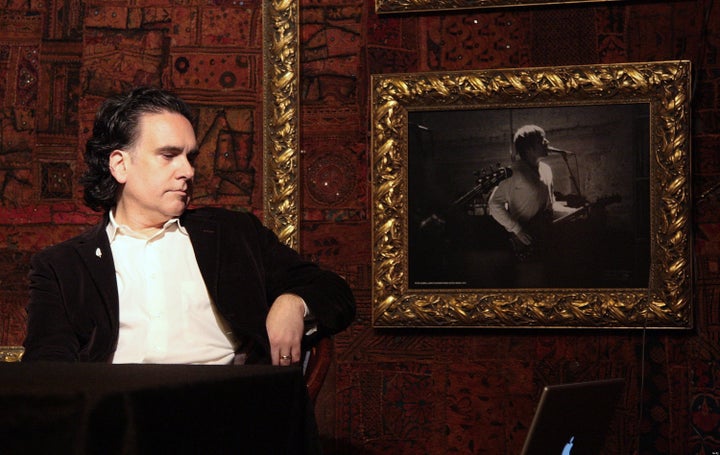 Peter Buffett is Warren Buffett's son. When I interviewed him last year, he said many memorable things, but the statement that most stood out had to do with how much he appreciated the undefined belief that both of his parents had had in him. They seemed to know that he was capable of something, and imparted to him the desire to explore himself more deeply in order to find it.
When I read "Life Is What You Make It," his touching and optimistic book about taking charge of life, I thought that I had developed some insight into this path that his parents had seen. But most recently, when I had the good fortune of listening to "Blood into Gold," something made my hair stand on end.
This thing that his parents had been speaking about, this talent that was lying dormant in his soul, had moved beyond its stirring into a full expression of art that was more than just supremely beautiful -- it was meaningful, impactful and magical. Wait a minute -- did I forget to mention cool? For this collection of songs that represents Peter's yearning for his own truth comes to us as part of a new interactive USB album with the distinct perfection of combining his deepest expression with the most moving and inspiring music and lyrics I have heard in a long time.
My favorite, "Blood into Gold," is a duet with Akon produced by Unicef and meant to raise awareness about the issue of human trafficking around the world. Debuting at the U.N. General Assembly during the National Day of Remembrance of the Transatlantic Slave Trade last March, the song is a masterpiece of voice and vision. It is appealing because it is inspired and heartfelt, and it shows us an old way of being that Bob Dylan brought to the world when he first made it.
Dylan brought a distinct voice with brilliant composition and a dedication to cause that has been lost in contemporary music for a long time. Peter Buffett revitalizes this depth without being preachy or sentimental. If I had to describe what I heard in the music, I would say it had something to do with a sincere appeal and the power of love to transform our world. It was not so much about being bad or wrong as it was about his ability to see how we are capable of more. And that is why I was able to hear him. I felt his music was able to touch the veil of my ignorance without making me feel stupid. I am not unaware of human trafficking, but I do not spend my days thinking about it, either. This song made me want to think more about it -- and that was what was so transformational about the way it was written and sung. It is a psychological masterpiece because it disengaged my apolitical defenses by appealing to my love of people and showing me how connected those two worlds are.
The whole collection has this haunting quality about. You can hear it in the compilation and the caring. And when you listen carefully, you can hear a message loud and clear -- that he knows how to approach the secret that so many of us yearn to know about ourselves, that part of being human that connects us with every person, place and thing on earth. It's hard to describe, but you can see that he simply will not stop. As remarkable as this collection is ("The Divide" and "No more Killing Time" should not be missed either), you get the distinct sense that this is only a new beginning for him and possibly for the world as well.
I am not sure what to call it -- emotional and musical philanthropy at its best, I think. Considerate, soft, determined, open -- and boy, does he know something about giving! I find myself joining him in his obvious awareness of love. When I listen to his music, it makes me want to remember my mother feeding me, and my father giving me his inimitable love through his semi-stern gestures. Why? I don't know. But if you listen to "The Way," you might see some of what I am speaking about -- and it's not because of the literal references to food.
If you are looking to enrich your soul, if you are looking to find a part of yourself that has been lost beneath the rubble of the daily earthquakes that have covered your life, plug in this USB to the nearest port. I guarantee that your ship will sail beyond the rubble. What's more is that it will sail into safe waters through which you will glide, as your sails are moved by this breath of fresh air. Peter Buffett has arrived, and you want to meet him as much as he wants to meet you.
Related
Popular in the Community