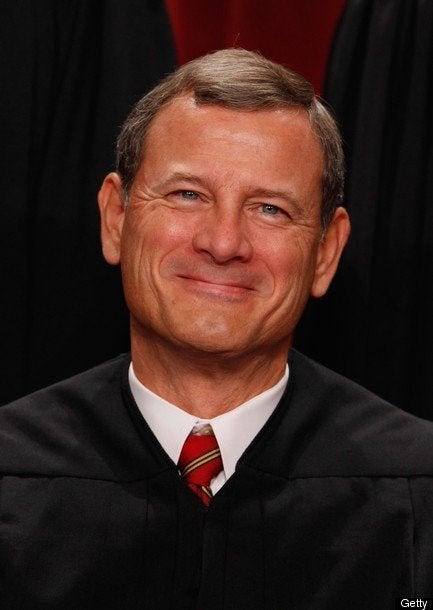 With Democrats increasingly outraged over the Supreme Court's Citizens United decision that allowed unlimited corporate spending in elections -- a change conservatives have been more successful at taking advantage of -- a Democratic congressman is raising the prospect of impeaching the Supreme Court's chief justice over the issue.
"I mean, the Supreme Court has done a tremendous disservice to the United States of America," Rep. Peter DeFazio (D-Ore.) told The Huffington Post on Tuesday. "They have done more to undermine our democracy with their Citizens United decision than all of the Republican operatives in the world in this campaign. They've opened the floodgates, and personally, I'm investigating articles of impeachment against Justice Roberts for perjuring during his Senate hearings, where he said he wouldn't be a judicial activist, and he wouldn't overturn precedents."
In his 2005 confirmation hearings, Roberts famously said, "Judges and justices are servants of the law, not the other way around. Judges are like umpires. Umpires don't make the rules; they apply them. The role of an umpire and a judge is critical. They make sure everybody plays by the rules. But it is a limited role. Nobody ever went to a ball game to see the umpire."
According to DeFazio, Roberts hasn't stood by his own doctrine. He pointed to former Justice John Paul Stevens's dissent in the case, in which he said the Citizens United case was not properly brought before the Supreme Court. "This procedure is unusual and inadvisable for a court," Stevens said of the process. "Our colleagues' suggestion that 'we are asked to reconsider Austin and, in effect, McConnell," ante, at 1, would be more accurate if rephrased to state that 'we have asked ourselves' to reconsider those cases."
"Justice Stevens makes the point that Roberts decided a case that wasn't even before the Court, and invited the issue before the Court," said DeFazio. "It was the most extraordinary condemnation I've ever read of a perverted majority on the Supreme Court, at least in recent years."
The last Supreme Court justice to face impeachment hearings was Samuel Chase in the early 1800s, who faced charges that he was being too partisan on behalf of the Federalist Party. The House of Representatives impeached him but the Senate did not convict, and he remained on the bench. Legal scholars doubt that impeachment hearings against Roberts would go anywhere.
"This is neither well-advised nor plausible," said Geoffrey R. Stone, a professor at the University of Chicago Law School. "Nominees may not perjure themselves, of course, but nothing in Roberts' testimony along these lines can fairly be characterized as perjury.
"I think it's probably an understatement to say it's extremely unlikely the House of Representatives will do anything about this," agreed University of North Carolina at Chapel Hill School of Law professor Michael J. Gerhardt. "Impeachment resolutions are introduced all the time, but very little comes of most of them, because most lack any merit and most just have no political support behind them."
Gerhardt added that Roberts has generally respected precedent. "[I]n this case, it could just be called a question of judgment," he said. "It appears to me that a judge, and in this case, the chief justice of the United States, has the independence to exercise his judgment."
DeFazio's race in Oregon's fourth congressional district has been thrust into the national spotlight because of the involvement by the Concerned Taxpayers of America, a shadowy Republican independent expenditure group funded by exactly two taxpayers who live in Maryland and upstate New York.
*************************
What's happening in your district? The Huffington Post wants to know about all the campaign ads, debates, town halls, mailings, shenanigans, and other interesting campaign news happening by you. E-mail us any tips, videos, audio files, and photos to election@huffingtonpost.com.
Popular in the Community