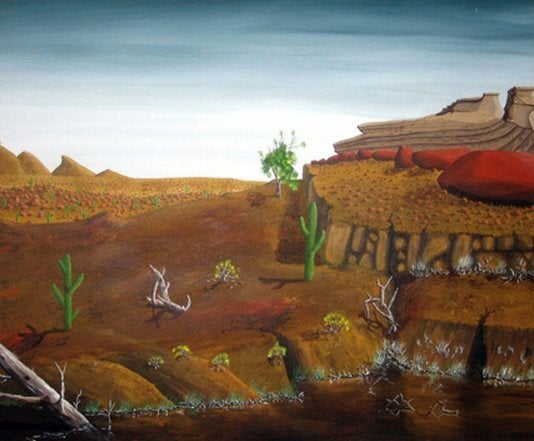 Who in the world is Pete Doige? Could he be just another incredibly talented but completely unknown ex-con from Ontario who painted a sophisticated surrealist landscape in the '70s and has never been heard from since?
Or could he have gone on to become one of the most famous painters on the planet whose paintings sell for over $10 million, lives in Trinidad and is known as Peter Doig?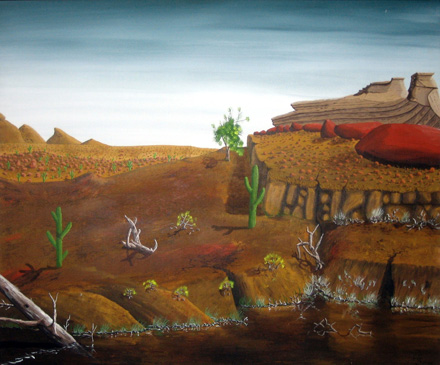 Desert Scene by Pete Doige. (Photo of painting by Peter Bartlow)
Let's start with the first guy. Pete Doige was a student in Ernie Adams' art class at Thunder Bay Correctional Facilities in Ontario, where he was serving a short sentence for possession of LSD in the mid 1970s. It's been nearly 40 years since Mr. Adams has heard of Pete Doige, but one mention of his name and he immediately remembers him without the slightest hesitation.
"Oh, I've thought about him many times," the former art teacher recalls, "He was a really talented guy, very intense. He really wanted to learn; he had real drive. He definitely stood out in the crowd. And he was just a real nice guy. If anyone didn't belong there, it was Pete."
Bob Fletcher thought the same thing. Bob was a correctional officer at Thunder Bay when an old acquaintance of his from Lakehead University, Pete Doige, became an inmate. "We became friends, and that doesn't happen often between an officer and an offender," he recalls, remembering the talented young inmate he befriended.
When Pete was paroled, Bob was appointed as his parole officer, and gave him a piece of advice. He suggested he try to sell his paintings. "But who would ever buy them?" he says Pete asked him. "I would," he answered, and he bought a painting Doige had made in Ernie Adams' art class. After paying Pete $100 for the surrealist landscape, he soon lost track of him.
Bob didn't hear from his friend until a few years later, when Pete showed up with a couple of photographers to take some pictures of the painting, for submission with his application to art school. Then he disappeared again. As for Bob, he had a distinguished career as a correctional officer and recently retired. Then one day last year, a friend of his with an interest in art was visiting, and noticed the striking painting hanging over his fireplace. He took a close look at it and suggested it might be by the famous artist Peter Doig.
Peter Doig was born in Edinburg, Scotland in 1959. When he was two years old his family moved to Trinidad and in 1966 they moved to Montreal. At the age of 17, Doig says he left home to work on an oil rig in the isolated prairies of Canada, where he became fascinated with prairie landscapes. "That was an extreme time as far as my relationship with landscape went," he told Guardian reporter Tim Adams. "The prairies are flat and go on for thousands of miles. You feel extremely vulnerable." It was during this stage of his life, as a teenager, he told Adams, that he experimented with LSD, which he said he stopped taking by the time he turned 18.
Then, in 1979, at the age of 20, Peter Doig moved to London where he enrolled in art school. By the mid '80s, he'd returned to Canada, settling in Montreal, where he produced a number of distinguished paintings which won him a series of prizes and honors, including paintings named after LSD, Orange Sunshine, Blotter and Window Pane.
In 2002, Doig moved back to Trinidad, and five years later one of his paintings, White Canoe, inspired by the movie Friday the 13th, sold at Sotheby's for $11.3 million, setting a record at the time for a living European artist. Since then, he has sold at least one other painting for over $10 million, while a number of others have sold for well over a million.
Doig himself has expressed dismay at the high cost his paintings have gone for. "It made me feel sick, really," he said in an interview for The Guardian, elaborating on the artifice of how the art world assigns value to a painting.
With art dealers and collectors reaping enormous profits from his works it is understandable that the artist might be a bit cynical about the commodification of his work. After all, his $11.3 million sale went for a painting he no longer owned, but had sold for a few thousand pounds to the art dealer Charles Saatchi. Just weeks before the record-breaking sale, Doig's own paintings sold for less than $80,000. The art world is, if anything, precarious and arbitrary when it comes to conferring value on contemporary paintings.
Which brings us back to Bob Fletcher and his hundred-dollar painting by Pete Doige. Fletcher sent a photograph of the photo to Olivia Thornton, a Sotheby's expert in contemporary art. "It is rare to see such a complete and highly resolved early painting by Doig," she wrote, "with clear allusions to his mature style. Your work has the trademark eeriness of the empty landscape, and a stratified composition which recalls his later work."
With Sotheby's opinion in hand, Fletcher approached Chicago art dealer Peter Bartlow with his painting. Bartlow examined the way the paint was applied and the composition of the painting, and found enough similarities to convince him he was looking at an early Doig. "One of the most common elements of a Doig landscape is the pond in the foreground," Bartlow wrote. Pointing to a classic Doig feature, he noted upright vertical lines created by tree trunks covered with characteristic white lichen.

He further observed that the color palette, the use of detail covering the entire surface of the painting, the repetition of limbs protruding from water, and rimming the water with green growth are found in other Doig paintings. "The striation of the landscape and the proportion and placement of the shapes is the same in many later works," he concluded, finally noting that a common feature of Doig paintings is the lack of perspective or a vanishing point. He often paints with a flat horizontal layout, as was done with the Pete Doige painting. And then Bartlow turned a Peter Doig painting upside down.

When Peter Doig's Riviere Grande was turned upside down and superimposed over the Pete Doige, the compositions proved almost identical. The sky of the Riviere Grande fits like a puzzle piece right over the water of the Pete Doige, limbs, trees, mountains and layers of color so near perfectly placed that one can only wonder at the inverted landscape's birth in the painter's complex imagination.
Confirming that it was his expert opinion that Fletcher owned the first Doig painting to be sold, Bartlow set out to have the painting authenticated by Peter Doig himself. And that's where the story gets weird.
Peter Doig forwarded his query to his art dealer, Gordon Veneklasen, of Michael Werner Galleries. Veneklasen promptly threatened Bartlow with a lawsuit if he persisted in claiming the painting was by Peter Doig:
After consultation with the artist, we can confirm that this work is absolutely not by Peter Doig. Not only does Mr. Doig not know the owner of this work, he has never been to the place it is supposedly painted... The painting is not by Peter Doig. Anyone can see that. We are not interested in any further communication related to this. Good luck in finding the real artist for this.
The force of the response was beyond anything Bartlow had encountered with another art dealer, and left him all the more certain he was on to something. But why would a painter deny his own work?
"Many artists have denied their work," Bartlow said, citing Picasso, Auguste Herbin, Richard Price and de Chirico as having done so. In one celebrated 1995 case a court ruling found that the European artist Balthus had deceived the art market by denying his own works when he didn't want art dealers or old lovers to profit from them. "Maybe Doig doesn't want anyone to know about his past," Bartlow suggests, "or maybe he doesn't want anyone to see that he's still painting the same composition."
I figured I'd find out for myself. Armed with Bartlow's evidence and his plea to look into the matter, I contacted Veneklasen, asking if he could put me in touch with Peter Doig. "For what reason?" he curtly replied. I explained that I was writing about the painting, and was just as interested in the possibility that the painting could be a fraud as it could be authentic. He did not reply, nor return my calls, and all efforts to reach Doig through other dealers went nowhere. The possibility that someone might be trying to perpetrate a multi-million dollar fraud by exploiting their client's reputation, or that an authentic early Doig had appeared, simply hasn't been of much interest to Peter Doig's dealers.

"If a dealer was afraid that Doig would go to another art gallery if they cooperated, then they aren't going to talk," Bartlow theorized. "They're making millions off his paintings." Yet what does Doig have to fear by admitting one bad chapter in his life? An artist who used LSD in the '70s is hardly a scandal these days. Then again, maybe it's a chapter he isn't so much ashamed of, as one he would simply rather forget.
"Every painting you make represents the time it was made and how you were feeling and what your influences were," he told The Independent "It represents a stage in your development and in that sense, it is unique."
One thing is certain: The painting is as unique as the story behind it. If it was painted by Doig, it could be quite valuable. And the first person to invest in his work has treasured it for over 35 years but is now living on a pension. "Yes, I'm hoping to sell," Fletcher concedes, "But it's also a great success story," he says, describing the pride he takes in having helped people turn their lives around, noting that the Peter Doig he has seen on YouTube videos is the same Pete Doige he knew.
Bob Fletcher just wants the truth established. But if it really wasn't painted by Peter Doig, then who in the world is Pete Doige and why can't he be found?
Photo credit of Pete Doige painting by Peter Bartlow
Popular in the Community