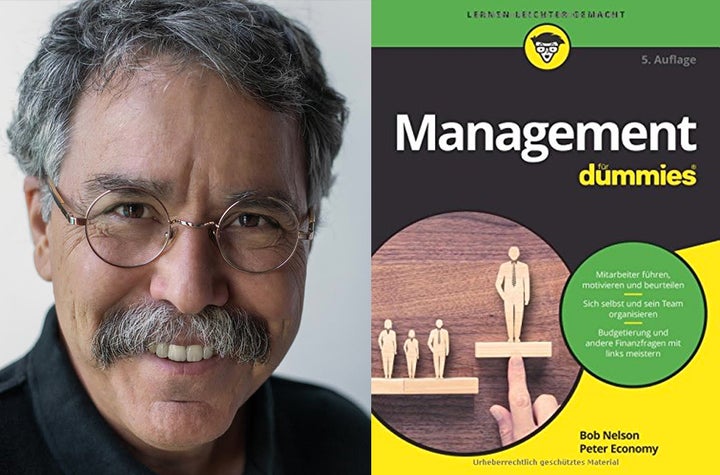 I spoke to Peter Economy, best-selling business author, ghostwriter, developmental editor, and publishing consultant, about the most important leadership lessons he's learned, why leaders are born and made, his source of inspiration, how he manages his time and his best career advice.
Peter has more than 100 books to his credit and more than 2 million copies sold. His books include Everything I Learned About Life I Learned in Dance Class, Leading Through Uncertainty: How Umpqua Bank Emerged from the Great Recession Better and Stronger than Ever, Managing For Dummies, Leadership Ensemble: Lessons in Collaborative Management from the World's Only Conductorless Orchestra, The Management Bible, and many more. He writes columns on leadership and management for Inc.com (The Leadership Guy) and has also served as Associate Editor for Leader to Leader magazine—published by the Frances Hesselbein Leadership Institute in New York City—since 2001.
Dan Schawbel: After working with so many leaders over the years, what are the most important lessons that you've learned to them?
Peter Economy: I've had the good fortune to work with hundreds of leaders over the years. I've learned that true leadership can occur anywhere in an organization—not just at the top. However, for leaders to emerge throughout an organization, executives and managers have to create an environment that encourages and rewards every employee for being a leader. Give employees a small amount of authority and responsibility to start, then increase these as the employees become more confident in their own leadership abilities.
Schawbel: Do you think leaders are born or made? If they are made, what are some tips to become a better one?
Economy: Both. Clearly, some people are born to lead—or at least their DNA is predisposed toward leading, and they were brought up in a way that allowed this leadership predisposition to be expressed. However, it's also clear that with training, a supportive environment, and real-life experience, anyone can become a leader—and a great one at that. Great leaders inspire others with a compelling vision of the future, they sincerely listen to their people—and respond to their suggestions and input—they create an environment of experimentation and constant improvement where mistakes aren't hidden and everyone learns from them, and they build the kind of company that people want to work for and do business with.
Schawbel: How do you come up with your best ideas and what are your sources for inspiration?
Economy: I read constantly—I subscribe to the New Yorker magazine, and I keep up to date on the news by skimming The Washington Post and The Los Angeles Times websites every morning and afternoon. Invariably, some article I've read within the last week or two will spark a new idea for book project with one of my clients, or a post on INC.COM.
Schawbel: How do you manage your time with writing content under your own name and ghostwriting?
Economy: Since I am self-employed, I decide on my own schedule—work and life are intertwined, with no hard boundaries between the two. I am extremely driven by deadlines—set by publishers, or agreed to with my clients—and I make a point of always meeting them. Upcoming deadlines get most of my attention, while distant ones are on my back burner. And because I'm usually working on multiple projects—writing articles, blog posts, book proposals, and books—if I'm not feeling it for one project, I can bounce to another one that is more inspiring at that moment.
Schawbel: What are your top three pieces of career advice?
Economy: 1. Specialize in something. Early in my own career, I had the option of writing most any kind of book—business books, children's books, novels, and a wide variety of other nonfiction and fiction works. However, one of my best friends suggested that I should specialize in just one kind of writing, and focus on that. I decided to focus on writing about business and leadership, and that became the firm foundation for two decades of success.
2. Be flexible. No one likes to work with someone who is difficult to work with. I make a point of being as flexible as I can be for my clients and giving instead of taking.
3. Have integrity. You're only as good as your reputation, and your good reputation is key to building a successful, satisfying, and long-lasting career.
Support HuffPost
The Stakes Have Never Been Higher
Related
Popular in the Community