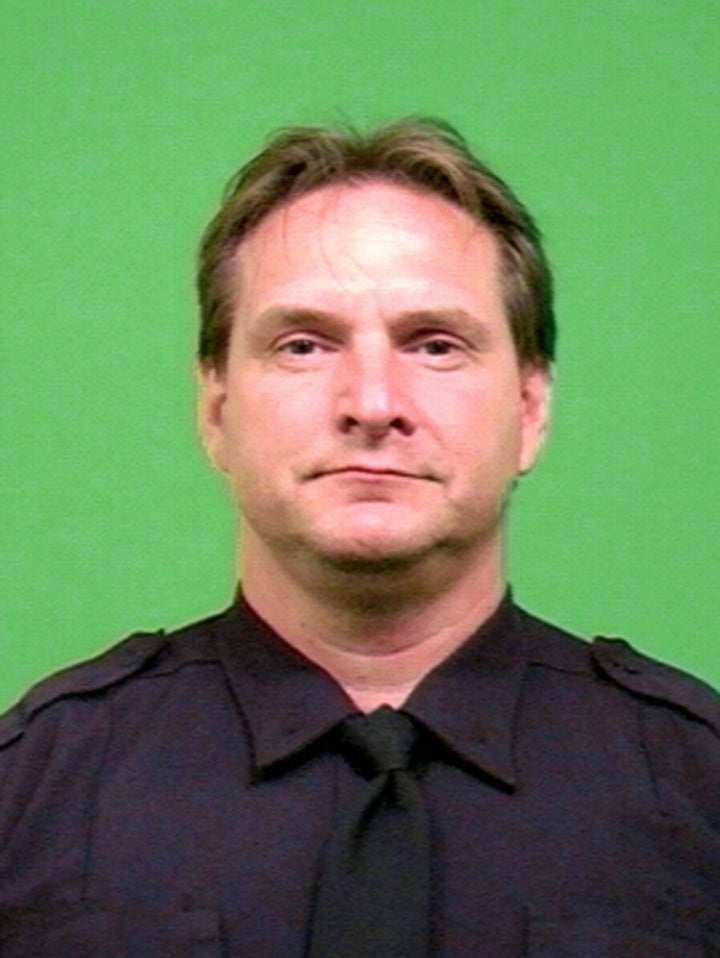 Officer Peter Figoski, a 22-year veteran of the NYPD and a father of four, was shot and killed early Monday morning after interrupting a home invasion in the Cypress Hills section of Brooklyn.
One suspect, Lamont Pride, 27, has been arrested and another is being sought, both for what Mayor Bloomberg called a "horrible, depraved, criminal attack."
Around 2:15 AM, Figoski and his partner, Glenn Estrada, arrived at 25 Pine Street on a "quiet block of two- and three-story row houses near the Queens border," according to The New York Times.
The owner of the building had called 911 after he heard two burglars pounding on the basement apartment door where a 25-year-old tenant lives, and then entering.
"The tenant, an employee of a nearby bodega, said that there were two men, a male Hispanic and a male black who was wearing a ski mask," Kelly said in a statement. "They initially claimed to be police officers, the tenant said. They then demanded money and jewelry. They knocked the tenant down, and one of the men struck him in the head with a firearm."
The perpetrators stole a cheap watch and $770 in cash.
When Figoski and Estrada arrived at the residence, two other officers were already on the scene, interviewing the 25-year-old victim.
However, unbeknownst to the officers, the two burglars, having been unable to escape in time, were still hiding in the apartment and slowly making their way towards the front door.
That was when they ran into Figoski.
Lamont Pride allegedly shot Figoski in the face at close range with an unregistered semi-automatic pistol. Police later recovered a pistol under a parked car near where Pride was arrested. There was one round discharged from the weapon.
Estrada was struggling with the second suspect when he heard the gunshot and saw Pride running away. He chased Pride four blocks away before arresting him.
Figoski, a father of four daughters and recipient of 12 police medals, including eight for exceptional police duty for his work in the 75th Precinct (one of the city's most crime-ridden), was rushed to a hospital where he died at 7:17AM.
Pride is being held and is facing murder charges. His accomplice is still at large.
"You want a reminder of the danger that our men and women in law enforcement face every single day to keep us safe?" Mayor Bloomberg said today. "Look no further than this shooting."
CORRECTION: This article previously stated the semi-automatic pistol was "illegal." The gun was unregistered.
Calling all HuffPost superfans!
Sign up for membership to become a founding member and help shape HuffPost's next chapter