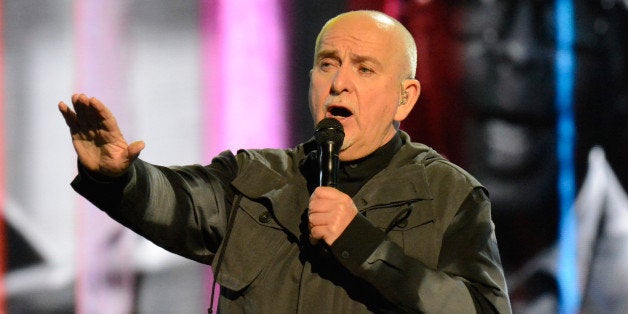 "God came before Phil the Collins. The angel replied, 'I am Gabriel,'" joked Chris Martin of Coldplay during one of the cheekier speeches in Rock and Roll Hall of Fame Induction history. The non-biblical Gabriel being referenced was, of course, the inimitable Peter Gabriel, an artist whose influence is so widespread it's easy to take for granted. A two-time Hall of Fame Inductee -- first with Genesis -- Gabriel has transformed the rock and roll soundscape as a solo artist for more than 40 years. From avant-garde cult artist to brilliant multimedia pop sensation to international rock icon, Gabriel's music and message transcends boundaries -- not just musical, but societal. It's a rare gift and one Gabriel shared his passion for music in a memorable acceptance speech.
So I'm saying to all those people now at the start of that journey: that if you're exploring making music and looking at us old-timers getting our decorations, I say two things: dream big, and let your imagination guide you, even if you end up dressing up as a flower or a sexually transmitted disease. They may think it's a little strange. They may laugh at you, but just do it.
Secondly, surround yourself with brilliance -- the brilliance of who you love being around and the brilliance of their talent. I've worked with so many amazing people through these years, and you can see from the musicians I have on the stage with me, I'm surrounded by great -- and have always been -- by great musicians, including some of the world's greatest drummers which, as an aspiring drummer, has been a real thrill.
But, in the end, the core of what you are and where you are is where your heart is, and those who you love and those who love you.
Watch out for music. It should come with a health warning. It can be dangerous. It can make you feel so alive, so connected to the people around you, and connected to what you really are inside. And it can make you think that the world should, and could, be a much better place. And just occasionally, it can make you very, very happy. Thank you so much. It means a great deal.
PHOTO GALLERY
Artifacts From the Rock and Roll Hall of Fame
Calling all HuffPost superfans!
Sign up for membership to become a founding member and help shape HuffPost's next chapter