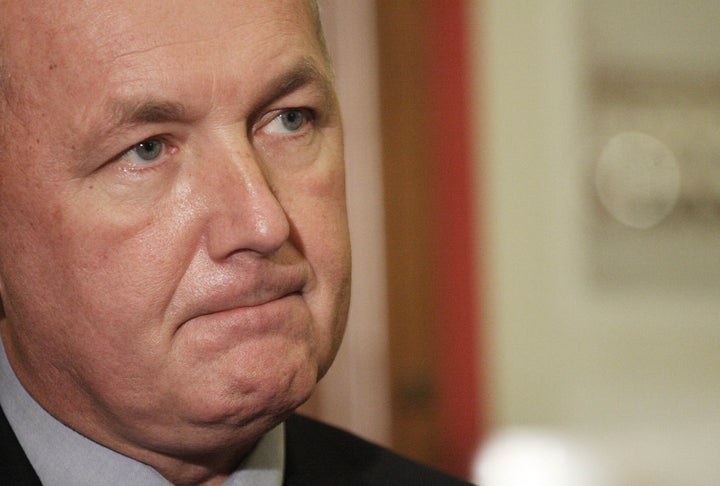 Someone other than Congressman and gubernatorial candidate Pete Hoekstra appears to have purchased the URL petehoekstra.com and the results aren't exactly promising for the Michigan Republican.
Hoekstra, who stakes a large chunk of his political reputation on a hawkish and elevated understanding of foreign policy and national security matters, is pilloried at the eponymous website over his handling of these very topics. In particular, the site's authors lash out at the lawmaker for fundraising off the bungled airline bombing that took place on Christmas Day. They also take glee in reminding Hoekstra that he failed to register the website they now run.
Reflecting on Hoekstra's criticism of the president's plans to transfer Guantanamo detainees, the site's authors write: "To insinuate that Obama is releasing hard-core terrorists from Gitmo is such fear-mongering crap...but what do you expect from a guy who DIDN'T EVEN THINK TO REGISTER HIS OWN .com NAME?!"
The identity of the site's creator isn't entirely clear (a request for comment was not immediately returned). But while it seems likely to be a Democratic critic of Hoekstra, it's worth noting that the lawmaker has engendered some criticism from Republicans as well. Fellow Republican gubernatorial candidate Rick Snyder chastised Hoekstra this past week for the "poor judgment" he showed in sending out that fundraising email.
"His unfortunate display of political ambition is beginning to harm the reputation of the Republican party," read Snyder's statement.
This is not Hoekstra's first flub when it comes to the intersection of politics and technology. While on a trip to Iraq in February 2009, the Michigan Republican tweeted his location, in what was an apparent breach of protocol and security.
Later in the year he went on Twitter to compare the Republican minority in the House of Representatives to the Iranians who took to the streets of Tehran to protest the controversial re-election of Mahmoud Ahmadinejad.
UPDATE: The site's authors, while refusing to give up their anonymity, send over the following remark explaining their decision to launch the page.
We are not affiliated with any specific organization or opponent, we are not party-line Democrats or Republicans, rather we're concerned Michigan residents who want best for our state. We can, and must, do better than Pete Hoesktra as our next Governor.

The domain PeteHoekstra.com has been available forever. Mind you, Hoekstra first won his seat in November '92 -- before Al Gore even invented the Internet! :) So he's had plenty of time to reserve this domain.

We've been concerned about Hoekstra's representation of Michigan's 2nd district for quite some time -- note that he long ago broke his promise on staying a maximum of 6 terms -- and have witnessed an unfortunate increase in his partisan finger-pointing and polarizing tone over the past couple of terms, potentially due to frustration over the decline in Republican power in Washington.