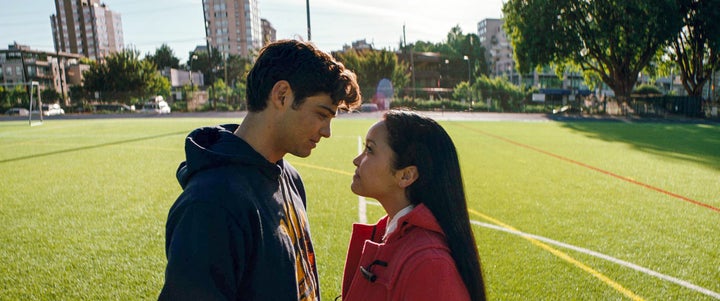 Before this movie, I was a cold, cynical person who believed saying kind things to loved ones was for the weak. This movie changed me. Take this journey; experience the softer side.
The movie is dense with perfectly romantic moments in which the sweet Lara Jean (Lana Condor) is flirted with and cherished and teased and yearned after. Twitter is rife with best-of lists ― the hot tub scene! the pillow-fight! "you were never second best!" ― and all those lists are correct regardless of ranking because the movie is uniformly adorable.
But I'm here to praise a moment that I believe has been slept on: when Peter Kavinsky (Noah Centineo) takes Lara Jean's scrunchie out because he thinks she looks pretty with her hair down, insists on taking a photo to prove it to her, and then looks at the photo he took and gives a fond, snuffly "Aw!"
It's so fucking cute I can't handle it.
This now-infamous scrunchie scene takes place early in the fake relationship the two have agreed to pursue, when Peter takes her to a friend's house party to show off their coupledom. Before they enter, they pause in the empty foyer and Peter insists that they exchange photos to use on their phone lock screens. (Ah, high school in the age of technology.)
At this point, Peter is still pining for his ex, Genevieve (Emilija Baranac), and his relationship with Lara Jean is all for show. We see this minutes later, when he sends Gen a devastating look of longing across the party. But that doesn't mean he has to be dismissive or unkind to his partner in deception.
And he's not! Even in this private moment, when there's no reason to perform interest in her, he's just out here making Lara Jean feel pretty and lovable. It's wild how confusing it feels to see a boy in a teen movie being so tender with a girl without the clear and immediate goal of getting in her pants. There's no brusqueness or dickishness; he doesn't deride her youthful style or become exasperated that he has to deal with her naiveté about the party scene.
Instead, he's warm and earnest. The "aw" is an affectionate little sound that says "we're technically faking this, but I genuinely think you're wonderful and I'm happy being around you."
Boys who genuinely like and respect girls are maybe a thing that we should portray and valorize more! Just an idea, but a good one, I think!