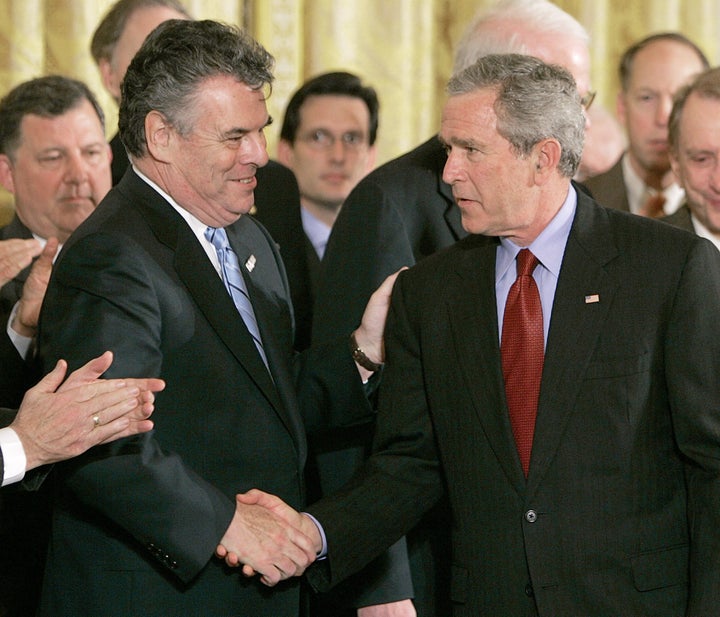 Rep. Peter King (R-N.Y.), the man who is likely to become next chairman of the House Homeland Security Committee, recently defended former president George Bush's candid admission in his book that he had directly authorized the use of waterboarding, an interrogation practice now considered torture.
"There was no harm done," King said Wednesday, referring to the waterboarding of alleged 9/11 mastermind Khalid Sheikh Mohmammed, who was subjected to simulated drowning 183 times in March of 2003. "In the big picture, to hold someone's head underwater, the chance of permanent damage is minimal and the rewards are great."
There has been a fair amount of buzz from both sides of the aisle lately about potentially seeking legal avenues to investigate the Bush administration's green-lighting of the controversial practice.
Rep. Jason Chaffetz (R-Utah) suggested Tuesday that he might even be open to efforts to probe the prior sanctioning of torture.
Rep. Jerrold Nadler (D-N.Y.) on Tuesday called more directly for investigators to pursue "full accountability for the criminal use of torture."
King, however, entirely disagreed with this mission.
"Jerry and I are friends, but he's entirely wrong on this," King told Politico. "There would've been lives lost, and Bush deserves credit for what he did."
And not just credit -- King says the former commander in chief "should get a medal."
Meanwhile, King has also recently announced his continued opposition to the use of civilian terror trials. He said that he still stands by Guantanamo military tribunals as the proper way to deliver justice to accused terrorists.
On Wednesday, Nadler discussed waterboarding on "The Ed Show." Nadler told Ed Schultz that a special prosecutor should be appointed in light of Bush's admission that he authorized the practice. "The United States has always considered waterboarding torture, except during the Bush administration," Nadler said. "Under our statute and under international law we are bound to prosecute." Scroll down for the full segment.
Popular in the Community