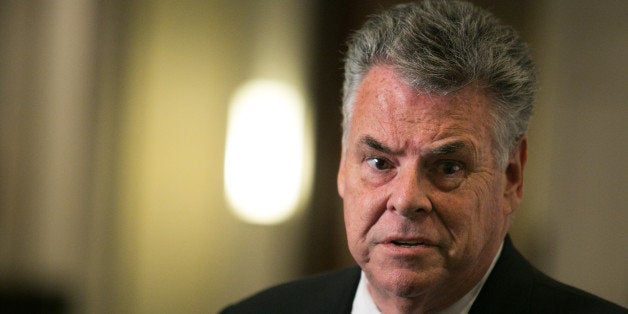 WASHINGTON -- Rep. Peter King (R-N.Y.) said Monday that he will buck his party leadership and vote against bringing up a government-funding bill that includes a one-year delay of Obamacare. And, he said, there may be as many as 25 other Republicans ready to do the same.
Nearly all Republican lawmakers flooding out of a closed-door meeting scoffed at the idea of passing a "clean" bill that simply funds the government ahead of Monday night's deadline. Most said the idea didn't even come up in the meeting as GOP leaders put forward their latest plan: to pass a bill that funds the government through mid-December but also delays by a year the individual mandate portion of the health care law. Their bill would also end federal health care subsidies for Hill staffers and lawmakers.
Democrats and President Barack Obama are insisting on a clean bill or no deal. King said that when he stood up in the meeting and urged his colleagues to vote for a clean funding bill, with no Obamacare provisions, it didn't go over well.
"Overwhelming silence," he told reporters.
But while most House Republicans aren't inclined to publicly admit they'd support a clean bill, King said as many as 25 of them may join him in voting against the rule to bring up the GOP bill at all. The reason, he said, is because they are worried about the political fallout from a government shutdown, and they don't want to be seen as having voted to cause it. If that block of Republicans holds, they, along with all the House Democrats opposed to bringing up the bill, could potentially sink it.
"They just feel it's a dead end," King said of those lawmakers, without naming names. "Shut down the government and then get blamed for it."
The House and Senate have been sending versions of the bill back and forth for days. House Republicans keep adding in provisions to defund or delay Obamacare, and the Democratic-controlled Senate keeps stripping out those provisions and sending back a clean funding bill. If Congress doesn't do something before midnight, the government will shut down. As of Monday evening, the bill was back in the House, with GOP leaders preparing to put forward their third version of the measure.
King said he's tired of being "a facilitator for a disastrous process" and ready to move on. He noted that while nobody echoed his call for a clean funding bill in Monday's meeting, some complained about adding the provision into the bill to make health care more expensive for congressional aides -- a move they said was purely political, to show that Republicans are taking a stand against Obamacare.
"They thought it was wrong to make a sacrifice of their staff," King said. "It's throwing red meat to the public, using our staff to get us out of the trouble we got ourselves into."
UPDATE: 7:25 p.m. -- House Republican leaders ultimately secured enough votes to bring up the bill, as lawmakers voted 225-204 to begin debate. Notably, House Speaker John Boehner (R-Ohio) was talking to King on the House floor before the vote, as another procedural vote was underway. That measure appeared headed for failure, as dozens of Republicans curiously held off on voting for several minutes. But as Boehner and King finished talking, that vote ultimately passed, as did the vote to begin debate.
Calling all HuffPost superfans!
Sign up for membership to become a founding member and help shape HuffPost's next chapter
BEFORE YOU GO
PHOTO GALLERY
Lies And Distortions Of The Health Care Debate