WASHINGTON -- Rep. Peter King (R-N.Y.), a frequent critic of President Barack Obama's foreign policies, expressed his disapproval Tuesday of a letter that GOP senators sent to Iran trying to undermine the president's nuclear negotiations.
Speaking to reporters at the International Association of Fire Fighters presidential forum Tuesday morning, King said that while he agreed with "the entire tone of the letter," he likely would not have signed it had he been in the Senate.
"I believe in a strong presidency. I don't know if I would have signed the letter. I don't trust the president on this, quite frankly, though I don't know if I'd go public with it to a foreign government," he said, adding that it sets the wrong "precedent" to publicly go to a foreign government to undermine the president of the United States while he or she is dealing with that country.
The Wall Street Journal's editorial page, which leans conservative, also called the senators' letter a "distraction" Monday.
"Democratic votes will be needed if the pact is going to be stopped, and even to get the 67 votes to override a veto of the Corker-Menendez bill to require such a vote," wrote the editors, referring to a bill that would require Obama to submit to Congress the text of any potential deal with Iran for a hearing and a vote. "Monday's letter lets Mr. Obama change the subject to charge that Republicans are playing politics as he tries to make it harder for Democrats to vote for Corker-Menendez."
The U.S. and five other countries are negotiating with Iran to curb its nuclear program in exchange for loosened economic sanctions.
In their letter to Iran, the Republican senators warned that any such deal would have to pass both houses of Congress.
Obama sharply denounced the letter Monday.
"It's somewhat ironic to see some members of Congress wanting to make common cause with the hardliners in Iran," Obama said, referring to figures in Iran who also oppose a nuclear deal. "It's an unusual coalition."
"In thirty-six years in the United States Senate, I cannot recall another instance in which Senators wrote directly to advise another country -- much less a longtime foreign adversary -- that the President does not have the constitutional authority to reach a meaningful understanding with them," Biden wrote. "This letter sends a highly misleading signal to friend and foe alike that that our Commander-in-Chief cannot deliver on America's commitments -- a message that is as false as it is dangerous."
Want more updates from Amanda? Sign up for her newsletter, Piping Hot Truth.
Before You Go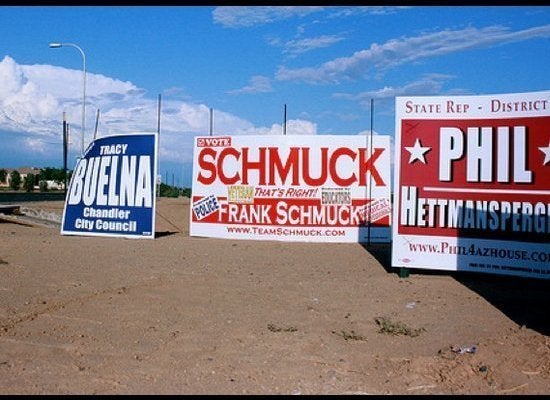 Unfortunate Politician Names
Popular in the Community