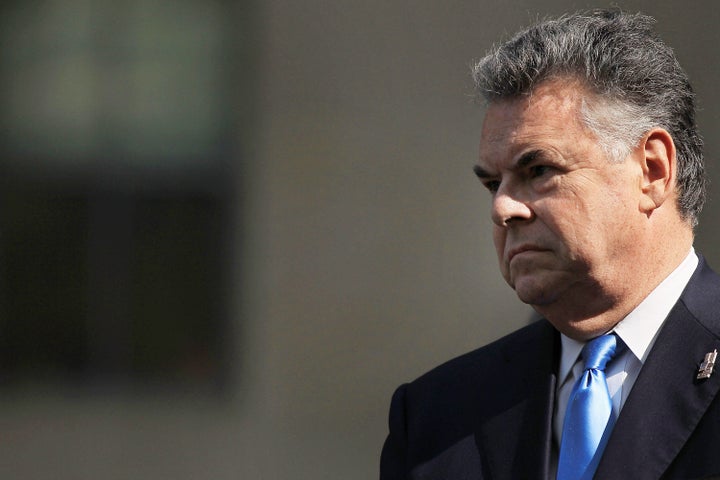 The reasons for New York Republican Rep. Peter King's insistence on holding a series of controversial hearings about the alleged growth of radical Islam in America may have grown clearer this week, when King expressed his belief that "over 80 percent of the mosques in this country are controlled by radical Imams."
During an interview with the "Laura Ingraham Show," caught here by ThinkProgress, King described his belief about the extreme extent of radical leadership in the nation's Islamic places of worship.
HOST: Congressman, how widespread do you think this radical jihad sentiment is in US mosques? How many mosques do you think are infected?

KING: The only real testimony we have on it is from Sheikh Kabbani who was a Muslim leader during the Clinton Administration, he testified back in 1999 and 2000 before the State Department that he thought over 80 percent of the mosques in this country are controlled by radical Imams. Certainly from what I've seen and dealings I've had, that number seems accurate.
Referring to a decade-old testimony seems a strange launching pad for such an outrageous claim, especially considering the presence of more recent, better-sourced, research concerning the matter.
ThinkProgress points to a 2004 Detroit mosque study, conducted by the Institute for Social Policy and Understanding, which finds -- among other debunkings of highly inflated statistics about rampant Islamic extremism in the nation -- "that the vast majority of American-Muslims eschew extremist views" of Salafist or Wahabbi Islam.
A more recent study, underscored in a New York Times article on the growth of anti-mosque movements during the height of the controversy over the so-called "Ground Zero mosque" this summer, "concluded that contemporary mosques are actually a deterrent to the spread of militant Islam and terrorism."
"Our research suggests that initiatives that treat Muslim-Americans as part of the solution to this problem are far more likely to be successful," coauthor David H. Schanzer said at the time. "Muslim-Americans organizations and the vast majority of individuals that we interviewed firmly reject the radical extremist ideology that justifies the use of violence to achieve political ends."
Popular in the Community