NEW YORK ― Rep. Peter King (R-N.Y.) is encouraging Donald Trump to create a federal Muslim surveillance program that's modeled after New York City's failed and likely unconstitutional program.
"The main issues I discussed were what we have to do to have the Justice Department and the FBI be more leaning-forward when it comes to investigating Islamic terrorism," King told reporters in the lobby of Trump Tower in Manhattan after meeting with the president-elect on Thursday.
"I suggested a program similar to what Commissioner Kelly did here in New York," King said, referring to former New York City Police Department Commissioner Ray Kelly, "and that we can't worry about political correctness."
For over half a decade after the 9/11 terror attacks, Kelly oversaw a surveillance program that targeted New York and New Jersey Muslims because of their faith.
Officers in the since-disbanded Demographics Unit infiltrated Muslim student groups, kept track of Muslims who changed their last names, eavesdropped on conversations between Muslims, spied on Muslim-owned businesses, recorded imam's sermons, and put undercover officers and informants inside mosques.
King said Thursday that this program was "very aggressive and forward-leaning when it came to trying to estimate where terror would be coming from."
Kelly's surveillance program, King added, "which unfortunately the civil liberties union and The New York Times didn't like ... were very effective in stopping terrorism and they really should be a model for the country."
Additionally, a 2012 City University of New York School of Law report found that the NYPD's program had created "a pervasive climate of fear and suspicion, encroaching upon every aspect of [Muslims'] individual and community life."
The program also "severed the trust that should exist between the police department and the communities it is charged with protecting," the report said.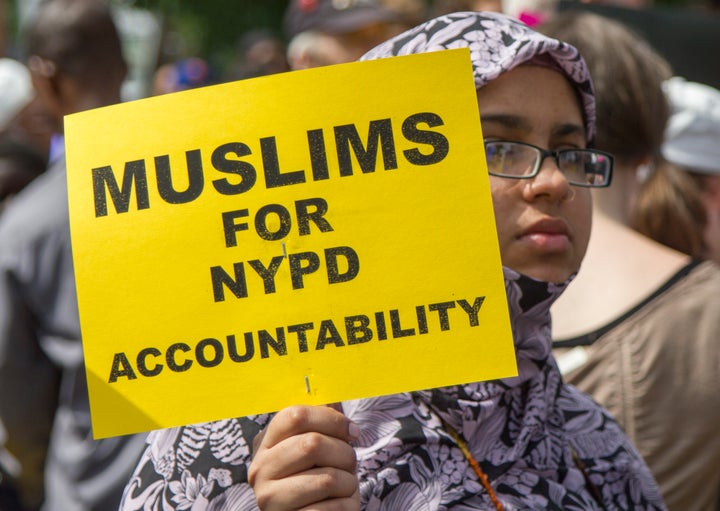 In 2013, the American Civil Liberties Union and other groups sued New York City over the NYPD's Muslim surveillance program. Earlier this year, the plaintiffs in that case proposed a settlement that is still being negotiated and would prevent the police department from conducting investigations on the basis of race, religion or ethnicity.
Another lawsuit, filed by Muslim Advocates and the Center for Constitutional Rights, is currently in pretrial litigation. In October 2015, the U.S. Court of Appeals for the 3rd Circuit reinstated the case after a previous dismissal, issuing a powerfully worded decision comparing the NYPD's Muslim surveillance program to some of the worst civil liberties violations in America's history.
"What occurs here in one guise is not new," the court wrote. "We have been down similar roads before. Jewish-Americans during the Red Scare, African-Americans during the Civil Rights Movement, and Japanese-Americans during World War II are examples that readily spring to mind. We are left to wonder why we cannot see with foresight what we see so clearly with hindsight—that "[l]oyalty is a matter of the heart and mind[,] not race, creed, or color."
The ACLU tweeted on Thursday that it would sue if Trump were to implement a federal Muslim surveillance program.
And after the terror attack this year in Orlando, Florida, Trump lashed out at New York City Mayor Bill de Blasio for disbanding the NYPD unit that monitored Muslims.
"We need justice, we need vigilance, we need great intelligence-gathering systems, which we don't have," Trump said at the time. "We had them in New York City, as an example, probably the best in the nation, and the new mayor just broke it all up and disbanded it, he thought it was inappropriate … that was unbelievable, that was one of the best of all systems. We need intelligence gathering like never before."
Asked Thursday how Trump had responded to his proposal for a federal Muslim surveillance program, King said, "I was talking and he was nodding."
Ben Walsh contributed reporting from Trump Tower.
The Huffington Post is documenting the rising wave of anti-Muslim bigotry and violence in America. Take a stand against hate.
Popular in the Community