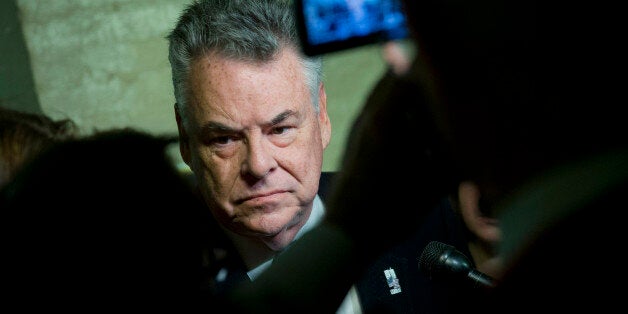 Rep. Peter King responded to last Wednesday's tragic events in Paris, where journalists, bystanders and police officers were killed at the offices of the publication Charlie Hebdo, by urging the New York Police Department to reintroduce -- or more accurately, continue -- flawed practices of spying on American Muslims. But King is wrong: blanket spying based on race or religion fails to keep our communities safe.
An Associated Press investigation into the activities of the Demographics Unit dedicated to wholesale spying on American Muslims in the city and northeast revealed that it failed to help produce a single lead or terrorism case, instead increasing distrust between the police and the communities they serve. While the De Blasio administration says it has disbanded the unit, there is no indication that the NYPD leadership has abandoned these discriminatory practices.
As people in the U.S. and around the world mourn the horrendous deaths in Paris, we are united in concern for the safety of our communities. At Muslim Advocates, we strongly believe in protecting freedom for people of all faiths, which of course includes the freedom of speech and expression. It is never acceptable to initiate a violent act as a response to speech, no matter how vile and offensive it may be.
At the same time, a fundamental American value is that we don't treat each other differently based on how we look or how we pray. This principle of equality is enshrined in the Constitution and prohibits unequal treatment by law enforcement and government officials.
We know courageous and dedicated NYPD police officers put their lives on the line every day to keep Americans safe.
But singling out American Muslims for blanket surveillance does not make our nation safer. Spying based on race, ethnicity or religion has failed to identify criminal activity while undermining the very trust between American Muslims and law enforcement that is needed to fight real threats. As former Secretary of Homeland Security Michael Chertoff said, shortly after the failed Christmas Day attack aboard a U.S.-bound airliner in 2009 involving a Nigerian perpetrator, "people's conception of what a potential terrorist looks like often doesn't match reality" and that biased policing is "not only problematic from a civil rights' standpoint, but frankly...not ... terribly effective."
A diverse group of American Muslim plaintiffs filed suit to end the NYPD's invasive and discriminatory spying program based on racial and religious profiling. The lawsuit, Hassan v. City of New York, represents the first legal challenge against the NYPD for intrusive practices targeting American Muslims and seeks an immediate end to the unlawful surveillance and the purging of files maintained by the NYPD.
As documented by the Associated Press, American Muslims have been indiscriminately targeted in New York City, as well as in towns, mosques, businesses and college campuses throughout the northeast, including in New Jersey, Pennsylvania and Connecticut. Records show that the NYPD has taken copious notes on the details of law-abiding American Muslims' daily lives, not based on evidence of wrongdoing but simply because they were Muslim.
The plaintiffs in the lawsuit are as diverse as the American Muslim community itself: they include a decorated U.S. Army reservist, a small business owner who is also a Vietnam veteran, students and imams.
Our lawsuit, being heard by the U.S. Court of Appeals for the Third Circuit today in Philadelphia, is about the pervasive and discriminatory policies and practices that former NYPD Commissioner Ray Kelly put into motion and Commissioner William Bratton has continued -- policies and practices that prevent police officers from keeping our communities safe.
On January 13, the plaintiffs -- and the American Muslim community -- will finally have their day in court. The Third Circuit will be the highest court in the country to consider the constitutionality of the NYPD's program to date.
Muslim Advocates and the Center for Constitutional Rights have built a coalition of dozens of law enforcement, faith and civil rights allies to stand with our plaintiffs as we prepared for today's hearing. These various allies recognize that biased policing is bad policing. While we face grave security concerns, it is more important than ever that government and law enforcement officials focus on legitimate leads and credible intelligence to keep our nation safe.
Popular in the Community