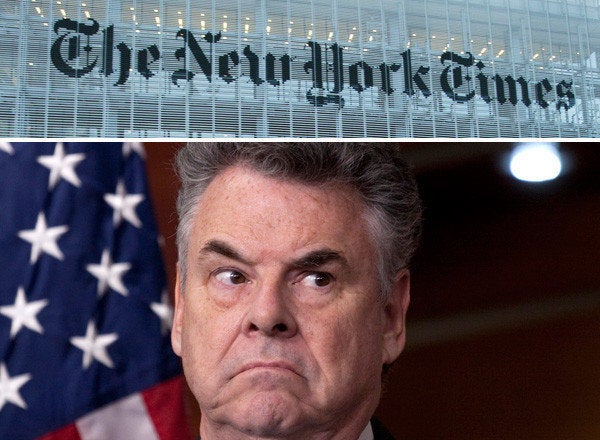 WASHINGTON -- Rep. Peter King (R-N.Y.), long known for being one of the first and loudest voices to offer his two cents on national security crises, took umbrage with the New York Times on Tuesday morning for its decision to publish leaked State Department cables.
The gray lady -- technically, King's hometown paper -- showed "arrogance" for running stories based off the WikiLeaks information, he said, acting as if it was an honest arbiter of what was or was not pivotal national security information.
"That shows the arrogance of the New York Times," the New York Republican told Fox Business Network. "They say that they decided what to redact, they decided what was damaging to national security. The New York Times has no idea what is damaging to national security."
King is known for aggressive politicking on homeland security matters (he's poised to take over the chairman's position on the Homeland Security Committee). And in the immediate aftermath of the WikiLeaks document dump he was urging the Attorney General to label the site a terrorist organization.
The criticism of the Times is more conventional than anything else. The paper has long been a whipping post for conservatives. But even then, King's comments seem a bit off. For starters, the paper didn't obtain the secret cables, they were passed them by another news outlet, the Guardian. And even then, editors at the Times showed due diligence in ensuring that no legitimate national security crises were caused by publication. The Obama administration, for one, was given ample time to make a case as to what information they felt shouldn't see the light of day.
Asked about those precautions, King relented a touch.
"Obviously if there is a formula for new weapons there the New York Times can figure out that that's damaging for national security. But you can have, innocuous facts, innocuous details in there, seemingly innocuous information which an enemy going through analyzing it with their intelligence agencies... [They] can really blow the cover of sources that we have in government or countries around the world."

Calling all HuffPost superfans!
Sign up for membership to become a founding member and help shape HuffPost's next chapter