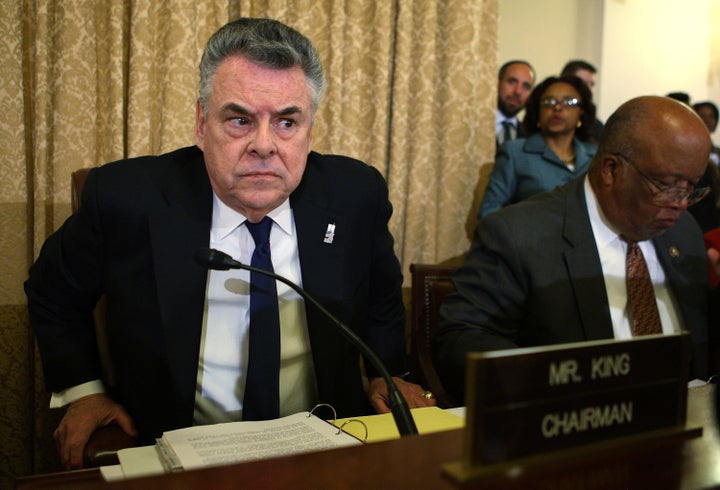 WASHINGTON -- The powerful Republican chairman of the House Homeland Security Committee is demanding that the FBI investigate Rupert Murdoch's News Corp. over reports his defunct News of the World tried to hack 9/11 victims' phones.
Murdoch recently closed the popular British Sunday tabloid after revelations the paper had hacked into voicemail accounts of crime victims -- including erasing the messages of a slain girl. The fallout cost Murdoch a $12 billion bid for British Sky Broadcasting and sparked a major bribery and hacking probe in England.
Sen. Jay Rockefeller (D-W.Va.) called Tuesday for U.S. authorities to look into the privacy invasions after reports the paper tried to bribe a New York City police officer to get access to the phones of 9/11 victims.
Now Rep. Peter King (R-N.Y.) is demanding that FBI Director Robert Mueller open a probe, becoming the most prominent Republican to demand an investigation into the corporate parent of the conservative-leaning Fox News.
"It is revolting to imagine that members of the media would seek to compromise the integrity of a public official for financial gain in the pursuit of yellow journalism," King wrote. "The 9/11 families have suffered egregiously, but unfortunately they remain vulnerable against such unjustifiable parasitic strains."
"I make this request not only as the Chairman of the House Committee on Homeland Security, but as a Member of Congress who represents a district that lost more than 150 constituents in those terrorist attacks," he wrote. "It is my duty to discern every fact behind these allegations."
Officials at the Department of Justice and the FBI did not immediately answer requests for comment.
Rep. Louise Slaughter (D-N.Y.), the top Democrat on the House Rules Committee, also called for investigations and possibly hearings.
"These latest allegations demand a swift and immediate inquiry by the appropriate agencies into whether any U.S. laws were broken," she said. "All available options should be pursued -- including investigations by the Department of Justice and Congressional hearings."
Update -- 6:40 p.m.: A Justice Department spokeswoman confirmed that a number of requests from lawmakers were under review, but declined to comment further.
Calling all HuffPost superfans!
Sign up for membership to become a founding member and help shape HuffPost's next chapter