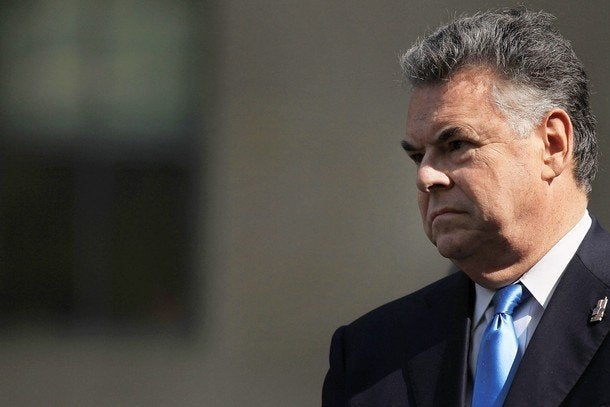 Rep. Peter King, a Republican from New York, is planning to introduce legislation that would make it illegal to bring a gun within 1,000 feet of a government official, according to a person familiar with the congressman's intentions.
King is chairman of the House Homeland Security Committee. The proposed law follows the Saturday shooting of Rep. Gabrielle Giffords (D-Ariz.) and a federal judge that left six dead, including the judge, and 14 wounded.
New York City Mayor Michael Bloomberg, one of the nation's most outspoken gun-control advocates, is backing King's measure and is expected to put the weight of his pro-gun-control organization behind it.
"Yesterday everyone here joined in observing a moment of silence on behalf of the victims of the shooting, and today we come together to speak up for ways to prevent tragedies like this from occurring in the future, by adopting commonsense fixes to some of our broken gun laws," Bloomberg said Tuesday. "Civil debate is important, and I've long spoken out in favor of more cooperation and less antagonism, but I think it's true that the more we learn, the more it becomes clear that this case is fundamentally about a mentally ill drug abuser who had access to guns and shouldn't have."
A spokesman for King wasn't immediately available for comment.
"We simply can't afford to have ATF at less than full strength when so many gun murders are occurring," said Bloomberg. Every day 35 people are murdered at gunpoint in the U.S., according to the Brady Campaign website.
It is already illegal in the U.S. to carry a gun within 1,000 feet of a school. King's legislation to make it illegal to knowingly carry a gun within 1,000 feet of the president, vice president, members of Congress or judges of the Federal Judiciary, would offer government officials the same protection.
Over on Capitol Hill, gun control advocates are planning a major push in response to Saturday's shootings. Freshmen Congress members, particularly Giffords's state colleagues, Arizona freshman Republicans David Schweikert and Paul Gosar, will be among the main targets of the lobby effort.
Gun controls advocates will push not only for the legislation announced by King, but also for a bill proposed by Rep. Carolyn McCarthy (D-N.Y.), which would limit the sale of high-capacity clips like the one used by alleged shooter Jared Lee Loughner.
"The horrendously tragic circumstances involved in this event and that it involves a member of congress changes the dynamic a bit," Kristen Rand, legislative director for Violence Policy Center, told HuffPost. "There's a sense there's more momentum."
And yet, while it would seem like an ideal time to push for gun restrictions, given public outcry over the violence that took place in Tucson, Ariz. the National Rifle Association has, notably, abstained from lobbying against potential bills -- or even talking about how the shooting relates to gun policy at all.
The NRA has declined to comment for this and for other articles. "At this time anything other than prayers for the victims and their families would be inappropriate," an NRA spokesman said in a statement.
Gun control advocates, for their part, have used the NRA's silence to criticize them for ducking the political ramifications of Saturday's events.
"It's interesting that the NRA's only response whenever something like this happens is that it's an inappropriate time to discuss this," Chad Ramsey, federal legislative director for the Brady Campaign to Prevent Gun Violence, told HuffPost. "While prayers are important, it's really cold comfort to people who have been affected by gun violence, largely because of the NRA's policies that have led to our lax gun laws in this country."
Whether they formally lobby on Arizona response bills or not, the NRA's inherent clout on the Hill makes any effort to tighten gun laws an uphill battle. During the last session, a bill to close a gun sale loophole received 114 cosponsors -- a record for gun control legislation in the past decade -- but did not pass.
McCarthy told HuffPost on Monday a larger-scale reduction on guns would likely die before reaching committee. "I know what I can get passed and I know what I can't get passed," she said. "And if I wanted to get something symbolic -- and we are going to reintroducing the assault-weapons ban and that's wonderful -- it won't go anywhere."
Still, gun control advocates are hopeful that the McCarthy bill, a smaller-scale effort at tightening gun restrictions, will win support from lawmakers. "What I hope is that this shooting will make people look at this issue with a new set of eyes," Ramsey said. "Anytime someone you know is affected by gun violence, it changes your perspective. Everybody knows Gabby Giffords, so I'm hoping they'll be able to see through the political rhetoric."
In the longer term, gun control advocates plan to lobby Congress to reinstate a ban on assault weapons that was first implemented in 1994 under President Bill Clinton and expired in 2004, Rand told HuffPost. The District of Columbia and six states, including California, already have the ban on their books, which Rand said might convince Republicans to vote for the legislation.
Gun restriction advocates also said they will lobby this session to close a gun sale loophole that allows private sales to occur without the screenings required for federally-licensed gun vendors. "Even if you have all the protections in the world on federally-licensed sellers, you're not going to be able to stop the next Loughner from buying a gun through a private seller at a gun show or on the internet or on the street," Everitt said.
Popular in the Community