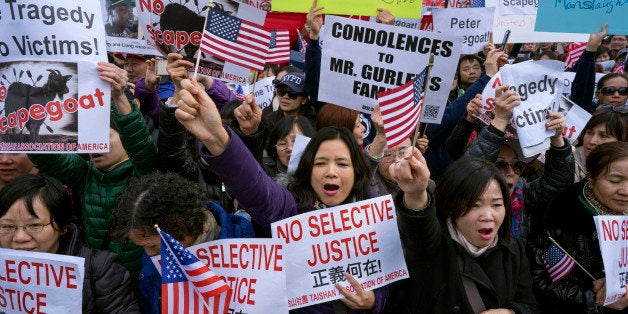 I'm a proud Chinese American, but today I am disappointed by those in my community who rallied this weekend in support of Peter Liang, the NYPD officer who killed Akai Gurley and was recently convicted of second-degree manslaughter. My parents and many of their friends attended these rallies or have spoken up in support of Liang. They have stayed silent and very far away from any Black Lives Matter protests, but they find the time to pay attention and show up when it is a member of their community.
Chinese Americans are arguing that it is unjust that Liang got convicted while the many white cops who have killed unarmed Black people before him walked free. White cops such as Daniel Pantaleo, who killed Eric Garner with a chokehold, and Darren Wilson, who shot Michael Brown, are regularly acquitted of these killings. In the case of Peter Liang, there are more ambiguities. At least as the official account goes, he did not see Akai Gurley before his gun accidentally discharged and his bullet ricocheted off a wall and fatally struck Gurley. I share my parents' outrage that white cops who much more clearly targeted unarmed Black folks have somehow gotten non-indictments. I think there are clear disparities between the way Liang was treated versus the way Pantaleo was treated, particularly as Pantaleo was a veteran cop who should have known better.
But that doesn't change the fact that Akai Gurley died needlessly because of a rotten system that Liang was part of. This is a system in which police routinely conduct unwarranted public housing patrols just to look for suspicious activity, which is what Liang was doing when he shot Gurley. The facts are that Liang had his gun on the trigger when there was no imminent threat -- he was there proactively, not in response to an event -- and when he did find out that Gurley was shot, he did not immediately provide medical care. I hope that Liang's conviction is a precedent, and that we will continue to convict, instead of letting cops who kill off the hook. This is not the first time that a cop has killed a Black person during a public housing patrol and it will likely not be the last time, if we maintain the status quo. The status quo is that an unarmed Black person is killed by cops and George Zimmerman types every 28 hours in this country. Peter Liang killed someone -- a father, son a brother -- and he should be held accountable.
I asked my dad to imagine that Akai Gurley were his son, killed for nothing more than trying to enter an apartment. He immediately responded, without stopping to actually consider my question, "but imagine if Peter Liang were your son." That he was willing to consider Liang but not Gurley as his son is indicative of a broader trend I see among many (East) Asian Americans. They are angry when they see injustice against people who look like them, but not when they see injustice against Black, Latinx, and Muslim/ South Asian communities. Other people of color are dehumanized to them. Even when the injustice is stacked a human life versus a possible 15 years in prison.
I think many Asian Americans are focusing on Peter Liang as an individual instead of as part of a system that's broken. The system is made of people like Liang who, accidentally or not, feel the need to have their guns out in the absence of provocation. It's also a system in which Black folks can face life sentences for nonviolent drug crimes, while cops walk free (or serve much shorter sentences) for taking innocent lives. Where is the outrage over that discrepancy?
Many Asian Americans fail to see this systematic violence as related to them, when in fact history has taught us that white supremacy is a revolving door that deems different groups of marginalized folks as "unsafe" based on what benefits white people at the time. White people will always find new reasons to profile people of color as criminals, spies, terrorists, and so forth, and Asian Americans are not immune. When the tide of favorability turns against us, I would hope that other people of color would stand in solidarity -- just as Asian American folks need to stand in solidarity now. The flawed logic of protesting one type of racism while implicitly condoning another, far more violent type of racism is bewildering to me. I saw people in the Liang rallies this weekend holding signs that quoted Martin Luther King Jr. and bore sentences like "injustice anywhere is a threat to justice everywhere." That they failed to see the irony in this escapes me.
My parents see Peter Liang as a victim of the mounting pressures of Black Lives Matter. They are calling him a "scapegoat," particularly as Akai Gurley's death happened just four months after Eric Garner's death. When I look at this situation, I see a potential for change -- change that happens case by case through activists fighting for change, through the criminal justice system, and through precedents. Liang's conviction is a step towards justice.
In the midst of tragedy, one small thing I am glad about is that this has opened up a dialogue between my parents and me -- a dialogue they are usually immediately resistant towards having. I hope that my Chinese American friends will also use this opportunity as a way to start conversations with family members. I'm a proud Chinese American, and I think it's our responsibility to challenge our silence and call attention to our role in this fight.
Support HuffPost
The Stakes Have Never Been Higher
Related
Popular in the Community