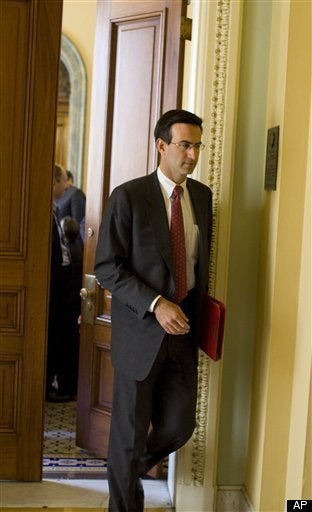 White House Budget Director Peter Orszag may become the first member of Barack Obama's cabinet to leave, Bloomberg reports.
Orszag will make his decision soon, according to a person familiar with the matter, Bloomberg BusinessWeek will report in its April 26 issue. The 41-year-old budget director had been signaling to White House officials that he didn't plan to remain for the next budget cycle, the person said. [...]

Still, Obama was adamant that Orszag stay, the person said. Orszag associates, who only a few weeks ago thought his leaving this year was a certainty, now say they wouldn't be surprised if he stays for another year.
A spokesperson for the Office of Management and Budget told Reuters that the Bloomberg report was "idle speculation," saying that Orszag is "focused on his job."
Orszag has earned a reputation as a devoted, hard-working deficit hawk, and he played an instrumental role in crafting two of Obama's key legislative accomplishments, the economic stimulus package and the health care reform bill.
He drew a bit of bad publicity, however, after news emerged that he had broken off a relationship with his pregnant girlfriend and become engaged to another woman, ABC News correspondent Bianna Golodryga.

Popular in the Community