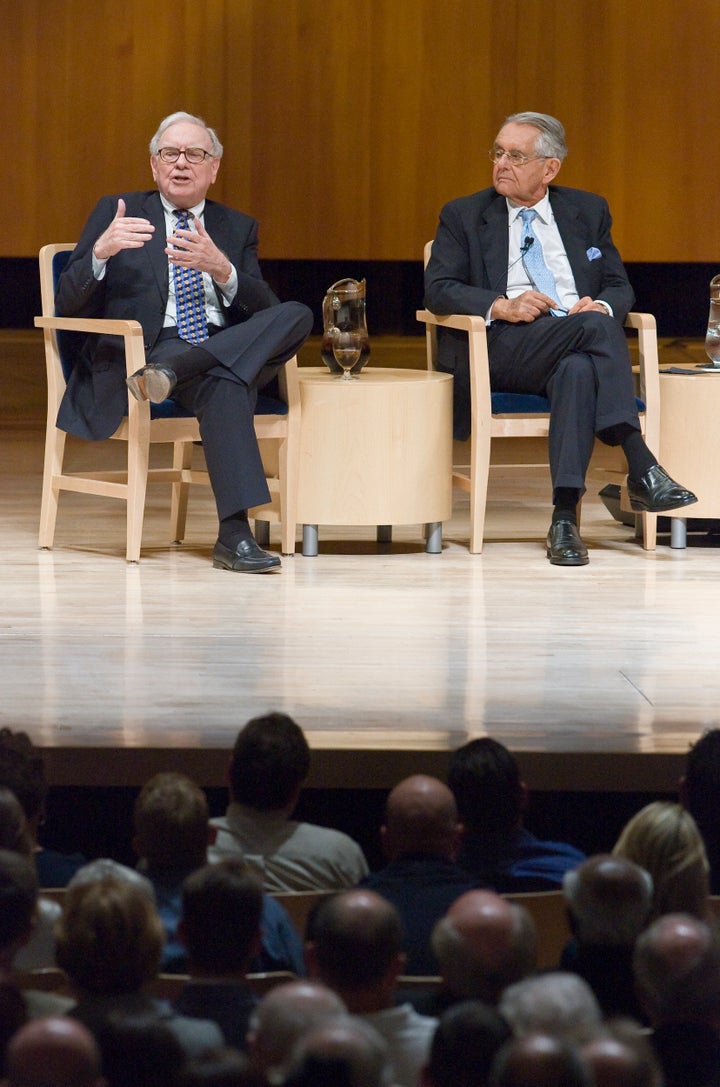 WASHINGTON -- Peter Peterson, a Wall Street billionaire who has been calling for cuts to Social Security and other government programs for years, is hosting a "fiscal summit" Tuesday that brings together Treasury Secretary Timothy Geithner, former President Bill Clinton, Rep. Paul Ryan, House Speaker John Boehner, Tom Brokaw and Politico's John Harris, among a host of other elites who will gather at the Andrew W. Mellon Auditorium.
The bipartisan luminaries will be carrying on a discussion to a large extent framed by Peterson, who has spent lavishly to shape a national conversation focusing on the deficit rather than on jobs and economic growth.
That amount of influence -- building the very foundation on which political discussion rests -- doesn't come cheap. And Peterson hasn't skimped.
According to a review of tax documents from 2007 through 2011, Peterson has personally contributed at least $458 million to the Peter G. Peterson Foundation to cast Social Security, Medicare, Medicaid and government spending as in a state of crisis, in desperate need of dramatic cuts. Peterson's millions have done next to nothing to change public opinion: In survey after survey, Americans reject the idea of cutting Social Security and Medicare. A recent national tour organized by AmericaSpeaks and largely funded by the Peter G. Peterson Foundation was met by audiences who rebuffed his proposals.
But Peterson has been able to drive a major shift in elite consensus about government spending, with talk of "grand bargains" that would slash entitlements, cut corporate tax rates and end personal tax breaks, such as the mortgage deduction, that benefit the middle class.
To put Peterson's spending in context, all corporations and unions combined spent less than $4 billion on lobbying in 2011. Sen. Bernie Sanders (I-Vt.) was heading over to the summit on Tuesday afternoon to protest. During his entire federal career, beginning in 1989, Sanders has raised $16,566,611, according to the Center for Responsive Politics, roughly 3 percent of what Peterson has spent in just a few years.
In response to HuffPost's questions, the Peterson Foundation said, "Pete has always been clear that he believes the implementation of any long-term fiscal plan should be delayed until the economy has recovered. The Peterson Foundation works with a number of organizations across the political spectrum to bring people together and discuss solutions to the fiscal challenges facing our nation -- all options should be on the table."
Peterson, who served as commerce secretary under President Richard Nixon, founded the Blackstone Group, one of the world's largest private equity firms, which owes its great profitability largely to a once-obscure tax break that allows investment managers to pay lower taxes than regular, working people. Before that, during the 70s and early 80s, he ran Lehman Brothers, the firm that blew up at the start of the financial crisis in 2008. He chaired the Federal Reserve Bank of New York during the George W. Bush administration. At the summit Tuesday, Peterson told the audience that he sat on the committee that picked Geithner to serve as president of that bank.
More recently, Peterson has been pushing his fiscal arguments by spreading that half-billion dollars widely across the Washington spectrum, putting both Democrats and Republicans on his payroll. He even launched his own newspaper, The Fiscal Times, which complements the many Peterson-funded nonprofits, such as the Concord Coalition and the Committee for a Responsible Federal Budget.
The public face of his organizations is David Walker, the former comptroller general of the United States. Officially, Walker is an adviser to the Peter G. Peterson Foundation, for which he takes no salary. But Walker has been on the payroll at Peterson Management LLC, an investment firm that handles the Peterson family wealth, according to the 2007 book "The Foundation: A Great American Secret: How Private Wealth is Changing the World," by Duke law professor Joel Fleishman. Paying him through the investment fund allows Peterson to obscure his salary and frees Walker from the restrictions on lobbying by nonprofit foundations.
Walker and Peterson tell a simple and familiar story: America is broke and spending is out of control.
The imprimatur of a former comptroller general has allowed such an argument to be taken not only seriously, but nearly for granted in Washington. Of course, the United States is not actually broke. It's the richest country on the planet. And while government spending has indeed increased, as one would expect during a recession, a major driver of the deficit has been a collapse in government revenue, along with two unpaid-for wars.
The quickest way to close that revenue gap would be a return to the previous tax rates on the wealthy, including on investment managers who pay a discounted rate by referring to their income as interest or dividends. Such a policy change would cost Peterson millions, a prospect he has argued against in the past. "This is a fairness argument," he said in 2008, according to The New York Times. "There are so many other partnerships, why pick on this high-growth sector?"
Peterson is in this debate for the long haul: He's even working on children. Earlier this month, Columbia University's Teachers College released a new curriculum about the federal budget and fiscal policy that will be distributed free to every high school in the country. "Understanding Fiscal Responsibility" was introduced at a ceremony featuring Peter Orszag, a former Obama administration official who left to join Citigroup. The Peterson Foundation has already given $1.6 million of a promised $2.4 million for the curriculum.
The first two lessons are titled "Social Security and the National Debt" and "Medicare and the National Debt." The curriculum wants teens to ask, "How high a value do we place on guaranteeing quality health care to the elderly?"
Another effort to persuade America's youth about the shakiness of the entitlement programs is a joint venture between the Peterson Foundation and mtvU, the campus-based network created by MTV Networks, called Indebted. Peterson has already shelled out nearly $2 million to fund this effort to convince college students that Social Security won't be there for them, so therefore it should be slashed now -- a self-fulfilling policy prescription if ever there was one.
The educational website for Indebted, which borrows its look of revolutionary activism from contemporary stencil-based art made famous by graffiti artists Banksy and Shepard Fairey, explains that the inevitable and unavoidable debt burden to be shouldered by college kids through student loans, credits cards and a poor job market make it all the more important to cut entitlements now.
Over the years, Peterson's foundation has housed a revolving cast of deficit-hawk intellectuals. For example, Eugene Steurle, the Urban Institute's top Social Security expert, was paid $106,667 by the foundation in 2009 in between his stints at the institute. After returning to the Urban Institute in 2010, Steurle spoke out in favor of policies promoted by Peterson as Congress debated that "grand bargain" that would cut benefits. Steurle argued for raising the Social Security retirement age. When he moderated a Senate panel on Social Security, he was joined by Maya MacGuineas, another deficit hawk who serves as president of the Peterson-funded Committee for a Responsible Federal Budget. The Urban Institute is known as a liberal think tank, meaning that its recommendation to slash benefits has greater influence than a similar proposal from a libertarian or conservative outfit with a known hostility to the program.
Politicians in Washington regularly say that major reform to entitlements -- and by reform, they mean cuts -- can only be accomplished with bipartisan consensus. "We have to hold hands and jump," Sen. Lindsey Graham (R-S.C.) said Monday. To that end, and unlike the Koch brothers, Peterson spreads his money across the ideological spectrum. He has given millions to the liberal Center for American Progress, Economic Policy Institute and New America Foundation; the conservative Heritage Foundation and American Enterprise Institute; the centrist Brookings Institution and Bipartisan Policy Center, and on and on.
Moreover, Peterson's connections to the White House, evidenced by Geithner's attendance at the current 2012 summit, aren't hurt by his foundation's multimillion-dollar contract with SKDKnickerbocker, which includes former top administration official Anita Dunn.
Republicans, too, have joined in Peterson's crusade, including Boehner; Ryan, the architect of a federal budget plan that ends Medicare; and Sen. Rob Portman (R-Ohio), much discussed as a potential GOP vice presidential candidate. All three were in attendance at Tuesday's conference.
Media luminaries such as George Stephanopoulos, Brokaw and Politico's Harris were also scheduled to speak.
Popular in the Community