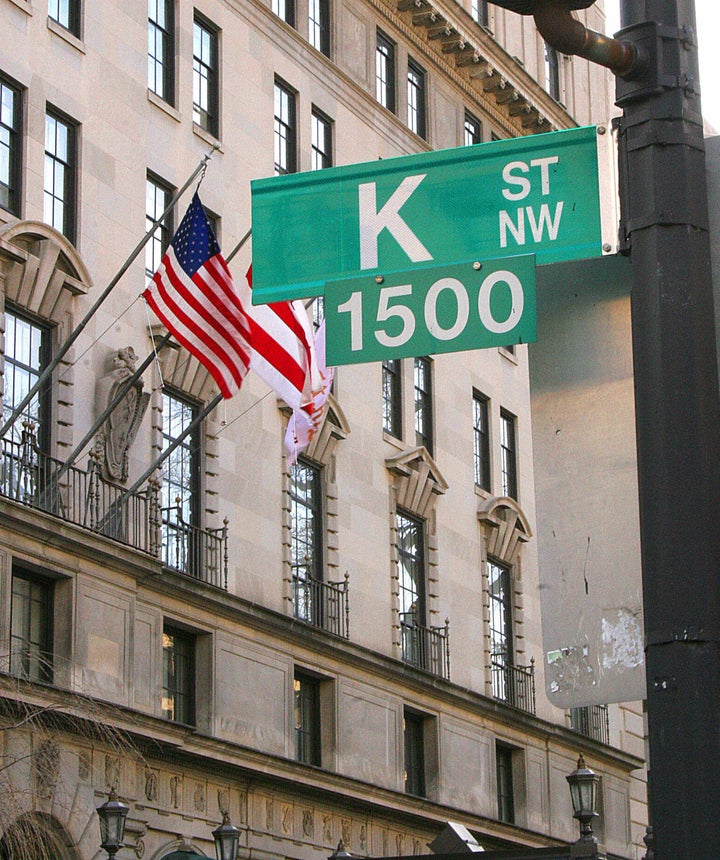 When the House worked on financial regulatory reform legislation last year, 16 of the Financial Services Committee staffers -- 12 of them Democrats -- assisting in that effort had previously worked as federally-registered lobbyists.
One of them is now heading back to K Street.
Peter Roberson helped write legislation intended to regulate credit-default swaps and other over-the-counter financial products, reported Bloomberg's Matthew Leising in breaking the news of Roberson's turn through the revolving door. He is now going to work for Intercontinental Exchange Inc. as a lobbyist. The company owns the world's biggest CDS clearinghouse that will be regulated by the rules that Roberson had a major hand in writing.
In December, HuffPost highlighted the trend of staffers going from the Hill to K Street and then back to the Hill, a reverse of the standard route typically traveled. "The door doesn't just revolve once," said Rep. Brad Miller (D-N.C.). "They tend to go out and come back and go out again. It really does create a set of financial incentives, whether conscious or not."
The allure of high-paying K Street gigs can have a subtle influence on committee staffers, creating an incentive to please those firms seen as future employers.
The part of the bill that Roberson worked on -- derivatives legislation -- has been criticized as one of the weakest elements of the package. Since its passage, Frank has said that he would be pleased if the Senate is able to pass tighter derivatives regulation.
Roberson's first stint on K Street, according to the federal lobbyist database, lasted from 2000 to 2006, when he lobbied for the Bond Market Association. In 2006, BMA merged with the Securities Industry Association to form the powerhouse Securities Industry and Financial Markets Association. SIFMA also became home to former committee staffer Michael Paese -- Chairman Barney Frank (D-Mass.) banned his staff from communicating with him for two years and has instituted a one-year ban on communication with Roberson. Paese has since moved on to Goldman Sachs. [UPDATE: Frank has banned Roberson from communicating with the committee as long as he's chairman.]
As soon as Roberson informed the committee in late January that he was in talks with the swaps brokers, Frank asked him to leave, said committee spokesman Steve Adamske. "The chairman wasn't happy about it and he immediately asked Mr. Roberson to leave and to go on either administrative leave or go on some accrued vacation time," he said. "And we will adhere to the absolute strictest interpretation of ethics laws and bar communication with him for a year or two years as we're required."
His ID, key card and internal access were revoked. But the legislation had already been written. "It was always obvious he was playing for the other side," said one Democratic staffer on the committee who dealt with Roberson who, he said, was one of two staffers excoriated by Frank during a fall committee staff meeting -- an unusually public rebuke -- for weakening legislation by conflated exchanges with clearing houses.
The chairman could elect to extend the ban beyond the required time, Adamske noted.
Roberson, however, is perfectly riding the legislative wave. He is not barred from lobbying the Senate, where the action is now taking place, with the reform bill approved by the House at the end of last year. A bill introduced by Sen. Michael Bennet (D-Colo.) would prevent that ethics arbitrage.
Roberson follows the Treasury Department's leading liaison to the Hill -- Damon Munchus -- out the revolving door. Munchus left for the Cypress Group, which lobbies on banking issues, consults clients on the status of legislation and invests its own money.
UPDATE: Follow folks in and out of the revolving door here.
Popular in the Community