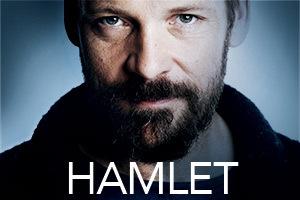 There is a new Hamlet in town, and Peter Sarsgaard has his back, giving this poetic youth of the ages a crisp, nuanced, and strikingly modern voice. This Hamlet is fresh faced and wears a hipster's suit at a wedding that could be set at trendy downtown digs. His iambic pentameter is a bit splayed out like a chicken born with legs akimbo, but it works, making Hamlet familiar, not so foreign, not so distant and entirely digestible. Austin Pendelton elegantly sets up the play in the present day with a cast of irregular suits and a dress or two. The parts of Gertrude (Penelope Allen) and Claudius (Harris Yulin) were more standard fair, both of whom I found to be up and down in their roles. Warming up much later on and then after a high moment moving quickly to a low. Not completely in command of their characters histories as the wife of the dead King Hamlet or the murdering brother of the same, while uncle and step-father to Prince Hamlet. One of the more compelling characters was played by a very wonderful Stephen Spinella as Polonius. He seemed like the modern father: ironic, possibly gay, and a bit of a parent-centric meddler in the best sense of good humor, with impeccable timing and rhythm.
His daughter played by Lisa Joyce, however, was uncommonly inadequate for the task of embodying Ophelia. Not someone that I would think Hamlet would be attracted to at any time, whether in his right or wrong mind. She seemed totally unlikeable in her pretentious naturalness; like a hippie who just smoked weed and forgot she was in a play. She was doing neck rolls as if she just got out of yoga class and using her arms like she was waving in an airplane. What? What? What? Austin Pendelton I love you, but please. I wanted to take one of her hippie sandals and throw it at her. Ophelia shouldn't be starting at unhinged! She gets there by way of lots of pain, and youthful expectations dashed. Where is the transformation from naïve love to the ugly grief of lost love? Also, what's with all the chair play when she talks to Hamlet at the wedding table and why is she on the stage so much doing nothing really but observing? It is very distracting.
Watching Laertes was another moment where I thought, what are you thinking Mr. Director? His plane traveled from Timbuktu to Paris down to who knows where in one speech. I never felt the truth of his grief for either his father's murder or his sister drowning. As for Rosencrantz and Guildenstern- they had their moments, but truly Hamlets pals need to bro love him from their hearts and not have it be a peripheral experience. The moment at which King Hamlet's ghost speaks was lost in a bit of confusion, though Jim Broaddus worked his actor magic well.
With all this being said, go see it, because of its very modern take and accessibility. And because Peter Sarsgaard's unique Hamlet is one you won't want to miss at the distinctive Classic Stage Company.
Popular in the Community