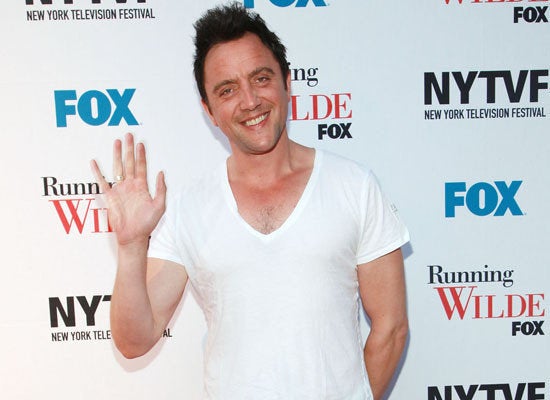 If Peter Serafinowicz of "Running Wilde" looks familiar, it's because he's the funniest comedian you didn't realize you're already a big fan of. Serafinowicz (pronounced sare-uh-FIN-uh-witsh) plays Fa'ad Shaoulin, the neighbor/rival of star Will Arnett, in the new series from the creators of "Arrested Development" that currently airs Tuesdays at 9:30/8:30c on FOX. Tonight's episode guest stars "Conan" sidekick Andy Richter, in addition to the usual cast of Arnett, Serafinowicz, Keri Russell, and David Cross. Arnett stars as a oblivious, egotistical oil heir attempting to win over an eco-activist played by Keri Russell.
Like many, I consider Serafinowicz to be one of today's most impressive wits, and was glad to find out he would be involved with "Running Wilde." When I told him what a pleasure it was to speak with him, he told me that based on the last ten seconds, the feeling was mutual. And when I responded that such a compliment was certainly among the most honorable in my life, he cheerfully said that it was clear I'd led quite a dishonorable life.
Many critics have hailed Fa'ad as a highlight of "Running Wilde," but Serafinowicz's supporting role is relatively low maintenance compared to his usual fare. A familiar face in British TV and film, the Liverpool-born comedian is perhaps best known as the main creative force (with co-conspirator Robert Popper) behind "Look Around You," the BBC absurdist mock-educational series which later reran in the U.S. on Adult Swim. He's also known for "The Peter Serafinowicz Show," another BBC sketch series that later aired in America.
"Running Wilde," if given the proper chance, could easily grow to be a part of the same Hurwitz canon as "Arrested Development." For better or for worse, "Running Wilde" lives with that show's ghost (or, as Serafinowicz corrects me, the "scary zombies"). And despite a highly-publicized rocky pilot, rife with recasting, re-shooting and re-editing, "Running Wilde" is certainly a worthy follow-up to its predecessor. Serafinowicz assured me that the series only gets stronger and funnier as it progresses. But he's clear to point out that the goals of "Wilde" may not indeed be the same goals of "Arrested," and to confuse them would be a mistake.
"The difference between this and 'Arrested' is that this show has a romantic relationship at its heart, which 'Arrested' didn't have," Serafinowicz says. "We're trying to find this balance between this very real core between Will and Keri's characters's relationship ... which has to be grounded in reality, and it's set in this very heightened, very 'Arrested'-y kind of world." Indeed, viewers first were introduced to Fa'ad as the 6'5" Serafinowicz rode atop a miniature horse to show off to Arnett, with the explanation that "they get more expensive as they get smaller."
There's a clear through-line that brought Serafinowicz to "Running Wilde." He credits his close friend Will Arnett, who he says "has sort of an unbridled comic genius that he can't turn off," with introducing "Arrested Development" and "Running Wilde" creator Mitchell Hurwitz to his work. (He jokes that although he isn't as well-known in the States as in Britain, it should be noted that he won an Oscar for his role in "Couples Retreat" - but to be fair, he admits it was actually an Oskar, an award financed by the Russian mafia.)
In the early stages of the show, the role of Fa'ad was written with Serafinowicz in mind, although he assumed that by the time the show came to fruition he likely wouldn't play the part. "Things just don't tend to happen like that. But through a string of very lucky coincidences ... and I'm sure through some administrative errors, I ended up playing the part." The night before filming, he and Arnett banged out the character using "an amalgamation of voice 512 and voice 327."
Voices have long been a speciality for Serafinowicz. Among other voiceover roles, he provided the Darth Maul's British growl in "Star Wars: Episode I," and recently signed on to voice Paul McCartney in Robert Zemeckis' new motion-capture remake of "Yellow Submarine" (which he cannot talk about yet, but does believe that "everyone is gonna love this thing.").
"The Peter Serafinowicz Show" was borne out of extremely popular YouTube videos he wrote and starred in called "O News," a slickly-produced mock infotainment show with Serafinowicz impersonating celebrities like Alan Alda, David Lynch and Al Pacino commenting on absurdist news stories. He says that although he embraced the impressions on his show, "I didn't want to be known as an impersonator ... I can do 'em, but I can do other things as well. You don't want to be pigeonholed. Especially if you're a pigeon."
Few people need worry about being pigeonholed less than Serafinowicz. For one, he's used the Internet more effectively than almost any other comedian. He hopes that all his comedy is available on YouTube, where he started receiving wide recognition. His Twitter account, with over 450,000 followers, is regarded as one of the most consistently funny on the site. (A recent example: "The success of The Social Network reminds me of all those 80's 'fax' movies.") He's even compiling many of his jokes that originated on Twitter into a Jack Handy-style joke book, tentatively titled "My Brain Hurts (Other People)." Twitter has also enabled him to foster relationships with other comedians, as well as his fans outside of the entertainment industry. Notably, Twitter allowed him to get in contact with the band Hot Chip, who subsequently asked him to direct their next music video.
And yet it's notable how at ease Serafinowicz's attitude comes across in the face of so many different projects. But he brushes off any theory that his time management secrets are notable. "I really spend a lot of time just thinking and worrying about what I'm going to do next. ... My ambition is to be a jack of all trades and a master of nine. Nine is a good number."
Be sure to watch "Running Wilde" on FOX tonight. Also, do yourself a favor and watch this short film, "The Markets of Britain," that Serafinowicz recently made with Popper for BoingBoing.
REAL LIFE. REAL NEWS. REAL VOICES.
Help us tell more of the stories that matter from voices that too often remain unheard.