Many acts of charity are spontaneous, as you walk by the Salvation Army kettle or past the guy with a cardboard sign standing in the median. Others are designed to demonstrate publicly that you are a giver which is why so many of us buy gift wrap we don't want or need or reluctantly empty our wallets into collection plates. But what if we put as much thought and research into our charitable giving as we do into buying a car or investing in stocks? What if we gave more with our heads and less with our hearts?
If Peter Singer has his way, that is the future of altruism.
Singer is the Ira W. DeCamp Professor of Bioethics at Princeton University, founder of The Life You Can Save, and author of several books on ensuring that charitable giving has the greatest impact. He also embodies the values he espouses, recalling, "My first significant act of charitable giving was deciding with my wife to give 10 percent of our income to Oxfam. We were living in Oxford at the time and were impressed with how Oxfam advocates for the global poor."
As with most crusaders, Singer can be abrasive and controversial. His stances on animal rights and euthanasia have served as lightning rods. Some will feel the same about his convictions on philanthropy, and yet his aim is noble - to end extreme poverty in our lifetimes. "It is possible," he insists. "The number of people living in extreme poverty is falling, the number of children dying globally is falling. The indicators are good." But, he says, we are each of us individually responsible for working toward that goal.
"People take great care with their money and are thoughtful when looking to get the most value out of a consumer purchase," Singer says. "They should do that with charities as well." His organization has identified 16 nonprofits that have been carefully vetted for their cost-effectiveness and evidence-based approaches. "My team vets the charities on an ongoing basis," he explains, ensuring that they remain good stewards.
One of the organizations he endorses is PSI because, he explains, "It is an effective organization that works on important issues, such as making contraceptives available to people who don't have access to them. They help women plan and space their children, resulting in healthier families." PSI is one of two organizations -- the other is Giving What We Can DC - sponsoring a conversation with Singer in Washington DC on November 13: The Most Good You Can Do, How Effective Altruism Can Help End Poverty. Actress Mandy Moore will introduce him.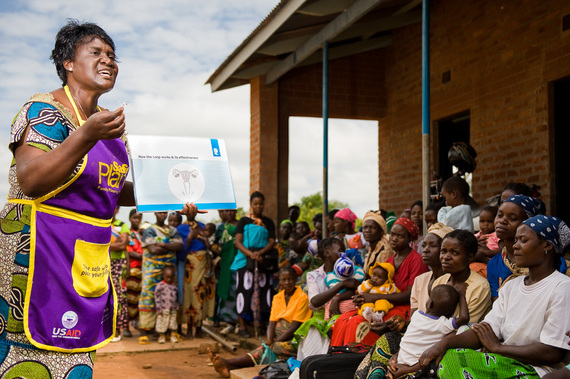 "PSI is proud to be among a small number of organizations Peter recommends," says Marshall Stowell, Vice President External Relations at the DC-based nonprofit. "We have seen a substantial increase in donations, but the real benefit is the improved health of girls and women in the developing world PSI serves."
Singer is not shy when it comes to offering advice that will build a culture of effective altruism. To organizations such as PSI that come under fire from conservatives, he urges, "Organizations should stand up for what they believe in because they will get stronger support from those who believe as they do. They should not be timid." To those who question why we should give money to people overseas when there is so much need in the US, he says, "In this country, there is a kind of nationalist bias. If you give $1,000 to a family in the US, it might comprise 5% of their annual income. The same donation to a family in East Africa could increase their income by 100 - 200%. But very little charitable giving is going overseas where it is the most needed."

This is not to say that Americans are not altruistic. According to the Giving USA Foundation, charitable giving in the US last year rose to a record $358.38 billion, the fifth straight year of growth. But Singer points out that much of that money went to religious organizations, museums and universities - "the wealthy giving to the wealthy," as he puts it.
If Singer's doctrine catches on, more of us will begin choosing our charities based less on opportunity or emotion, and more on impact. We only have to look to such philanthropies as the Bill & Melinda Gates Foundation to see that in action. While few of us have the resources to give huge sums of money, most of us are giving some. Just imagine if our collective altruism were harnessed to be as effective as possible...if we didn't allow marketing or celebrities or hubris to sway our decisions...if we cared as much about the way our charitable dollars are used as we do about how we spend our grocery money.
Peter Singer goes beyond imagining it. "Widespread mass poverty could be ended in 30 years," he insists.
Photo credit: Gareth Bentley

REAL LIFE. REAL NEWS. REAL VOICES.
Help us tell more of the stories that matter from voices that too often remain unheard.