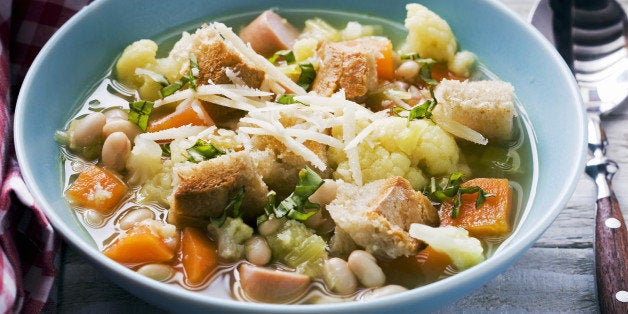 Award-winning fashion designer, Peter Som, who wowed the New York fashion world last week with his spring 2015 collection, has an uncanny ability to find cohesion with all kinds of seemingly disparate ingredients. His style aesthetic ranges from classic and elegant to quirky and colorful. What many don't know that he recently shared with The Salonniere, the leading dedicated source of party inspiration and tips from entertaining experts, is that he's just as masterful at mixing herbs and spices. In fact, Peter's minestrone is the stuff of legends on the New York dinner party circuit and he shared it with The Salonniere exclusively. Hungry for the details? Grab your Côtes du Rhône and cozy up, because I'm spilling the beans.
My Minestrone by Peter Som
1/2 pound pancetta, cubed
Extra virgin olive oil
6 garlic cloves, sliced
1 large yellow onion, large dice
3-4 celery stalks, medium dice
3 carrots, large dice
2 tablespoon rosemary, minced
Kosher salt
Black pepper
1 14-ounce can cannellini beans, drained and rinsed
1 large can San Marzano whole tomatoes
2 cups diced zucchini
2 cups yellow/summer squash
1 large russet potato, diced
8 cups homemade chicken stock (It makes a difference, but store-bought is fine too.)
1/2 to 1/2 teaspoon chili pepper flakes
1 bay leaf
1 or 2 rinds Parmesano-Reggiano
1 bunch kale, chopped
Flat-leaf parsley, roughly chopped
Sauté the pancetta with olive oil in a large pot over medium heat until slightly brown around the edges then add garlic and sauté for another minute. Add onion, celery, carrot, rosemary, some salt and pepper and sauté for approximately 10 minutes or until the vegetables are tender. Add beans, tomatoes, zucchini, summer squash and potato. Add salt and pepper. Add chicken stock, chili pepper flakes, the bay leaf and Parmesan rinds. Simmer about 15 or until all vegetables are tender. Skim foam off the top. Ideally here is where you fish out the bay leaf (or just warn your guests not to eat it if they find it). Add the kale and continue to simmer until it's wilted - approximately 2-3 minutes. Toss in the parsley. Serve with a hunk of Parmesano-Reggiano to be grated at the table using a microplane. If you want to add chicken, drizzle some chicken breast with salt, pepper and olive oil, roast it on a sheet pan at 450 for 20 minutes or until done. Cube and add some to each bowl. If you want to fancy up the soup, omit the kale and add 2 cups of sautéed wild mushrooms (such as cremini) as well as 1/4 to 1/2 a cup of heavy cream at the very end.
Served with a salad and some crusty bread, this soup is as scrumptious as his fashion confections. We feel a fall dinner party coming on.