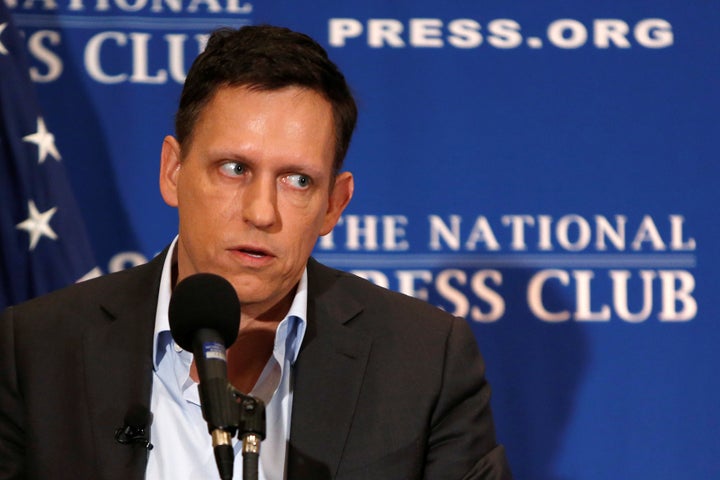 Presumptive Republican presidential nominee Donald Trump released the names of his convention speakers on Thursday morning, and included on the list of politicians, random sports figures and B-list celebrities was one genuinely intriguing choice.
Peter Thiel, the co-founder of PayPal, is a well-known conservative figure in the reliably liberal enclave of Silicon Valley. But he is also openly gay, which makes him a rarity among Republican National Convention headliners.
There have been only two other openly gay speakers at a GOP convention. One speech was a low-profile affair. The other resulted in one of the uglier incidents in modern memory.
Steve Fong, a little-known official with the pro-gay rights group Log Cabin Republicans, gave a one-minute speech, to little fanfare, in 1996.
Four years later, the party gathered in Philadelphia to formally nominate the George W. Bush and Dick Cheney ticket. Months prior, a group of gay and lesbian Republicans had petitioned Bush to give Rep. Jim Kolbe (R-Ariz.) a speaking spot. Kolbe had supported his home-state senator, John McCain, in the primary. But Bush was aware of the message it would send to have an openly gay conservative speak. Advocates said he was intrigued by the idea.
An invitation was extended: Kolbe would get a slot on one of the convention's earlier evenings and not during prime time. He would also talk about trade, not LGBT rights. Still, social conservatives were upset and rumors began to surface that they would stage some form of protest.
Speaking to The Huffington Post on Thursday, Kolbe recalled being followed by reporters who wanted to know how he would react. He joked that he didn't expect such controversy over trade policy.
The protest began when he took the stage. Delegates from Bush's home state of Texas, standing up front, took off their hats and bowed their heads in silent prayer. They were about 25 feet away, but Kolbe didn't notice because of the blinding convention lights.
"It didn't have any effect on me one way or another," he said. "I had been told it was going to happen, and I couldn't see it anyhow."
He left the stage after about three minutes, having not uttered a word about his sexuality or gay rights. Advocates in Arizona were left disappointed. But Kolbe said it was not the right time or place.
There hasn't been an openly gay speaker since.
Thiel did not return a request for comment, including whether he planned to make gay rights a focus of his speech. (He was outed against his will by Gawker, resulting in a cascading legal drama in which he privately funded a separate suit against the site that led to its bankruptcy.) But officials in the Republican LGBT advocacy community were optimistic that the rather ho-hum reaction to the announcement of his speaking gig exemplified a growing inclusiveness in the party.
"I've long said that were he to become the nominee, Donald Trump would be the most pro-gay candidate the Republican Party has ever had," said Gregory T. Angelo, president of the Log Cabin Republicans. "Thiel's role as an official speaker at the RNC continues to bolster that assertion"
"It's a huge breakthrough," said Chris Barron, a prominent conservative gay rights advocate. "It is a reminder ― once again ― that Donald Trump is by far the most gay-friendly nominee of the Republican Party ever."
But while Trump may not be the type of social conservative presence that has typically resided atop the Republican ticket, and while Thiel's selection may underscore a softer approach to gay rights, there have been other convention-related developments to suggest that the party isn't making much progress at all. The platform that was passed defines marriage as "the union of one man and one woman." It also calls for reversing the Supreme Court decision that legalized same-sex marriage. The Log Cabin Republicans have called it "the most anti-LGBT Platform in the Party's 162-year history."
"Honestly, celebrating something like [Thiel's speech] as a giant step forward is like praising a second-grade reading level when a student should have graduated from college by now. It's all relative. There's a very low bar for measurable progress," said Jimmy LaSalvia, a gay rights advocate who recently left the Republican Party. "Of course, the platform, the statement of Trump's and the GOP's vision for our country sends a very different message."
Kolbe, for his part, said he expected Thiel to receive a warmer reception than he did years ago in Philadelphia.
"I don't think he will have any of that," the former congressman said. "I think that stuff has long passed."
He also acknowledged that Trump gave gay rights advocates some hope, if only because he seemed uninterested in litigating the type of cultural battles that tends to alienate their community.
"For social conservatives, he is a bit of a worry," Kolbe said. "He doesn't come from that angle. He is more socially moderate than they would like."
That said, Kolbe added that he didn't plan to vote for the guy.
"Heavens no," he exclaimed, when asked if Trump had his support. "I might vote for Gary Johnson."
Popular in the Community