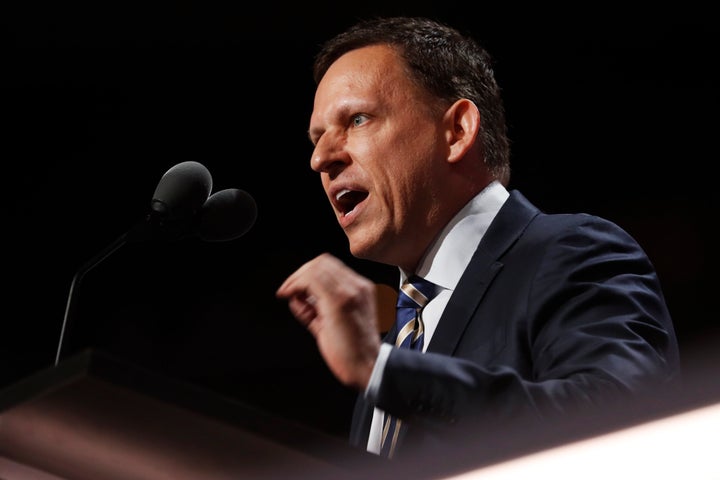 Tech billionaire Peter Thiel is being considered as a possible replacement to lead Donald Trump's transition team, according to a source familiar with the discussions.
A change would only come if New Jersey Gov. Chris Christie (R), who is currently steering Trump's transition team, leaves the post he's held since May. Two former top Christie aides were convicted last week for their roles in the 2013 closing of lanes on the George Washington Bridge as punishment for a political opponent. Christie has continued to be dogged by the scandal.
The source spoke on condition of anonymity, as they were not authorized to comment on the discussions.
Thiel, a PayPal co-founder and Facebook board member, bucked the trend in Silicon Valley by enthusiastically supporting Trump. He spoke at the Republican National Convention and donated $1.25 million late in the campaign.
It's unclear whether Thiel, an iconoclastic libertarian, would accept the transition role if Trump offered. A spokesman for Thiel declined to comment.
A Trump spokesman did not immediately respond for comment.
Thiel signaled to The New York Times on Wednesday that he'd informally advise Trump on technology matters, but, according to the paper, was "unlikely to have a formal role" in Trump's administration. Thiel indicated he had no plans to move to Washington, but was clearly pleased with the result Tuesday night.
"A page in the book of history has turned, and there is an opening to think about some of our problems from a new perspective," Thiel told the Times. "I'll try to help the president in any way I can."
Thiel's profile grew beyond the tech world this past year not only because of his support for Trump, but also following the revelation that he secretly funded wrestler Hulk Hogan's invasion of privacy lawsuit against the now-shuttered Gawker.com. Thiel's grudge with Gawker stemmed from a 2007 post about how the tech entrepreneur was gay before he'd spoken publicly about his sexual orientation.
Popular in the Community