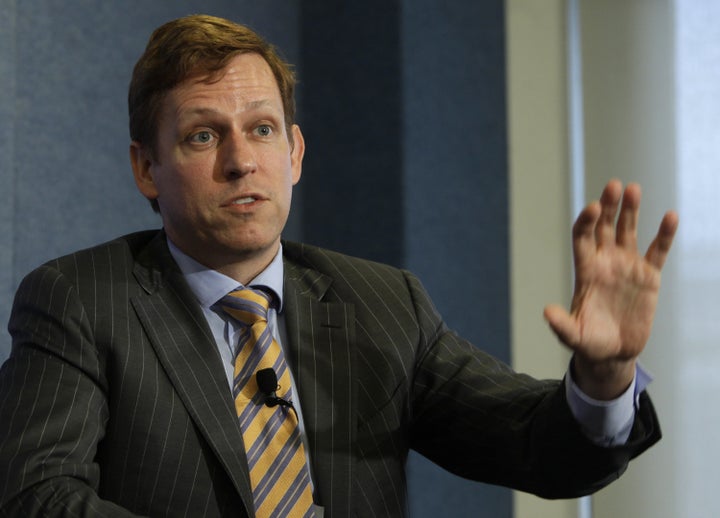 Billionaire entrepreneur Peter Thiel has used his fortune to support press freedom — and possibly suppress it.
On Tuesday night, Forbes reported Thiel had secretly funded wrestler Hulk Hogan's invasion of privacy lawsuit against Gawker Media, a case that resulted in $140 million in damages against the media company and raised serious questions about free speech rights. The notion of a secret wealthy benefactor only heightens such concerns. 
Thiel has not yet commented on reports of his involvement in the Hogan suit and on why he'd bankroll a suit that could potentially put Gawker out of business. A spokesman did not respond to The Huffington Post's request. 
But Thiel, who made a fortune as co-founder of PayPal and an early backer of Facebook, expressed his distaste for Gawker in the past after Valleywag, its now-shuttered tech gossip blog, outed him before he came out as gay. In May 2009, Thiel likened Valleywag to a terrorist organization, "the Silicon Valley equivalent of al Qaeda."
Five months later, Thiel seemed more focused on defending digital journalists from threats. It was reported in October 2009 that he gave a "substantial check" to the Committee to Protect Journalists, a New York-based advocacy organization that defends the press worldwide. "Technology can have positive and negative aspects," Thiel said at the time. "I want to help the CPJ defend the rights of online journalists."
A CPJ spokesperson told HuffPost that the Thiel Foundation provided $1.075 million to the organization for general support. Thiel's donations included annual grants of $250,000 from 2008 to 2011 and a final $75,000 grant in January 2013. 
So there's a disconnect between Thiel's libertarian streak, his support for a candidate with little regard for the First Amendment, his contributions toward press freedom and his reportedly funding a case that could bankrupt a media company. (Thiel's also an investor in tech site Pando, which didn't hold back Wednesday in criticizing him). 
Gawker has long argued that publishing a snippet of a sex tape in 2012 involving Hogan (aka Terry Bollea) is protected under the First Amendment, and the company is currently appealing the March decision. The massive jury award, which could be significantly reduced, currently poses an existential threat to Gawker Media, which publishes the flagship news and gossip site and six others.
On Monday, Gawker Media chief Nick Denton revealed his suspicion that a financier, with an axe to grind against Gawker, had secretly funded the Hogan suit and others brought against his company. It's not illegal for a third party to bankroll a lawsuit, but the suggestion of a secret backer added intrigue to an already sensational case.
"My own personal hunch is that it's linked to Silicon Valley, but that's nothing really more than a hunch," Denton told The New York Times. "If you're a billionaire and you don't like the coverage of you, and you don't particularly want to embroil yourself any further in a public scandal, it's a pretty smart, rational thing to fund other legal cases."
Denton didn't identify a suspect and Gawker Media, in a Wednesday statement, didn't mention Thiel by name. But the media company highlighted the billionaire's past support for press freedom: "A board member of Facebook and a major funder of The Committee to Protect Journalists has been secretly funding a legal campaign against our journalists."
CPJ executive director Joel Simon said in a statement to The Huffington Post that Thiel and Thiel Foundation "provided significant financial support" to the press freedom group. "As a free expression organization, we have a wide variety of supporters with a wide variety of views," he added. 
In response to the reported links between Thiel and the Hogan suit, Simon emphasized that CPJ "support[s] the right of individuals in the United States and around the world to seek civil redress in case of defamation." 
"However," he continued, "we do not support efforts to abuse the process by seeking to punish or bankrupt particular media outlets."
UPDATE: Thiel told the New York Times Wednesday night that he saw nothing contradictory in giving to CPJ and funding a suit in hopes of putting Gawker out of business. 
"I refuse to believe that journalism means massive privacy violations," he said. "I think much more highly of journalists than that. It's precisely because I respect journalists that I do not believe they are endangered by fighting back against Gawker."

He continued, "It's not like it is some sort of speaking truth to power or something going on here. The way I've thought about this is that Gawker has been a singularly terrible bully. In a way, if I didn't think Gawker was unique, I wouldn't have done any of this. If the entire media was more or less like this, this would be like trying to boil the ocean." Mr. Thiel said he had not targeted any other media companies.
Huffington Post Media Group President and Editor-in-Chief Arianna Huffington is on the board of the Committee to Protect Journalists.
Calling all HuffPost superfans!
Sign up for membership to become a founding member and help shape HuffPost's next chapter
BEFORE YOU GO