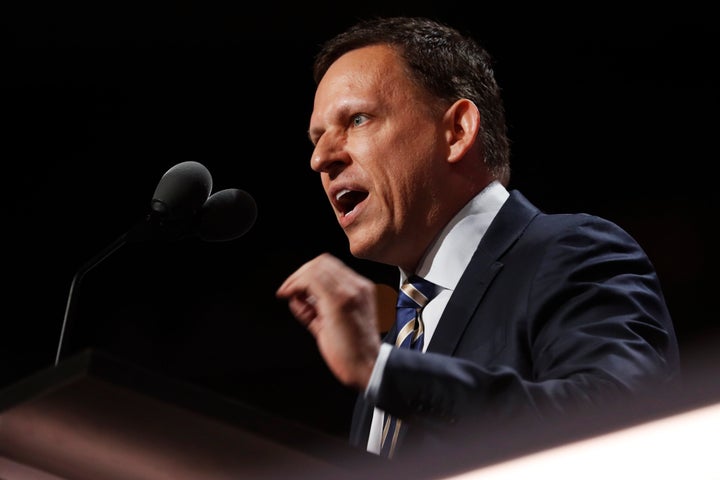 "You know this isn't the dream we looked forward to," the 48-year-old Thiel said, describing his boyhood by contrast as a time when "opportunity was everywhere."
This was right after he championed Silicon Valley as a kind of rare business paradise today.
"Where I work in Silicon Valley, it's hard to see where America has gone wrong," Thiel said. "My industry has made a lot of progress in computers and in software, and of course it's made a lot of money. But Silicon Valley is a small place. Drive out to Sacramento or even across the bridge to Oakland, and you won't see the same prosperity."
It sure is true that the U.S. tech industry has made a lot of progress in computers, and Silicon Valley is very wealthy. But to hold it up as a model to the millions of people tuning in to the Republican convention didn't make sense.
Here are a few reasons why.
Silicon Valley creates wealth inequality.
While much was said at the Republican convention about protecting workers, America's tech haven is not kind to all its employees. There is actually an immense income disparity in Silicon Valley. CNN laid out some key numbers in May (note that the tech region sits within the greater San Francisco Bay Area, including San Mateo and Santa Clara counties):
In San Mateo, the average income of the Top 1% was 46 times that of the bottom 99% of households, the widest gap in California and nearly three times what it was in 1989. The second largest divide is in San Francisco, where the Top 1% earned 43 times that of everyone else. Santa Clara's wealthy earn 30.8 times what other county residents do, the sixth-widest gap in the state.
In sum, the tech elite are getting richer while they underpay support staff and others.
Silicon Valley outsources big time.
Donald Trump ― who received Thiel's strong support Thursday night ― has insisted that he will bring jobs back to the United States. Meanwhile, Trump has outsourced work on his own clothing line, and Silicon Valley goes much further. 
My industry has made a lot of progress in computers and in software, and of course it's made a lot of money.

Peter Thiel
Major tech firms like Facebook farm out content moderation jobs to people outside the U.S., although the work could be done anywhere by most anyone with a strong enough stomach. Google outsources engineering and IT work to India. Apple manufactures its iPhones abroad ― and as the MIT Technology Review explained last month, that's basically not going to change, despite Trump's insistence that it will. And the list of outsourcers goes on and on and on.
Silicon Valley develops technology that might take your job.
No one really knows what will happen when artificial intelligence rolls out on a wider scale, but experts have voiced concerns over its impact on the jobs market.
Consider Google's driverless car. When that same sort of technology is applied to driving trucks, we're faced with the possibility that millions of human workers could be replaced. If Facebook has its way, its Messenger bots will become the new customer service representatives for companies like 1-800 Flowers. Foxconn, the foreign manufacturer that produces many of Silicon Valley's favorite gadgets, has already replaced 60,000 factory jobs with robots.
All of these advancements may make the world a better, safer place to live. But for Thiel to suggest that technology will inevitably create more job opportunities for people ― beyond those who learn how to program for machine learning, perhaps ― is specious.
Silicon Valley competes with the government for expertise. 
Implicit in Thiel's remarks was the notion that the government, which he noted was once advanced enough to "complete the Manhattan Project," now trails behind the technological braintrust in California. That's verifiably true in some areas, as we've seen companies like Facebook and Apple deploy encryption technology that locks out law enforcement agents.
But to suggest that has something to do with the inherent incompetence of federal employees is to miss a much more complicated reality. Silicon Valley vies with the government to attract top talent. If you're a cybersecurity expert, say, tech giants in California today can easily offer you a better salary, more perks and a higher profile than Uncle Sam. Yet there are ways to shift that balance ― at least somewhat ― if the voters wanted to.
So again, Thiel has set up a straw man ("Our newest fighter jets can't even fly in the rain!") just to make the feds look silly.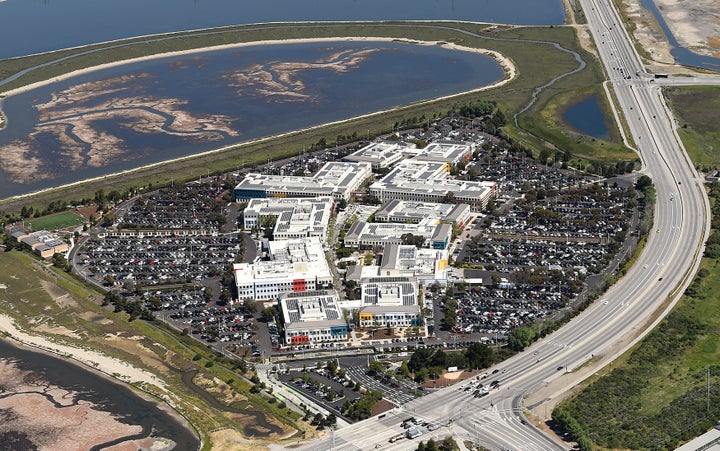 Absolutely none of this is meant to say that Silicon Valley's technological advances aren't worth celebrating (sometimes, anyway). But Thiel, an early investor in Facebook who lives in a different dimension from the vast majority of us, said the tech haven is a model of success for the rest of America.
"We don't accept such incompetence in Silicon Valley, and we must not accept it from our government," the entrepreneur told the crowd Thursday.
It's a nice sentiment ― but it's empty, too.
REAL LIFE. REAL NEWS. REAL VOICES.
Help us tell more of the stories that matter from voices that too often remain unheard.