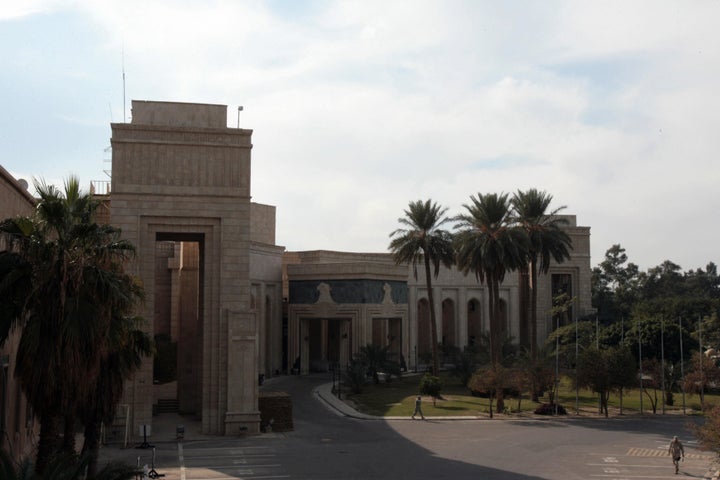 Blogger and foreign service officer Peter Van Buren made potentially damning claims on Wednesday on his blog, We Meant Well, alleging that a high-ranking State Department official committed sexual misconduct in Iraq -- on the roof of the U.S. embassy in Baghdad, no less.
Van Buren makes the allegations by presenting a hypothetical scenario through a series of questions. From Van Buren's blog:
What if a video existed that showed a prominent State Department VIP on the roof of the Republican Palace in Baghdad receiving, um, pleasure of an oral nature from another State Department officer not his wife, or even his journalist mistress of the time? What if that video has been passed around among Marine Security Guards at the Embassy to the point where it is considered "viral" with many copies made? What if the Deputy Chief of Mission, hand in hand with the Diplomatic Security chief (RSO) at the time, decided that the whole thing needed to be swept under the rug and made to go away, at least until some blogger got a hold of it.
BuzzFeed reports that Van Buren declined to name the person to whom he refers in the post. The report goes on to speculate that clues the blogger drops in his post narrow down the list to a select group of officials, including Brett McGurk, a nominee to be the next ambassador to Iraq.
Van Buren, who also blogs for The Huffington Post, blows the whistle loudest during a turbulent time in his relationship with the U.S. government; Democracy Now! reports that the State Department has taken steps to fire Van Buren after 23 years with the agency because of his memoir We Meant Well: How I helped Lose the Battle for the Hearts and Minds of the Iraqi People and his current blog.
An article by Stephen Donnelly on Foreign Policy describes Van Buren's new career in words as portraying "a very bad light on the entire Foreign Service, with which he seems very dissatisfied."
Related
Popular in the Community