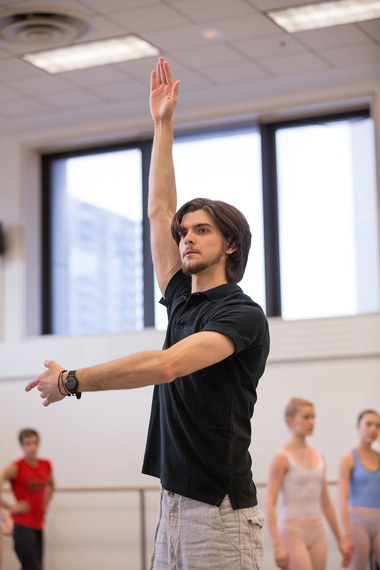 Peter Walker is choreographing this year's commission for the School of American Ballet's Winter Ball.
"If the choreographer was watching my ballet, I wouldn't want him to be like, 'oh, obviously that's my step.' It's okay to reference, but ultimately it has to come from me. Otherwise, it's sort of just like cut, copy and paste from all the stuff I've been learning," Peter Walker said in a phone interview.
His voice was timid and humble; he was not lauding himself as the next William Forsythe or Jiří Kylián. He didn't privilege what "came from him" as particularly mind-blowing (though for the outside observer, some of it is). Instead, he openly acknowledged how demanding his profession can be while still allowing his love for the art to guide his answers.
As a corps member at the New York City Ballet and a part-time choreographer, Walker's necessary flow of ingenuity when he's coming up with his own motions is more of a challenge than it sounds. Each season, he performs close to 30 works at the David H. Koch Theater -- some newly commissioned, others engrained in the North American dance canon. So when he enters into the studio, the young choreographer already has thousands of movement series squeezed into his mind and body, and he's expected to create something distinct and unique for his audience.
Walker cited George Balanchine's famous quote, "There are no new steps, only new combinations," to explain the artistic endeavor that he confronts whenever working on a new repertoire. "When you think about neoclassical ballet, there's only so much you can do to a ballet step before it doesn't become a ballet step anymore," he said. "So there's this fine line of being new and innovative and just making stuff up."
For a 22-year-old, Walker is refreshingly cognizant of one of dance's most perturbing problems: the need for a choreographer to somehow establish himself as novel when so much has already been produced for the stage. He's eager but educated, boasting a sensibility and sensitivity for his passion that's invigorating coming from someone who, based on his qualifications, could be braggadocious if he so chose.
Perhaps Walker's self-awareness stems from his impressive history of commissions. As a student at the School of American Ballet, he participated in a choreographic workshop, and since 2011, Peter Martins has asked him to set three pieces for SAB's summer institute.
This March, Walker has been tasked with another kind of test: Martins selected him to stage the sole work for SAB's Winter Ball on March 9. He explained that the event is "a fun evening all about the kids," and it serves as a fundraiser to "provide more than $1.9 million annually in student scholarships, as well as supporting faculty, maintaining world-class studios and offering vital student programs beyond the classroom," according to the press release. This year's theme is pop art, and Ron Wendt's decorations will spruce up Lincoln Center to foster a groovy '70s feel.
While Walker alludes to pop art with colorful leotards and tights à la Interplay and a vibrant, youthful cast of 29 SAB students in his seven and a half-minute rep, it's still elegant and discrete. Thomas Kikta, a classical guitarist and music professor at Duquesne University, wrote a new composition for the occasion that Walker described as "sophisticated and very complex," and the dance's technique is rooted in a neoclassical, Balanchine dialect.
"In order to really make something appropriate for the event, I chose to sort of edit myself in the sense that it's not really crazy modern, contemporary steps," he said. "There's still young, fun shapes and little quirky things, but on the whole, every step is straight out of the vocabulary."
Even if he's taken on a more classical vibe for his newest commission, Walker's tap origins continue to influence him. Before attending SAB's summer intensive as a preteen, he was a child Fred Astaire in Florida, and that flair and energy still infiltrates his aesthetic.
"I say to the kids, 'you have to be very clear about where you take your steps.' And I'll say, 'stomp it out. Be very clear.' It's almost like, 'make noise with your feet. I want to see the timing on this specific step, whatever it may be,'" he said.
Though Walker has worked with some of his friends who are professional dancers (check out his whimsical short film that he choreographed in fellow NYCB corps member Emily Kikta's former apartment), he's primarily accustomed to collaborating with students. The process is similar in both cases, but he thinks that there is more of a learning curve and more cleaning on the backend when youngsters are involved.
"They're less likely to ask a question and clarify the step if they're doing it and they're not getting corrected," he said. "They don't question themselves, ... whereas professionals will usually take it upon themselves to make sure that everything is in order."
But SAB's students aren't your average bunheads. As the feeder institution into the NYCB, SAB produces the most professional dancers of any school in the country. Their success is a manifestation of hard work and dedication to the craft.
"Working with kids at the School of American Ballet is not like just working with kids," Walker explained. "They're on their way to and they have a similar mindset to professionals because of the environment and because of their commitment and respect to the art form."
Like Walker, some of the students will go on to dance with the NYCB. Once there, they'll be exposed to some of Walker's choreographic idols. George Balanchine, of course, makes the list. Then, there's City Ballet's other great, Jerome Robbins.
"When you're staging things that's not the steps, when you're talking about the way you look at each other or the way you react to another person entering the stage, that definitely comes form Robbins," Walker said.
Christopher Wheeldon has also impacted Walker's vision, and most recently, Justin Peck is a role model. As a student at SAB, Walker performed Year of the Rabbit at an institute showing, one of Peck's first critically acclaimed works. Now, Peck is a force to be reckoned with as NYCB's resident choreographer and the focal point of Ballet 422.
"I probably draw from his approach to choreography more because of my initial involvement," Walker said.
Peck has made it big, and it seems that several other City Ballet company members like Troy Schumacher and Walker may follow in his footsteps. Walker gives NYCB's expansive repertoire credit for motivating some of its ensemble to add to the dance world's physical conversation.
"It's insane the sheer volume of choreography that we consume and put out," he said. "So I think that [the number of dancers turned choreographers at the NYCB] has a lot to do with being constantly, constantly introduced to new ideas and new steps, new perspectives on ballet. And then I guess for some, it sparks inspiration and they're like, 'hey, I have some ideas.'"
Calling all HuffPost superfans!
Sign up for membership to become a founding member and help shape HuffPost's next chapter