 Captain Peter Willcox, the only American in the group, was arrested by the Russian Coast Guard on Sept. 19, a day after several Greenpeace activists attempted to scale an offshore oil platform belonging to the state-owned oil and gas company Gazprom. The oil platform is located some 60 kilometers off the coast of Russia, according to Gazprom, but The New York Times reported that the Greenpeace ship was boarded by Russia's Federal Security Service in international waters.
No charges have been filed against the group, who will be held in Murmansk for at least two months. Russian investigators said Monday that charges would be filed soon and accused the activists of posing a "real threat" to personnel aboard the Gazprom platform.
"It's just unconscionable to hold people prisoner without any charges for two months or any period even close to that," Greenpeace U.S. Executive Director Phil Radford told The Huffington Post. "The Russian government has really overreacted, when they should be focusing on their reaction to climate change."
"The French have never apologized to either Greenpeace or the Pereira family for what happened," Willcox told former Greenpeace research director Kert Davies in a radio interview in 2012.
A Connecticut native, Willcox has worked for Greenpeace for more than 30 years. He began his career as an environmental activist in 1973, sailing aboard Pete Seeger's sloop, the Clearwater. He became captain of that ship in 1976. He joined Greenpeace in 1981, and said in a short biography he wrote for the group that skippering Greenpeace boats has occupied "about 90% of my life" since then.
Willcox told Davies that he "absolutely loved" working aboard the Rainbow Warrior in the early 1980s. "I think I'd still be on the Warrior today if the French hadn't blown it up," he said.
Willcox is also the father of two teenage daughters, and he described parenting as "about the only thing that could keep me from going to sea."
His wife, Maggy, told HuffPost that she accepted theirs would be a long distance relationship when they got married in February 2013, but joked that this wasn't what she envisioned. "You know, honey, I wasn't thinking of a gulag in Russia," she wrote in a recent message to Willcox.
She described her husband as "a man of strong convictions" who "sincerely cares."
"He's worried about what we're doing to our planet," she said. "He's unable to just sit back and let things happen."
Radford described Willcox as a thoughtful introvert and a "great captain" who "runs a really tight ship." Surviving aboard the Rainbow Warrior during the bombing "only strengthened his commitment," Radford said.
"He really cares about exposing the environmental crises of our time and has been doing this for about three decades," Radford said.
John Passacantando, a former executive director of Greenpeace U.S., described Willcox as "the perfect warrior and perhaps Greenpeace's most experienced captain." "He's the guy you want to go through fire with," Passacantando told HuffPost.
Maggy Willcox said the ordeal has been difficult, but she's trying to be positive and constructive. While she described her husband as kind and gentle, she said he has a "backbone of steel."
She said that seeing photographs of Peter released last week that show him grinning as Russian police escorted him into a courtroom in handcuffs gave her hope. "Peter's okay," she said. "I'm okay."
Greenpeace says it's not backing down from the situation in Russia. "We are not going to be intimidated by this," Kumi Naidoo, the executive director of Greenpeace International, said at a press conference last Friday. "We will continue."
UPDATE: Russian authorities charged Willcox with piracy on Thursday, Oct., 3, reported the Associated Press. All 30 members of the Greenpeace crew have now been charged with piracy and could face a 15-year prison term upon conviction.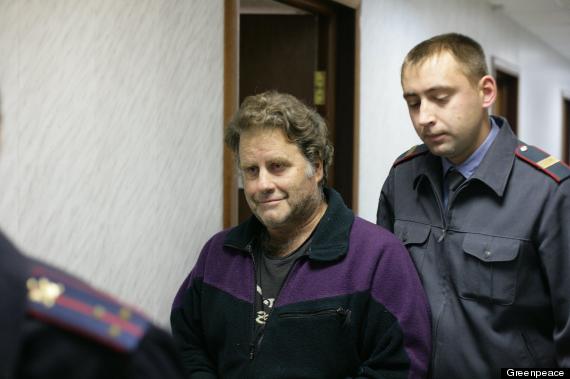 Kate Sheppard contributed to this report.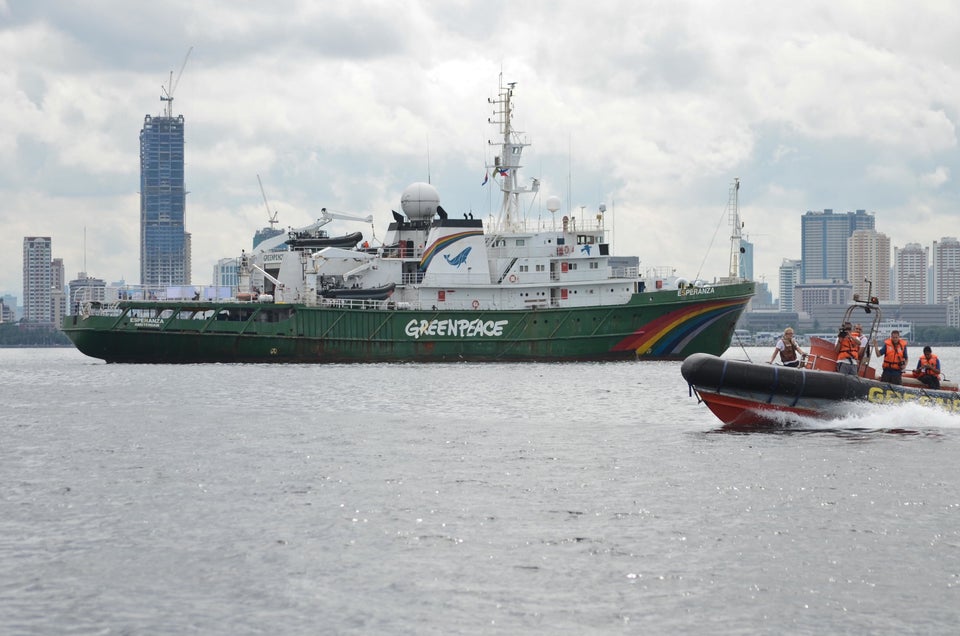 Greenpeace
Popular in the Community