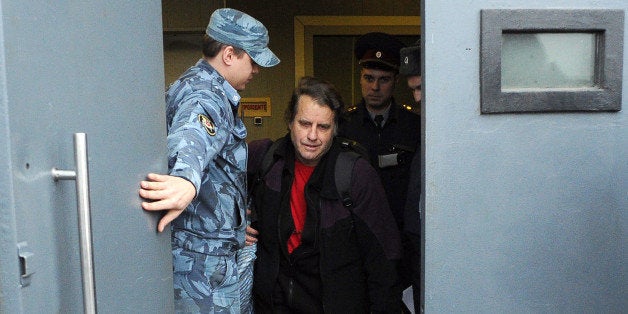 After two months in a Russian jail, American Greenpeace activist Peter Willcox will spend Thanksgiving free on bail. But he's still not allowed to come home.
Willcox spoke to The Huffington Post from Saint Petersburg, where he has been told he will have to wait for up to three months while the Russian government considers what charges to press against him and 29 other Greenpeace activists arrested Sept. 19 while protesting at a Gazprom oil platform in the Arctic. All 30 of the protesters are now free on bail.
"I'm feeling really good," Willcox said Wednesday, less than a week after he was granted bail and allowed to leave Murmansk, where the activists had been jailed for two months. He is the only American in the group which Greenpeace calls the "Arctic 30." "I'm optimistic. Our lawyers feel there's a very small chance of us going back to jail.
"Whether I'm home for Christmas or not is anybody's guess," Willcox said, "but I think I'll be home sometime soon at least."
The Russian government has charged Willcox, captain of Greenpeace's Arctic Sunrise ship, and the other activists with
hooliganism (the same offense that landed two members of the feminist punk band Pussy Riot in prison). A conviction for hooliganism could land the Arctic 30 in jail for up to seven years. That's still better than the initial charge, piracy, which carries a maximum sentence of 15 years. "The piracy charges have not been dropped, but they seem to be way on the back burner," Willcox said.
Willcox, 60, has worked with Greenpeace for more than 30 years. He was captain of the Rainbow Warrior when the French foreign intelligence service sank it in New Zealand in 1985. He said he was arrested and charged with piracy in Peru in 1982, when activists boarded a Japanese whaling boat and chained themselves to the harpoon gun. The charges were dropped. "This was the first time, ever, that I had been held for more than one night in a jail," said Willcox.
Willcox said he and his crew were surprised when the Russian coast guard seized their ship. "We had done an action [in Russia] last year, pretty much the same action -- even a little more aggressive. And there was no drama. They stood by, watching. We finished the action. There was no damage to the rig. But we got our photograph and we went away. That's what we were expecting to do this time."
The weeks after the arrest were trying. "I wasn't allowed to talk to my lawyer for the first month I was in jail. I just didn't know what was going on," said Willcox. All the Greenpeace activists were held in separate cells, he said. They got one hour a day in an exercise area under a leaky roof, Willcox said, "so you couldn't even see the sky." But they could yell over the top of the walls and talk to each other. At night, prisoners would pass notes outside the windows, using a string to pull socks filled with written messages.
"You're anxious, you're nervous. Frankly, you're scared," said Willcox.
Until the activists knew the piracy charge would be relaxed, they were even more worried. Willcox said he feared he would never see his parents again, as his father is 94. Young women worried they may miss an opportunity to have children.
Willcox cited his own children as a reason he is willing to risk arrest for climate activism. He has two daughters, ages 18 and 22, as well as a 27-year-old stepson. "I'm deeply concerned for their futures," he said.
Even now, he said he'd do the Arctic protest again, knowing he'd spend two months in jail. "I mean, for me, I didn't like two months in jail," he said. "It was really tough. But for me, the alternative -- doing nothing, giving up the planet to the oil companies -- is not an option. If I have to go to jail for a couple of months, I'll do that. That's a price to pay. Ten to 15 years is another matter."
Willcox said the ordeal in Russia has not turned him away from direct action. "I am not going to back down," said Willcox. "The problems of climate change are so significant, so stressful. I'm not going to stop doing what I'm doing."
This article was updated to reflect the fact that Colin Russell, the last of the Arctic 30 jailed in Russia, was granted bail on Thursday morning.
Calling all HuffPost superfans!
Sign up for membership to become a founding member and help shape HuffPost's next chapter
BEFORE YOU GO
PHOTO GALLERY
Connect The Dots On Climate Change