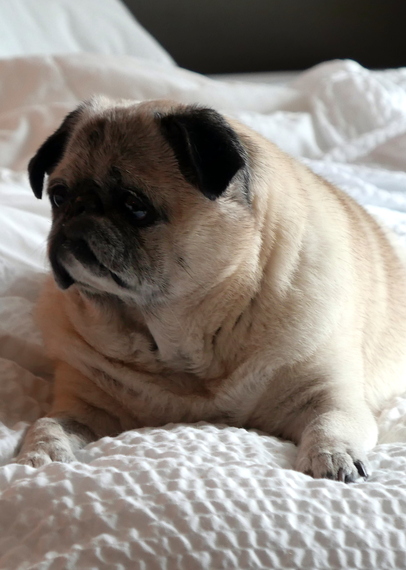 There is traveling, and there is traveling with a dog. This distinction was clear throughout the 3,000-mile road trip my wife and I recently made from our Florida home to New England and back with our 15-year-old pug, Macy.
A 24-pound ball of fur, grunting and sleeping, Macy is a calm and quiet traveling companion, and was more like luggage than a passenger. Except when it came to lodging. Then, she was the number one factor in determining where we would lay our road-weary heads.
For decades, my wife and I have been Marriott loyalists. JW Marriott, Ritz-Carlton and Renaissance hotels, sure. But also those at lower price points. It is impressive how the Courtyards, Residence Inns, Fairfield Inns, SpringHill Suites and TownePlace Suites do not compromise freshness, cleanliness or comfort, even amid the one-night-stand traffic of the I-95 corridor.
But here's the rub: Few Marriotts are pet-friendly. In fact, most hotels--especially most good hotels--aren't. And even those that do allow canine sleep-overs often charge for the privilege.
It may not be obvious when you book, but a $50- to $150-per-stay surcharge is commonly tacked on to the room charge. Take, for instance, the Residence Inn Amelia Island in Fernandina Beach, Fla. Search for the hotel on Marriott.com, and it comes up as pet friendly (signified by a cute little paw print). But you must click four links and scroll to the bottom of several pages before reaching the Pet Policy:
Pets Welcome
Maximum 2 pets per room
Non-refundable fee: 100 USD
2 pets per room allowed with USD 100 fee per stay-max weight 50 pounds
Contact hotel for details
That's common throughout the chain.
If you're staying a week, the $100 fee isn't so burdensome. But for one night? It can be an expensive surprise. My wife and I discovered that when Macy was a puppy and we stayed at a Marriott near Mystic, Conn. A housekeeper saw the dog, and upon check-out we were $75 lighter. I see that today, pet-friendliness at the Residence Inn Mystic/Groton costs $150.
It is much the same at other big brands. Florida's Hyatt Regency Jacksonville Riverfront makes a big fuss about your dog (no cats allowed) with a bowl and bed in your room as well as a tag identifying Rover as a guest. But upon check-out, expect to pay what the hotel calls "a deep cleaning fee of $100 for up to a six (6) night stay. An additional $100 deep cleaning fee will be applied for stays from 7 - 30 nights."
Hilton? The Hampton Inn Amelia Island at Fernandina Beach charges $50 per day, per pet.
There are chains with simpler and cheaper policies. Virtually all La Quinta Inns and Suites let you bring your dog or cat for free. We stayed at the La Quinta in Florence, S.C., and for $117 per night it was a good deal. There seemed to be dogs everywhere, yet the hotel was clean and comparable to many value-priced Marriotts.
With that positive experience in mind, when I saw that the entire chain of low-priced Red Roof Inns lets pets stay free, I thought I'd found the go-to hotels for our recent trip.
How was it? After 10 hours of driving, perhaps the most succinct review would be a long, mournful moan. Sobbing, optional.
Our room in the Wilmington, N.C., Red Roof Inn was, well, rough. A hole where a light had been, a door that was difficult to lock since it looked like it had been kicked in one too many times, and a bathtub/shower so encrusted that I was hesitant to stand in it even with my shoes on. Pet friendly? I don't think a horse would have been a problem. But then, what should I have expected for $79?
Another night found us at the Red Roof Inn Plus in Westbury, N.Y. I would have looked elsewhere, but to save a few bucks, I had pre-paid for the room. Near Long Island's sprawling, upscale Roosevelt Field Mall, it looks like a solid, well-maintained business hotel.
As we walked from the parking lot, juggling Macy, her bed and our luggage, a woman standing outside the rear entrance, talking animatedly on a cell phone, held the door for us.
"Thank you," I said, despite being speechless at her fishnet stockings, mini mini-skirt, open blouse with an ample view of her topography and enough make-up to power a lifetime of Halloweens.
A moment later, another woman with similar attributes got out of a van and walked into the hotel's back door.
This was 4:30 in the afternoon. From the looks of things, pets aren't the only ones performing tricks.
The room was clean and in good shape, and $129 was a low price for that area. Nonetheless, we rushed out in the morning, a lot more willing to pay the Marriott surcharge for our dog.