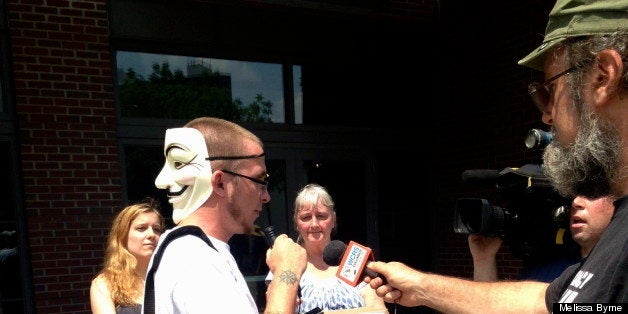 Deric Lostutter -- the self-described Anonymous hacker who helped expose the Steubenville, Ohio rapists -- faces a significant amount of prison time if convicted, but has a great deal of support. On Monday, activists delivered a petition with 200,000 to signatures to the U.S. Attorney's office in Columbus, demanding that the case against Lostutter be dropped.
"I'm incredibly overwhelmed with love and honored that 200,000 people support me and also support Jane Doe," Lostutter said in an interview with The Huffington Post on Monday. "I'm blown away."
Jane Doe refers to the 16-year-old girl who two high-school football players were convicted of raping in March. The case against the boys, which bitterly divided the Rust Belt town of Steubenville, only gained traction after information about the rape was publicized online by Anonymous, a loosely organized hacker collective.
The petition was created by three activist groups: women's rights organization UltraViolet, Internet freedom activist group Demand Progress, and political group Credo. The groups assert that prosecuting Lostutter is unjust, particularly because Lostutter faces 10 to 25 years in prison for publicly posting tweets and photos pertaining to the case, while the rapists will spend only 1 to 2 years in jail.
"I've shown the government that I'm going to do what I'm going to do regardless," Lostutter told HuffPost. He said that he is hopeful that things will go in his favor, especially because he said he was not read his Miranda rights when the FBI raided his home. "I'm very confident that this whole thing will be dismissed," he said.
As far as the future goes, no matter what happens, he will continue to be an activist. "I'm gonna keep fighting the good fight," he said. He added that he has been discussing the possibility of using his skills to fight rape in the military.
Calling all HuffPost superfans!
Sign up for membership to become a founding member and help shape HuffPost's next chapter
BEFORE YOU GO
PHOTO GALLERY
7 Apps To Prevent Phone Surveillance