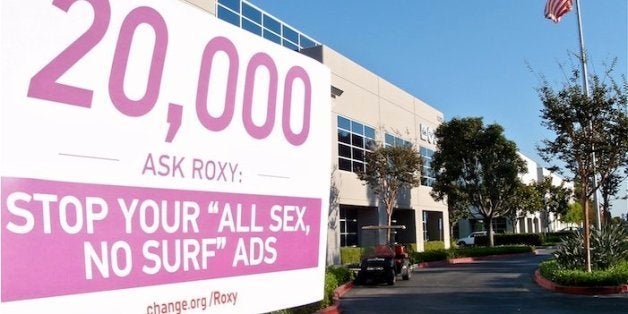 With over 21,000 petition signatures in hand, three-time world longboarding champion Cori Schumacher probably felt pretty optimistic and empowered when she went into her meeting Sept. 13 with two Roxy marketing executives.
But according to Cynthia Krueger, who accompanied Schumacher to Roxy headquarters in Huntington Beach, CA, her meeting to discuss this controversial Roxy video promoting the Roxy Pro Biarritz surf contest was met with this response: We're not discussing the video.
In June, Roxy released the video in anticipation of the women's contest they were to sponsor in Biarritz, France. As described by Krueger, the video "features a faceless blond female surfer (later revealed as Stephanie Gilmore) lolling in bed in her underwear, showering, waxing her board (close-up on her bikini top) and paddling out into the ocean (close up on her bikini bottom), but not surfing."
Schumacher was meeting with the marketing executives to discuss the absurd video, but according to Cynthia Krueger, who accompanied Schumacher to Roxy's headquarters in Huntington Beach, CA, she was met with this response: We're not discussing the video. "I was told that they would not answer any questions specific to the trailer," Schumacher said in an e-mail. (Update: For information on a later response by Roxy, scroll to bottom)
The worst part? Stephanie Gilmore is a really, really good surfer. In fact, the Australian twenty-five year old is one of the best female professional surfers in the world, with five ASP world titles in the last six years.
So Cori Schumacher created a petition on change.org. She called it "Roxy: Stop Your 'All Sex, No Surf' Ads!" As of today, the petition has 21,898 supporters. Signatures came pouring in from all over the world, many of which were accompanied by vows to boycott Roxy products until a change was made.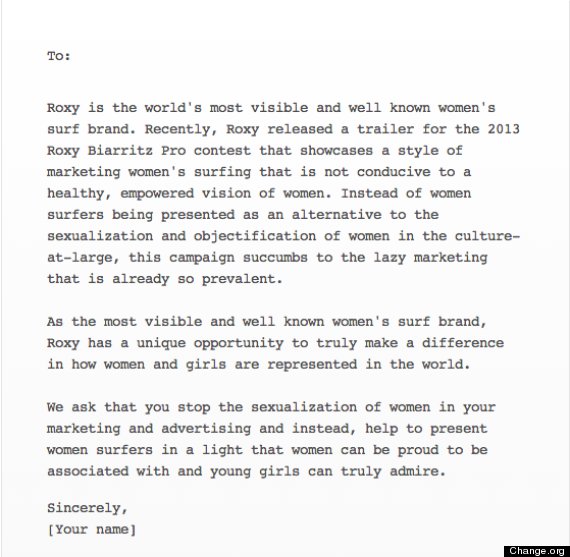 Schumacher collaborated with Rice University professor Krista Comer, author of Surfer Girls in the New World Order, to prepare a 45-page report to deliver to Roxy, along with the petition signatures and corresponding comments.

Schumacher and Comer also cited a 2010 report from the American Psychological Association on the "Sexualization of Girls," and in particular, a 1998 study in which college students were asked to either try on a sweater or a bathing suit. While wearing either clothing item, the students were given a math test. The women in swimsuits "performed significantly worse" than the ones wearing sweaters, yet there was no difference in performance based on what the men wore. The report concluded from the "stunning" findings that "thinking about the body and comparing it to sexualized cultural ideals disrupted mental capacity."
Schumacher reported that the meeting with Roxy execs at their headquarters lasted nearly two hours. But in response to concerns over the video, Schumacher told petition signers in a post-meeting video recap, "I'm sorry to report that there was not a willingness there to discuss the trailer." Schumacher, appearing disappointed, also said in the video that she was "looking forward to having another meeting with Roxy once they've been able to read through the reports."
"That's the next stop for us," she said. "Looking forward to that meeting."
Calling all HuffPost superfans!
Sign up for membership to become a founding member and help shape HuffPost's next chapter
BEFORE YOU GO
PHOTO GALLERY
Sexist Vintage Ads