 Walmart is facing backlash over its decision to open its doors on Thanksgiving.
More than 30,000 people have signed an online petition on MoveOn.org asking Walmart not to make its employees work on Thanksgiving. Mary Pat Tifft, a Walmart associate of 24 years, started the petition after the retailer's announcement that it would open stores at 8 p.m. on Thanksgiving Day, according to a press release. Walmart opened at 10 p.m. last Thanksgiving.
"The company can afford to give its employees this holiday to spend with their families," the petition states. "This early opening is one more example of Walmart's disregard for its employees."
Steven Restivo, a Walmart spokesman, wrote in an email to The Huffington Post that many of Walmart's workers are looking forward to the store's Black Friday festivities.
"The super majority of our 1.3 million associates are excited about Black Friday and are ready to serve our customers," he wrote.
Strikers claim that Walmart retaliates against workers who try to organize by cutting their hours or even firing them. Working as an associate at the store often offers little opportunity for advancement or boosts in pay, according to internal documents obtained by The Huffington Post.
Walmart, for its part, has filed a complaint against the United Food and Commercial Workers International Union -- which claims it's behind the strikes -- alleging that the protests constitute unfair labor practices. The complaint asks the National Labor Relations Board to stop the strikes, calling them an unlawful disruption of their business.
Restivo wrote in the email that the strikers' claims don't match up with the typical experience of a Walmart associate.
"Many of our associates have urged us to do something about the UFCW's latest round of publicity stunts because they don't think it's right that a few associates that are being coerced by the UFCW are being portrayed by the media as representative of what it's like to work at Walmart," he wrote.
This post has been updated to include comment from Walmart spokesman Steven Restivo.
Support HuffPost
The Stakes Have Never Been Higher
Related
Before You Go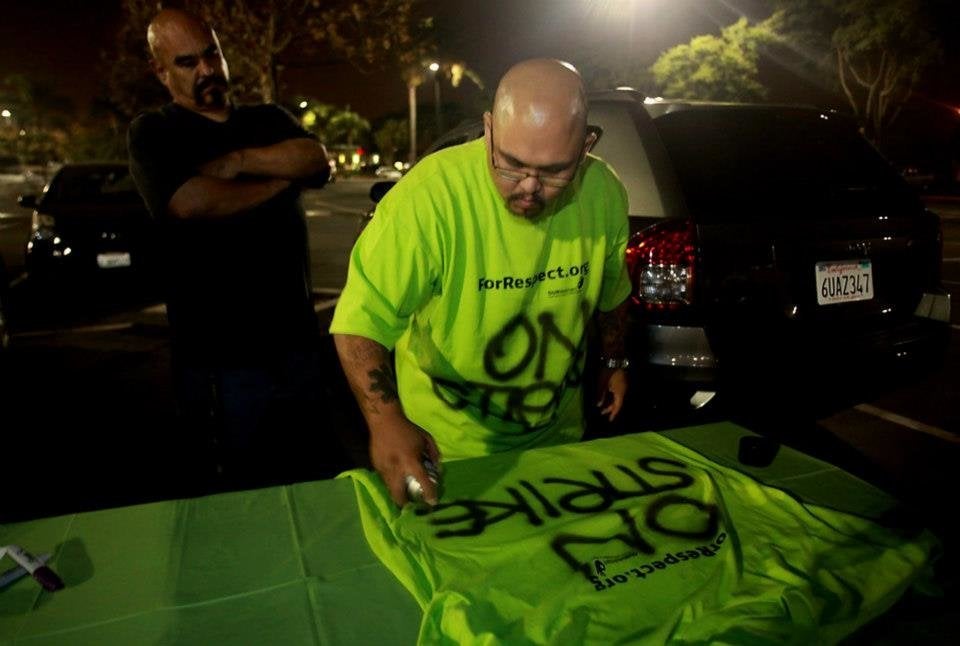 First-Ever Walmart Strike, Oct. 2012, LA
Popular in the Community