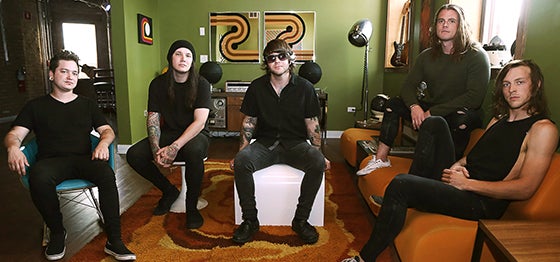 The Petoskey, Michigan five-piece post-hardcore band Famous Last Words, consisting of JT Tollas (vocals), Evan Foley (guitar), Mathew Bell (bass), Craig Simons (drums), and Tyler Myklebust (guitar), use their music as narratives to tackle a way range of perspectives that many of us deal with in life. Formed in 2009, their first two albums Two-Faced Charade and Council of the Dead caught quite a buzz within the rock music scene, and are now signed with the North Carolina-based Revival Recordings for the release of their third album, The Incubus, produced by Taylor Larson, on September 30th.
Before the release of the album, here's a first look at their second video from it for the song "The Judged", shot by Zack Williams of ZW Multimedia. The video follows the main character, who they call Christine and was first introduced in their "Pretty in Porcelain" video, into the next chapter of her story of sexual/ domestic assault. With this first look, I was able have lead vocalist JT Tollas answer a few questions about the song, the video, and the Christine character.
Why is the subject of domestic/sexual abuse specifically an important issue to tackle for the band?

JT: Since our first full length album we released, we have been a "concept record band". All of our full length albums have told stories that tackle extremely difficult situations such as love, jealousy, addiction, death, and with our latest album, The Incubus, we are tackling the issue of sexual abuse. The reason we decided to take this route is because it seems to be an incredibly large, yet almost socially ignored issue, and after doing this album, I can understand why. Abuse in any form is an extremely difficult topic to talk about. It's emotionally tolling to discuss whether you yourself have been a victim, or one of your loved ones has been a victim. After initially coming up with the story idea, I was inspired to do research on the topic. Because the band deals with such sensitive subject matter, it is my responsibility as the storyteller to do appropriate research on the topics to ensure that I am properly portraying the correct message to our listeners. After reading countless stories, articles, and talking to some fans who have been victimized, I would say that this research period in particular, was the most difficult one to date. We've never sugarcoated anything in the past, and we never will. I felt it was important to step forward and really bring this relentless issue to light, and it doesn't end with the album. We will be teaming up with The Joyful Heart Foundation to really shed some light on the issue, and do as much as we possibly can to help the cause.

The Christine character was first introduced in the "Pretty in Porcelain" video and her story continues in "The Judged". What and/or who does Christine represent?

JT: Without giving too much of the story away, I can tell you that Christine is our main character. The story is told through her perspective as a stay-at-home mother in the 1950's. One night she mysteriously blacks out and has a horrible nightmare. As time goes by the nightmares keep recurring and begin to worsen. She becomes determined to figure out the cause of the blackouts and interpret the vicious nightmares that endlessly torment her every time she falls asleep, all while simultaneously caring for her family and struggling daily with the gender stereotypes many women had to deal with back in post-WWII America. Christine represents anyone who has ever been a victim of abuse, and unfortunately, a lot of the issues she deals with in the album are still problems that are prevalent in today's society.

How will you be able to carry on this storyline of Christine on the new album? Where do the aspects of her story come from?

JT: I've figured out a standard formula I use when writing concept albums. First we have to have the initial storyline. Once I have that down, I pick the key points of the story. These end up being the individual songs. Once I figure out what part of the story each song is going to tell, I begin to do the research. In this album, I used Christine's nightmares to show the metaphors that parallel what is going on in her life. In "The Judged", Christine is seen as the defendant in a courtroom. She is essentially on trial for being a rape victim. The lyrics are split into two characters; The singing lines are Christine, while the screaming lines are from the plaintiff's lawyer. This particular nightmare is meant to represent the inner struggle of blaming oneself that many victims of abuse deal with and to show how absolutely absurd it is to think that it could possibly be the victims fault. Christine is essentially a compilation of many different victims whose stories I've read, and whose stories need to be heard to hopefully one day help bring an end to this detestable violence.
Famous Last Words are also giving away a guitar also. Just need to text "FLWGuitar" to 24587!

Popular in the Community