December 26, 2014 was the 10-year anniversary of the 2004 tsunami, which affected 14 countries and caused the injury of over 500,000 people. Over 250, 000 people lost their lives during this tragic event.
Supermodel Petra Nemcova was one of the victims of the Indian Ocean Tsunami. It was an eye-opening experience to hear her story during the event "Social Media and Social Action: A Conversation with Petra Nemcova" at the University of Pennsylvania's Annenberg School of Communication in December. Unlike many of the celebrities who are involved in non-profit funds and organizations, it is striking how Petra is heartfelt and sincere. My heart dropped as I watched her speak about her experience 10 years ago and how it led her to establish the Happy Hearts Fund. Petra was vacationing in Thailand with her partner when the tsunami struck; they were getting ready to leave their bungalow after the perfect day on the beach. At the disaster, Petra lost her partner and had her pelvis broken in 4 places.
During her speech at the University of Pennsylvania, Nemcova mentioned how she was so lucky to have a family to go back to and heal with their presence and love. Her experience made her realize how fortunate she was compared to so many others injured at the disaster and had their lives devastated. "I was so focused on healing fast and walking again so I could go back and help those who lost everything," Petra recalled.
In the aftermath of Nemcova's life-changing personal experience, Happy Hearts Fund was established in the wake of the disaster in order to help rebuild a single school demolished in the tsunami. The fund now works to rebuild safe-resilient schools in areas impacted by natural disasters. The Happy Hearts Fund has gained 501 (c) 3 status in 2006 and since then has been focusing on narrowing the gap between emergency response -- the help received right after a natural disaster occurs, and fully restored infrastructure. Today, Petra Nemcova is not only a philanthropist and the founder and chairwoman of the Happy Hearts Fund, but also an Ambassador-at-large to Haiti. This year she was recognized in the United Kingdom for her humanitarian work, where she was granted The World Tourism Humanitarian Award.
10 years later, Happy Hearts Fund today is celebrating the rewarding accomplishment of rebuilding 107 safe-resilient schools in 9 countries.
During her speech, Nemcova further mentioned her plans to help commemorate the disaster during its 10th year anniversary and using social media to raise awareness globally.
On Instagram, Happy Hearts Fund encouraged followers to share a photo of a lit candle with the hashtag: #Light4Tsunami in honor of the tragedy to show support and care for those who were lost during the 2004 Indian Ocean Tsunami. People all around the world lit candles and joined Petra Nemcova in commemorating the tsunami and remembering those who lost their lives.
Helping the Happy Hearts Fund and Petra's cause is very easy and simple. Another social media campaign that is being carried out is the #HappyHeartsChallenge. You just need to be creative, form a heart shape with your hands with a partner and share your photo on Instagram to help the fund, donate 10 dollars and challenge others to raise awareness. The caption you should share is: I'm sharing my heart with (tag your partner) for the #HappyHeartsChallenge to bring safe-resilient schools to children with the @HappyHeartsFund! I challenge (name three friends/ family members/ colleagues) to share their hearts too & text HEARTS to 85944 to donate $10 to Happy Hearts Fund,
I was lucky enough to share my heart with Petra Nemcova during the event at the University of Pennsylvania after the inspiring conversation. I am hoping that the Happy Hearts Fund will continue to be successful in carrying out this remarkable cause with even greater global awareness in the near future!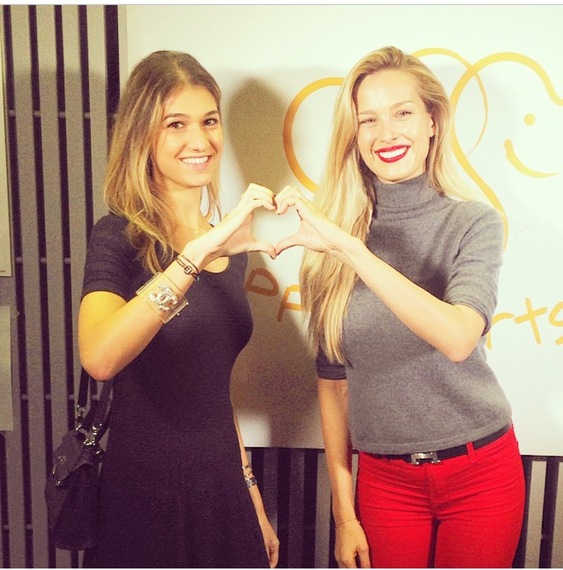 Follow @happyheartsfund on Instagram.
REAL LIFE. REAL NEWS. REAL VOICES.
Help us tell more of the stories that matter from voices that too often remain unheard.